With a cold and wet slippery BSB opener at the Easter weekend one of the guys that had no downtime at all was the Shoei Race Technician, Paul Mousell. This guy works more weekends than Terry Wogan and Easter kicks off a race season that sees him at every round of BSB, two WSB rounds, the NW200 and a two week stint across the Irish Sea on the Isle of Man.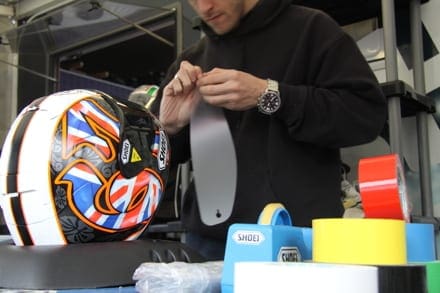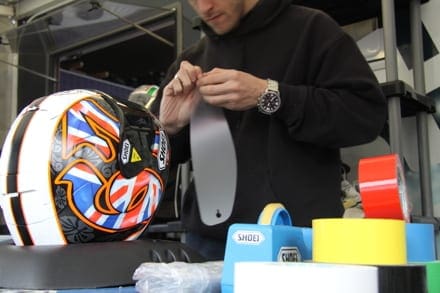 Throw in numerous dealer events and training presentations, and it comes as no surprise that the Shoei/Feridax trailer is a home from home, and a real busy one. Over the weekend, Mousell has 25 riders to look after, that will equate to well over 200 helmet services and numerous differing demands from rider to rider. As we talk the familiar sound of a scooter pulls up, Shakey Byrne sticks his head in, hands Paul a helmet bag and then heads off safe in the knowledge that when he returns half an hour before the race his lid will be ready to race, whatever the conditions.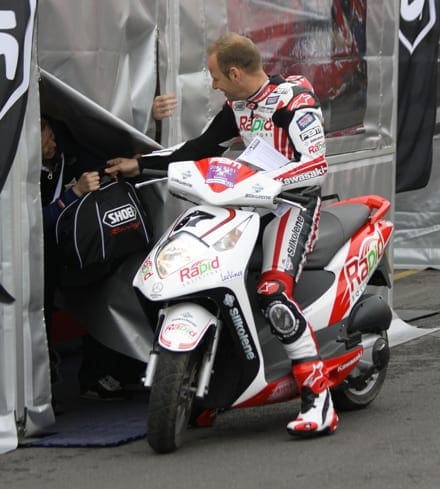 Paul gets to work, a check for any damage, pinlock removed cleaned and dried, and the visor checked thoroughly for scratches. Visor replaced, now clean, and then it's time for the tear-offs, 1 to 3 to be fitted and squeegied on like the protective layer on a smart phone, only this time if there are any bubbles its more than a simple annoyance."The problem is that nothing I do can win these guys a race, but if I get it wrong it can definitely lose them one", says Paul.
There is no better example of this at the road races. Many decide it's easier to replace the entire helmet as opposed to snap off and snap on a new visor, when your talking valuable seconds that can win or lose you a race, a nervous fumble with a shaking hand could make all of the difference. The distractions at these pit stops are vast what with tyre changes, refuelling and sustenance for the riders while they report back on the performance of the bike. But despite this obvious pressure it's a great job for a racing enthusiast like Paul.
"You undeniably feel like a massive part of the paddock, you have direct contact with the racers who you're on first name terms with".
The riders who depend on the service make an impressive line up, this weekend alone is Tommy Hill, Stuart Eastern, Micheal Rutter, John McGuinness and of course Shane 'Shakey' Byrne. His helmet is now on the dryer alongside mine, never one to miss an opportunity my X-Spirit II was in need of some work and I thought Paul was offering me a 'perk' but this was not the case.
"I am happy to offer a basic service to anyone that has purchased a Shoei helmet, I do it all the time at the dealerships and if I have time I will do it here – though obviously have priorities so don't be offended if I cant look at it for you!"
So now back in the bag, Shakey's helmet is ready, Mousell reaches behind him and grabs McGuinness'. "This one is easy" says Paul, "John has a smoked visor with two tear-off's always, come rain or come shine". Others are more complicated, Clear, Orange, Yellow, Smoked or a Black Visor? 1, 2, 3 tear-offs, and which side? All are committed to memory.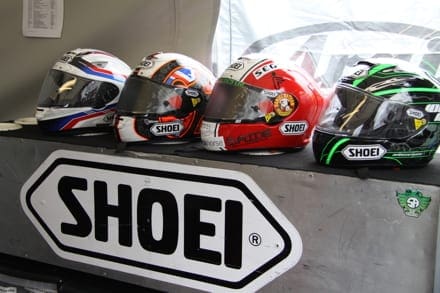 So with so many moments in the paddock which stick in Paul's mind? "The handing of championship winning helmets to Hill and Shakey have been pretty special moments – "As was the surprise 'it's a girl' lid that Feridax commissioned for Shakey to celebrate the birth of his daughter". Favourite ever helmet? "Definitely Eugene Laverty's chromed Red Bull Helmet".
As I draw a close to the interview and put my clean and fresh lid back into my helmet bag I hear a scooter and a beep. Shakey sticks his head in again, grabs his bag and tears off down the paddock to his pit garage. Paul will see that helmet again in about 1hr 45 minutes' time.
Charlie

Enjoy more Fast Bikes reading in the monthly magazine.
Click here
to subscribe.