Preparations are hotting-up here at Fast Bikes for the fast-approaching opener of the Trackday Trophy at Cadwell Park on April 29th. On Monday, Roots, Beej, Beaky and I all headed up to Brands Hatch to earn our right to wear the ACU's Orange vest. I got the feeling that this was pretty much a walk in the park for the tester types but for an eager Ad Man, this was no formality.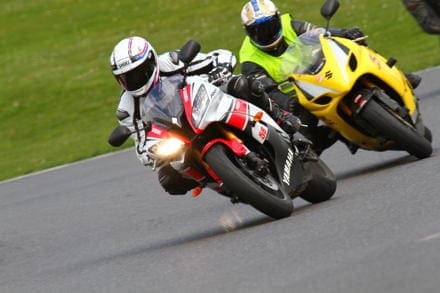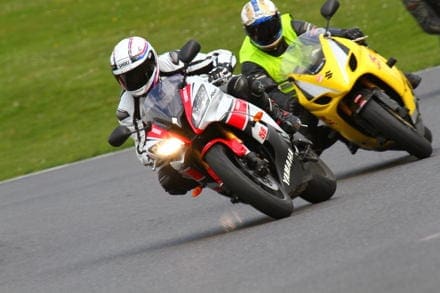 The MSVR Trackday Trophy is a race series designed for low-cost novice racing. A testament to this is my involvement. My 'racing' experience is limited – 5 enduro races to be precise, plus I've on a couple of trackdays and had the pleasure of learning the craft via CSS, but that didn't stop the nerves. So there I was belting up the A303 on £9.5K's worth of brand-new R6 about to tackle Brands Hatch Indy circuit, just two weeks after seeing the circuit take a few prisoners in the BSB opener. To add to this I was under assessment for the first time since my full bike test – I felt like the whole world was on my shoulders.
As it turned out I needn't have been so apprehensive. On arrival in the pit lane the MSV guys could not have been more helpful, forms signed, noise tested and gold label checked on my lid. R6 parked up in pit garage one and within one coffee, I was up in the classroom with the chaps filling out forms and awaiting the presentation to start.
There were about 20 of us in the classroom, and as soon as instructor, Steve, started we all knew it was an informal briefing more than a lecture – with the right amount of emphasis to know that what we were being informed of was important. I don't think there was a person in the room that did not take it all in while enjoying the experience. Within 30 minutes we turned over our exam papers, 18 multiple choice with 15 minutes to do it in, I was done in five and as it turned out got 100%. Spod? No, not at all, everything you need to know you are taught – I bought limited knowledge in with me and flew through this section, certainly not something to keep you awake at night.
The practical test was different, I have seen the boys ride and they are streets ahead of me. On leaving the pit lane at Brands there is no easing into it, I was straight on Paddock Hill – the first time I have ever been around the circuit – and plummeting down thinking, 'hold the front, hold the front, hold the fu……' then whoosh, up to Druids, hammering the hairpin and down to Graham Hill. All three sections on cold tyres, so I watched my instructor, Beej, Roots and Beaky disappear into the distance. I was on my own.
Article continues below...
Advert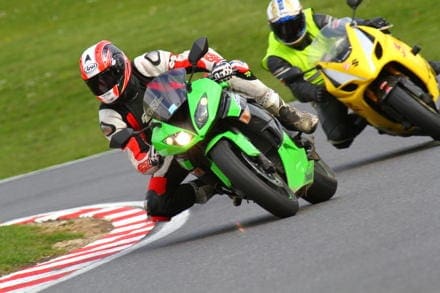 But, this gave me the opportunity to get my rhythm, to lean the bike a little further each lap, work the tyres harder and find my apexes, turning-in points, and think about what I was doing. Within 4 laps my instructor flew passed me, thumbs up and that was it – assessed. So, sod it – though maybe I should have come in, I was on track and loving it so kept going until the end of the session and was well deserved of the "tut – tut" from Rootsy when I got back in the classroom.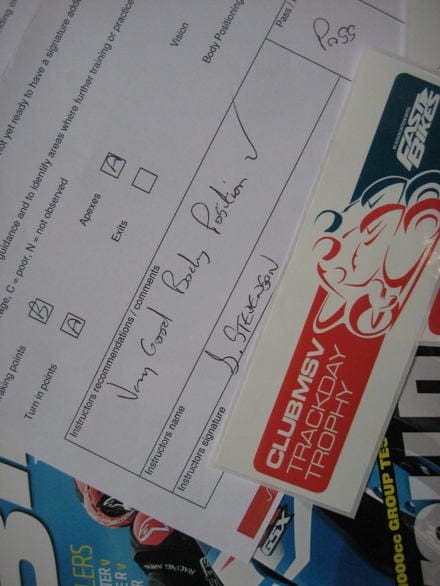 As it turned out, I passed. Average on my braking but I knew I wasn't going fast enough to really excel, but A's for Turn ins, apexes and a pat on the back for body positioning (thanks to CSS for sure) and I was happy with my lot. So, come the 29th on my 21 year old ZXR 750, I may have more blue flags waved at me than at a match at Stamford Bridge, but boy I cannot wait…… Are you joining us or what?
For more information, visit www.biketrackdaytrophy.co.uk
Article continues below...
Advert

Enjoy more Fast Bikes reading in the monthly magazine.
Click here
to subscribe.