Betcha never thought you'd see a bike with ape hangers anywhere near Fast Bikes, eh?! Some of you may have been following my adventures with a Victory Hammer muscle cruiser last year. The Hammer's gone back but Victory were keen to see what we'd make of their new-for-2012 offering, the High-Ball. As the name suggests, it's one of their 8-ball range with fat retro wheels front and rear and a set of matt black apehanger handlebars.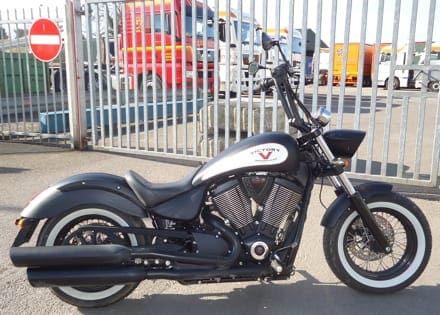 It's a tall reach from the depths of the low seat to the tops of the bars, of which more anon. But first, a short history lesson.
It's been well chronicled that, when GIs first came back home to the good ol' US of A after WW2, a number of them missed the action and thrills of warfare and couldn't handle peacetime and 9-5 jobs. Some of them got their kicks from riding bikes and drifted into forming loose-knit gangs. To make their oily old Harleys and Indians perform better (especially in the face of an import onslaught from the likes of Triumph offering smaller, but lighter and faster parallel twins), people started shedding weight from the big American v-twins by, for instance, cutting down – or "bobbing" – the voluminous mudguards and junking the heavy factory silencers, seats and lights in favour of lighter alternatives. Ultimately the act of shedding excess weight was carried to the extreme, by which time it became known as "chopping", and married to further stylish – for the time – changes to bars, seats and silencers for sky-scraping apehangers, backrests and upswept exhaust systems.
Why is this relevant to Fast Bikes? Well, if you think about it this was the Yanks' version of our very own café racers, the 1950's precursors to today's race replicas. It was an alternative approach to going fast in a country where distances could be huge, unlike in the UK. Bobbers don't have to be for grey beards. The fun for us is seeing if we can maximise the performance within the High-Ball's existing design parameters.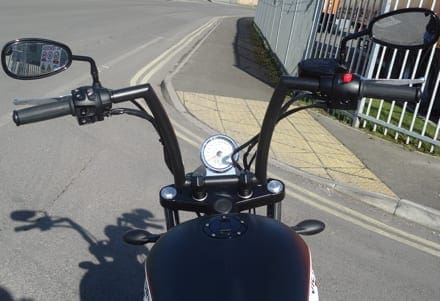 Although the bike harks back to those early, pre-chopper customs, the back 'guard hasn't been bobbed and the headlight is Victory's usual gargantuan bucket. But the standout feature is the Bad Ass apehanger handle bars. And yes, for those who don't know they're so-called as you hang from 'em like an ape. I was hugely amused at last November's NEC Show watching people sitting on the High-Ball on Victory's stand and listening to them come out with all the usual clap trap about high bars: "Won't the blood run out of your arms?", "It can't handle" etc etc. The problem with many factory customs is that the bars are positioned in line with the forks, meaning your hands end up just above your lap and you get blown off the back at anything above 60 em-pee-aitch. The High-Ball is set up properly with the apes vertical; you have to lean forward and stretch for them. At speed your torso is supported on a cushion of air and it's surprisingly comfy provided your bike is also equipped with forward footrests far enough away to brace your legs onto. Obviously ultra-high speed runs become, ahem, "interesting" and handling isn't in Ducati territory, but neither do your arms pull out of their sockets at the legal limit not do you crash in the first mile.
Instead something else happens, which only occurs when riding a high-barred bike. Your whole demeanour and attitude starts to change, and horns grow out of your head … it's a bit like how you felt when you put on your first black leather jacket. Bad boys don't ride Hondas.
What the High-Ball needs to complete its outlaw image is a rorty exhaust. The stock cans conform to EU killjoy standards so the bike snuffles rather than roars. Hopefully we can do something about this in the very near future.
Charley
Victory High-Ball: £10,995
Time on test: 2 months
Miles on test: 1,947

Enjoy more Fast Bikes reading in the monthly magazine.
Click here
to subscribe.