Last month I talked about treating the High-Ball to a more rebellious set of pipes. Victory's 2012 accessories catalogue lists a number of suitable alternative Stage I exhaust systems. Two are rated best for performance, the Tri-Pro 2-into-1 with its triangular silencer and the X-Bow twin swept leaf cutters. The others – mainly drag pipes and shotguns – are described as being best for sound (ie noisier) but less so for power, presumably providing less back pressure. In all instances the EFI needs to be remapped, making a trip to the dealer for an exhaust swap mandatory as far as Victory UK is concerned.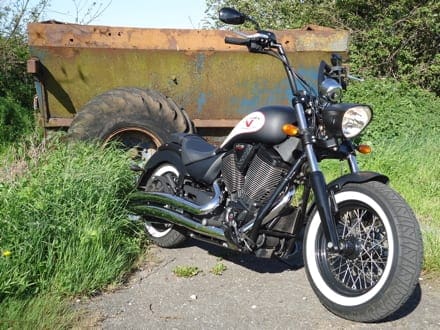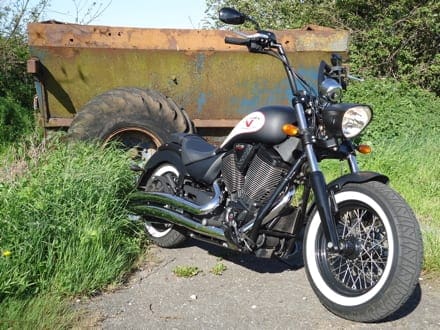 We opted for the X-Bow set up which comes complete with a high performance free-flow air filter; the necessary EFI map code is also part of the package. Apparently all Victory aftermarket pipes are currently being changed to meet US road-side noise test (SAEJ2825), so the old-style straight through exhausts are being phased out. Our X-Bow system will continue to be available.
All the pipes come in a choice of black or chrome, but we could only get hold of a shiny set up at time of ordering so chrome it had to be. Which was no great hardship because matt black pipes on cruisers are a bitch to keep clean and make a bike look cheap as far as I'm concerned. I like the highlight the flash of chrome brings to the right hand side of the bike.
After the exhaust was swapped we also sneakily carried out an unofficial mod, removing the right hand air box cover (which is a blank) and drilling it to increase airflow.
The new exhaust sounds great – not too intrusive at tickover or round town, but a decent basso profundo on the open road. Incidentally I'm intrigued by the difference in feel between the High-Ball and the Hammer we had last year which seemed more responsive, would rev more willingly and was smoother at higher revs. Our Hammer was fitted with a 2-into-1 free-flowing exhaust which according to Victory UK offers better performance than the X-Bow; they also reckon Victory's Freedom engines benefit from higher mileage, loosening up around 4-5,000 miles. I don't know how much of my reaction to the High-Ball is subjective having spent the week before I got it back hooning around on an MV Brutale with a rev range nearly three times that of the Victory's; but it'll be interesting to see how things develop as the miles pass. Certainly it's not a problem as I'm unlikely to spend much time at the higher end of the High-Ball's rev range (and neither will you, unless you fit lower bars); you can cruise at 70mph at a modest 2,500 rpm.
Article continues below...
Advert
You'll also spot the other addition in the pic, a pillion pad and footrests. I have an aversion to solo seats on cruisers as they often make the back of the bike look unfinished. More importantly I now have somewhere to lash luggage to and park the occasional passenger.
But the price of such aural and posterior pleasure is high. The pipes are £1,225, the pillion seat £150 and the pillion rests a staggering £301.80. Plus you need to factor in the dealer fitting time (certainly for the exhaust) of approximately 2 hours for the stage 1 set up and 45 minutes to an hour for the pillion kit. You need to bear this in mind when looking at any American cruiser: aftermarket parts, either factory or unofficial, are pricey.
Charley
Article continues below...
Advert
Victory High-Ball: £10,995
Time on test: 3 months
Miles on test: 2,349

Enjoy more Fast Bikes reading in the monthly magazine.
Click here
to subscribe.