Back in April, I went on an awesome trip across Europe with some mates. It actually started out as just a trip for friends, but one by one for various reasons they dropped out. Still wanting to go, I decided to turn it into a bit of a work trip.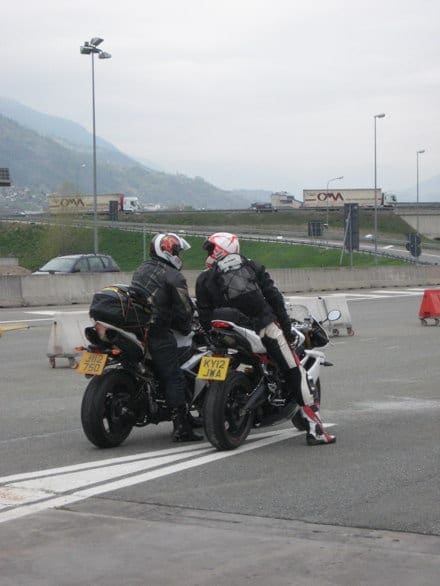 The destination was Italy and most specifically, Imola for the second round of WSB. So I also included a trip via MV Agusta to ride their (then) new F3, and did away with most of the side-roads I'd originally planned, deciding instead to blast through France to the Swiss Alps, and have a bit more fun from there on. Ad Monkey Charlie Oakman is a dab hand with a camera, too, so I managed to talk him into sticking over 2,000 on his brand new Yamaha R6 longtermer. I would be riding Triumph's Daytona 675R, so we could compare it with MV's F3.
Then, just a week or so before we were due to leave, a call from a mate came through saying he'd decided to ride along, so we'd have more company. Then the day we were leaving his brother, another mate turned up unexpectedly. Ah, I see what they did, the buggars! It was a nice surprise and there's always strength in numbers, so the more the merrier.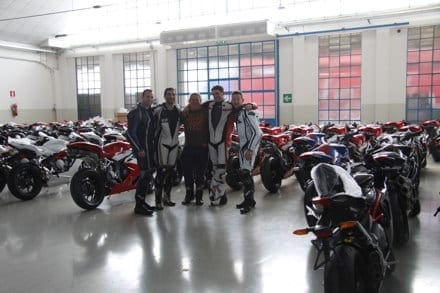 We left in the evening and headed directly from Bath to Portsmouth and Brittany Ferries, for their sailing to Caen. We love using Brittany's service, you can relax and get some good sleep, and are in France early doors for an early start. So, with over 2,000 miles ahead of us, myself, Charlie, Nick & Piers headed off into the French countryside, and into thick fog! We were travelling down past Le Mans, with an aim to hang a left at some point and head into Switzerland. The thick fog was mental though, we couldn't do more than 40mph for the first two hours and it was frigging freezing to boot!
When we reached Le Mans it finally cleared, and then one of the lads unexpectedly pulled into a service station. Lo and behold, however, as we parked there was another mate waiting for us, and obviously the lads had arranged all this without me knowing. Better yet Paul is a dab hand with the spanners, and as Charlie's R6 had suddenly developed a leak, it was good timing and a practical as well as pleasant surprise.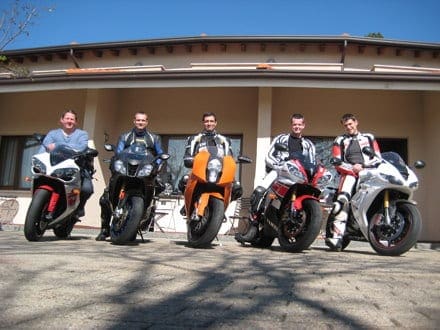 The rest of the day went fairly well, getting a few turns wrong, but we also spent a lot of time in between jaunts to relax and recover. As night fell we rode into the Alps and found a handy hotel near Geneva to bed down for the night. We'd be off to MV in the morning…
Up bright and breezy, it was clear that taking any winding alpine routes was out, as it was still too early in the year and there was ice and snow everywhere but the main carriageways. Having never been through Mont Blanc before (rather taking other routes in the past), we rode through after paying our 28Euros and were then in Italy. It was only another few hours to MV Agusta, and aside from being stiffed by some comedian in a garage giving us false notes for change, was an awesome ride through the Italian sun. When we arrived at MV, the lads sat by the lake after a quick cheeky sneak peek into the factory, while me and Charlie went and 'worked'.
We spent the night in Varese, and after a leisurely morning scorched down to Imola just in time for Superpole. I absolutely love the WSB paddock. I love the fact it's open, friendly and that there are no barriers up anywhere reminding you how unspecial you are compared to those racing. Most anyone can wander in and see the paddock show, and so on, so the lads loved every second of it.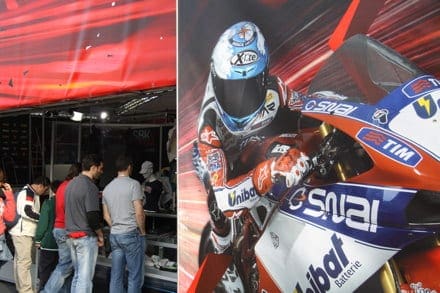 Come Sunday, Charlie and I were back into work mode while the boys went off and had a whale of a time, which you'll be able to see from some of their vids and snaps. They did hit the clothing stands first thing after they'd discovered empty stores at the end of Saturday, as nearly everything had sold out! Going home without t-shirts for the kids wasn't on, apparently! They even managed to (somehow, I wasn't about so have no clue!) blag their way into Eugene Laverty's garage for some snaps, which months later I'm still scratching my head over!
Funnily enough, Imola was about the only round of WSB this year where the racing was not completely bonkers, but it was still fantastic anyway, with a roaring Latin atmosphere and the awesome sounds of several different bikes blazing past, Checa, Biaggi and so on. There's really nothing like riding away to watch some racing, especially if it's a trip away with mates. Anyone who's done this before will attest to the fact, whether that's WSB, MotoGP or Endurance racing.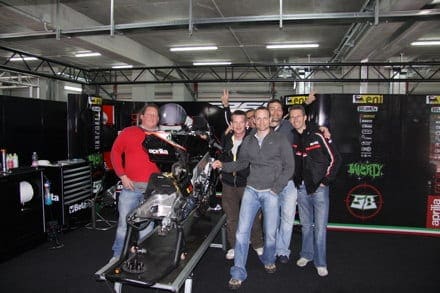 When the racing was done, our trip back began and we spent that night in one of the funniest hotels ever, south of Milan. It was a proper Italian Fawlty Towers, complete with a harried husband and dragon of a wife who just constantly gave him grief. We had found the place at near midnight, but hey, we're still customers! Their only ones too, by the looks of things!
Zooming back through the Alps was an utter pleasure, but exiting Switzerland the long slog on the motorways began, yet we had no choice as we all had ferries to catch. After many hours, and waving bye to Piers and Paul at Le Mans, we entered Caen with less than fifteen minutes to spare. Now, I'd been leading the entire trip and basically my eyes were knackered, so I stopped asking one of the lads to take the lead. What then happened was that we got lost. Really, really lost! I've been to Caen a lot, but found ourselves in areas I've never seen before.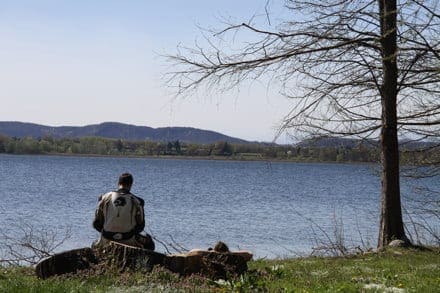 Getting desperate, I flagged down a new Mini that just happened to have a Union Jack on its roof. I pleaded with the French lady inside to help us and she shouted a single 'With me!' before wheelspinning off into the distance. What followed was an utterly crazy ride through Caen and into the docks, trying to keep up with a completely mad but obviously brilliant French lady! We finally arrived with a single minute to spare, and waving bye to the crazy lady, could finally relax and wait for our boat to sail. The annoying thing is, if we'd travelled a further 100 yards from where we originally stopped I'd have recognised where we were! Ah well, it was a great and frantic end to a terrific trip.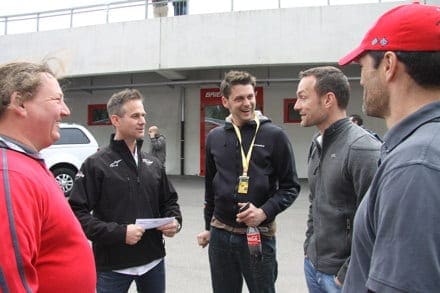 If you haven't been away on your bike before, you simply must at some point. And going to watch WSB is a great idea, as you don't get the over-stuffed crowds some GPs do, plus you're allowed almost everywhere and the friendly feeling permeates through the entire experience. There are still lots of sun and races left this year, all within an awesome rides' distance. Get to it!

Enjoy more Fast Bikes reading in the monthly magazine.
Click here
to subscribe.