Here's a post that does what it says on the tin – a list of the top Valentino Rossi images of 2012. Hope you like them.
Valentino Rossi may have had a very, very average season on the Ducati, but that hasn't stopped photographers getting some awesome snaps of the man on his Ducati Desmosedici. here are some of the very best.
Number One: The first is at Indy, an amazing circuit that for once didn't suffer at the hands of the weather…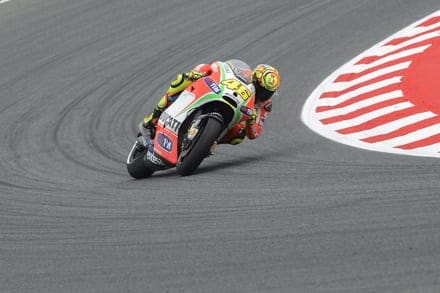 Number Two: Rossi complained about the front end of the Ducati throughout the season. Here, it proves the rear wasn't in too bad shape…
Number Three: Rossi problems started way before Qatar, and his lack of pace here compared to the front runners proved that he and Jerry Burgess couldn't find a quick fix.
Number Four: Pre season was spectacular as always at Sepang. Spectacular doesn't always translate to speed, but at least it keeps the like of us very happy.
Number Five: As the season tailed off, it was clear that all Rossi wanted to do was get off the thing – in a controlled manner at least. By Motegi he was really only going through the motions…
Number Six: Podiums came, like at Le Mans, but it was only with the weather holding other riders back. Even then, this wet form wasn't consistent…
Number Seven: And this sums the season up. At a track he loves, Rossi was nowhere. A big two fingers up to his bike says it all…
Comments
comments