The 2013 Pata Honda squad was unveiled to the world in Verona, and for we Brits it really is a dream team. The squad comprises Jonathan Rea and Leon Haslam in WSB, and in the WSS class Dutchman Michael van der Mark and Italian Lorenzo Zanetti will compete.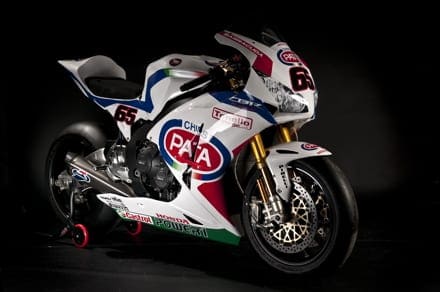 The new livery was revealed, and as title sponsor, snack manufacturer Pata takes the lead name. The team went to one of Pata's factories as part of the deal and don't they all look excited to be there…
To be honest, it's going to be a tough season for the Brits. The Honda Fireblade is getting long in the tooth, and although everything has been upgraded on the electronics side, it really is a lack of speed that wil hold them back. Let's hope that both riders and the team manage to overcome this during the first tests of the year out in Australia.
Here's the official blurb; "This is a really exciting moment," said Rea after the unveiling of the team and its new racing livery. "I think the bikes and the leathers look great and we know that there are some exciting developments for the CBR for this season, so I can't wait for it to start."
Haslam added: "It's great for me to be back with Honda for 2013 and I'm really happy with the whole look of the Pata Honda team. We've got a two day test in Jerez next week before all the kit has to be packed up for Australia. The first round can't come soon enough for me!"
See more of the launch here http://youtu.be/KS8MY0BmqYw
Comments
comments