The latest issue of Fast Bikes (Issue 272 – March 2013) is in the shops and on sale now – rejoice! With the weather showing us glimpses of what could be in store in spring, now is the time to head out to the shops (or to the virtual shop where you'll see our enhanced member) and get your fix of two wheel narcotics. Stick it in your crack pipe and inhale all the goodness that the March issue has to offer. We blew out the winter cobwebs this month and rammed this issue full of all the good stuff – new bikes, used bikes, racing, awesome feature, riding, mending and a lovely lady – so sit back and enjoy the March issue of Fast Bikes!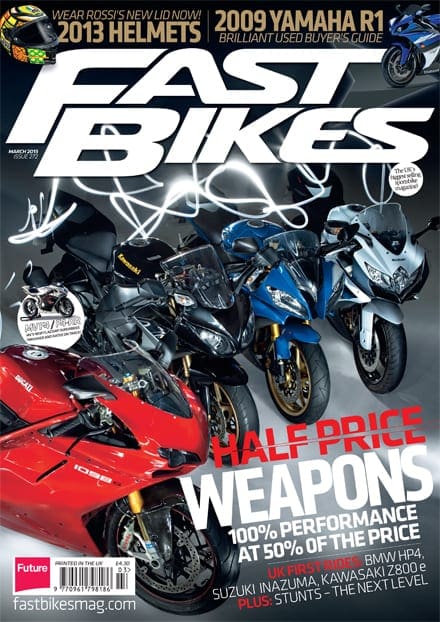 In terms of new bikes this month, it's all about the MV Agusta F4 and F4 RR. These two stunning machines were launched in Valencia and Benjamin got the golden ticket out there. It's a stunning machine parked up, but what's it like on the hoof? Well, did you really expect us to reveal that? Back in Blighty, it was our enormous pleasure to get hold of a BMW HP4 to see whether its huge potential made it back on the boat. Then we get our first shot on the very surprising Suzuki Inazuma 250 and the A2 licence friendly (via a restriction) Kawasaki Z800 e. And there's not a snowflake in sight…
Our core test is a simple premise. Why pay full whack on a brand new bike when there are some utterly amazing bargains out there on Planet Secondhand. We scoured the dealers to come up with four examples of you paying 50 per cent of the rrp and getting 100 per cent of the performance. With a 2007 Ducati 1098S, a 2009 Yamaha YZF-R6, a 2010 Kawasaki ZX-10R and a 2010 Suzuki GSX-R750 in the mix you'll not find better value for money than in this amazing quartet.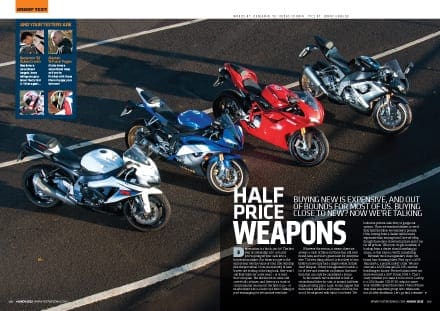 Rootsy, not a bad stunter on his day, tries to take his skills to the next level – and finds it's not as easy as it looks. Al heads down to the Minimoto track to see why it's the perfect playground for honing your skills, and then we check in with MotoGP CRT rider Colin Edwards and the FTR chassis makers to see if a bunch of dinosaur animators can make him go any faster round track. Then we see if Ross Noble is as good on a bike as he is at stand up – and you know what, he very nearly is…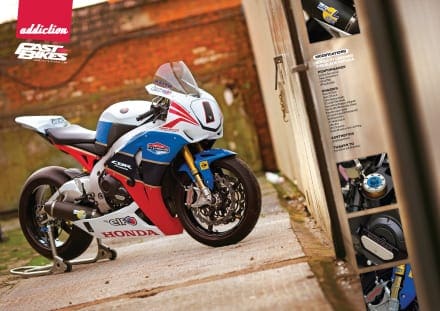 And there's still loads more to go, what with our feast for the eyes Addiction pages, our round up of the best helmets you can buy in 2013 (including the latest Valentino Rossi lid), brilliant race news and images, a great interview with the mega fast Lowes twins and we also catch up with Jonathan Rea. Then there's riding, mechanical and legal advice, a new tracks and travel section, a used test on the 2009 cross plane crank Yamaha YZF-R1 and more besides. No wonder Christmas felt so short! If you want a slice of this, get to the newsagents now!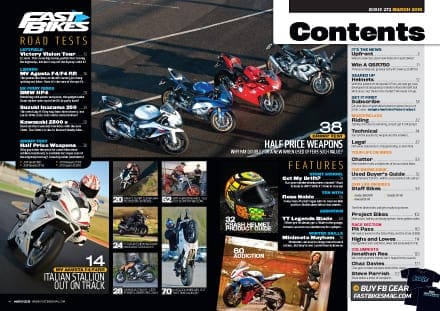 If you're not a subscriber then all this is news to you. You can subscribe, pick up the latest magazine in any good newsagents (and plenty of bad ones) or if you've got a tablet, clever phone or computer you can download the issue from Apple Newsstand if you're an iPad or iPhone addict, or Zinio if you're an Android/PC lover!

Enjoy more Fast Bikes reading in the monthly magazine.
Click here
to subscribe.