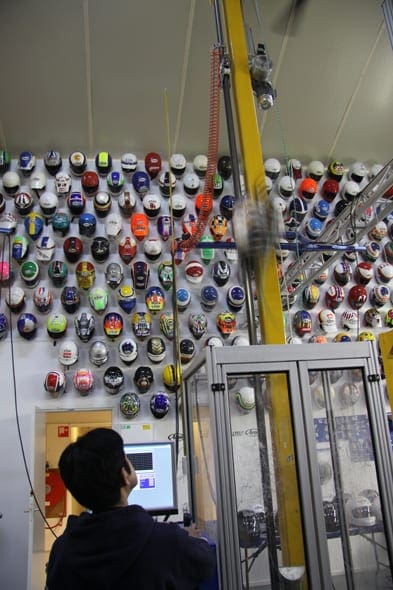 In a rural setting deep in the Netherlands is the Arai Innovation Centre (AIC): a unit filled with historic motorcycle helmet porn and enough machines to demonstrate most of the physical tests your crash helmet is likely to come across.
I was at the AIC to see the ever developing 2013 range and whilst there, get under the skin of helmet manufacturing and production. There is so much to the development of a lid, much of which we take for granted but when you have the dynamics presented you really do appreciate the processes. There are nine different sizes offered for most Arai Helmets. For these, Arai have developed five different shells to accommodate. These shells then develop for the continents they are destined for – the Asian market has a much rounder head than Europeans, who have a sort of cranial stigmatism, a more oval head, and as for our American cousins, well, they are also oval but slightly longer than Europeans.
Anyway, once a helmet has been modelled, its 3D form is scanned by computer and a mould is digitally cast. The building of the helmet can then begin until a tough, hard outer shell is created.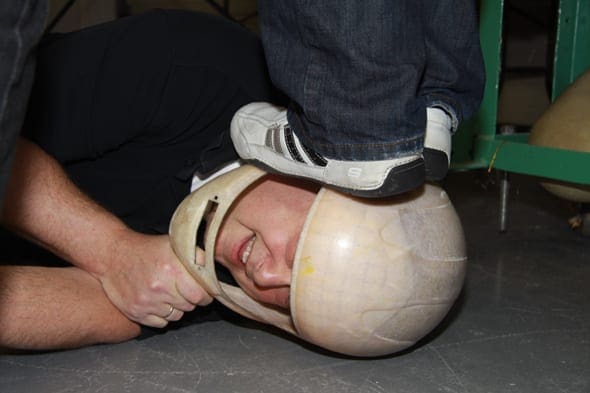 This is a very personal process. Each element is carefully controlled and once painted the decals are put on by hand. It's then polished by hand, interiors, visors and stickers are all attached, again, by hand. Polished again and finally bagged, the lids are boxed and shipped ready for the distributors to get them out to retail. Not all make it though: lids from each batch will be sacrificed for testing, a process that Arai take extremely seriously.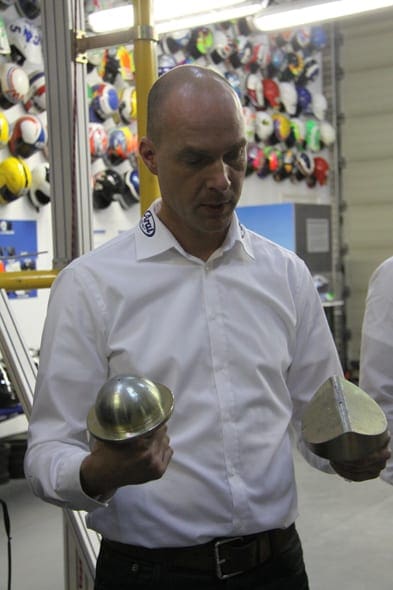 Testing has been a real bone of contention over the past few years, with the Sharpe ratings causing many a murmur across the industry. Now I really cannot say anything new about that but what I can tell you is the testing that I have seen. Testing that has not only gained Arai the ECE R22-05 certificate for the RX-7 RC­/GP Models and the new Quantum ST, but also the Snell M2010 performance requirement certificate. Snell being the recognised test for MotoGP and WSB Helmets, which I would guess is pretty stringent.
In brief Snell requires two impacts at exactly the same spot where the ECE requires only one. Yes, the chances of being hit in exactly the same spot is twice is unlikely in an accident. But so what, it's good to know that your helmet is robust enough to take it as seen below when this RX-7 hit the Anvil twice at a cracking pace.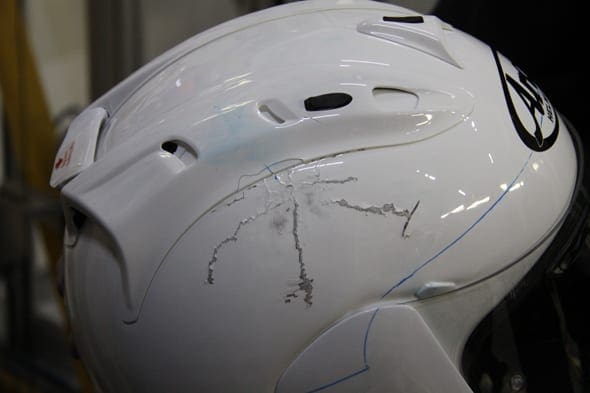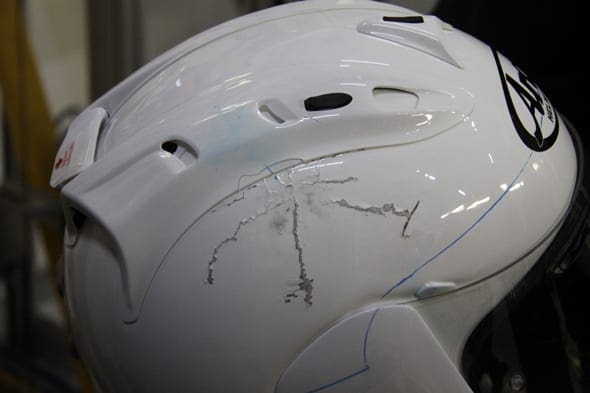 In addition to helmets bouncing off of anvils, curb simulations, spiked, and jumped on, they are also rained on for 24 hours and literally cooked for up to 24 hours at 50 degrees. All to make sure that Arai are putting the safest helmets out there that they can. Throughout the testing the Arai technicians were balanced and fair, showing how competitors faired, and many faired well. But when you see a helmet crumple in front of you under the stress of only a man's weight you have to think that there is some scary stuff out there – shop sensibly people. I don't buy beans where I buy bike gear, so don't buy bike gear where I buy beans.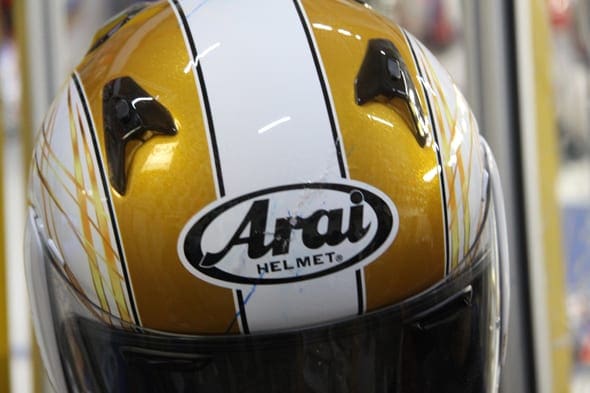 So this weekend I get my first outing in an Arai helmet for a long time. The Quantum ST has arrived boasting an updated shell and the all-new Facial Contour System. FCS is a spring loaded cheek pad operation that makes putting the helmet on easier, apparently – good for a man with my ears – and with a tighter fit under the jawbone I would guess this will be quieter? All remains to be seen but what is for sure is that after all of the bouncing, banging, bending and breaking I have seen at the AIC, I hope to only report on comfort in use.
Sheriff

Enjoy more Fast Bikes reading in the monthly magazine.
Click here
to subscribe.