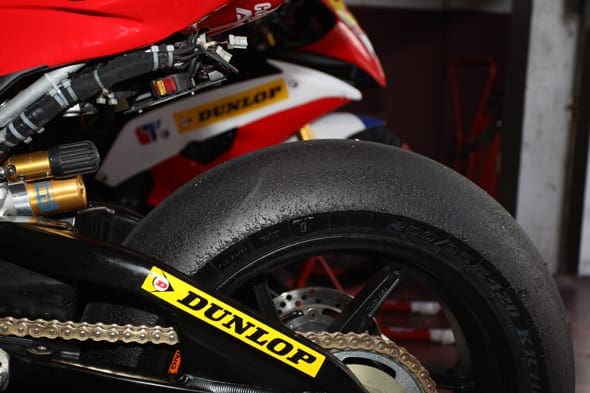 While we were out testing new Dunlop tyres (that you can read about in the next issue) at Albacete in Spain, it's safe to say I got pampered/spoilt rotten. Tyre tests usually involve sampling the hoops on various road bikes but circumstances were slightly different in Spain. We rocked up to Albacete halfway through Dunlop's annual Euro Test – a chance for all Dunlop-supported race teams from around Europe to test new hoops and escape to some sunshine for a thorough test. This includes Spanish, Italian, and French national championship riders, pure road racing teams, World Endurance Champions SERT, and our very own Honda TT Legends squad.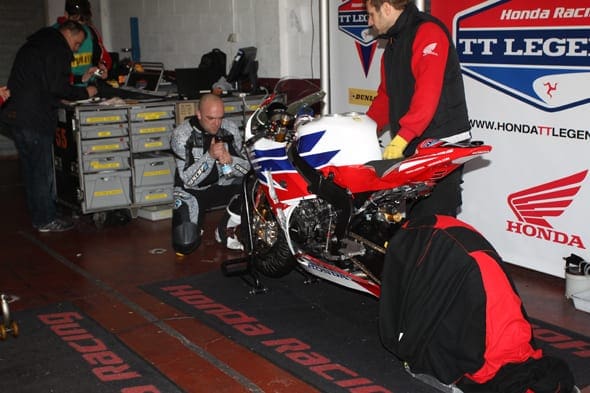 Michael Dunlop (complete with new svelte physique and consequent baggy leathers) got the chance to acquaint himself to the factory-supported Fireblades, while John McGuiness and Simon Andrews were dusting off the cobwebs and gruesome injuries, and testing a new Motec electronics system, in preparation for another hectic season. Michael Rutter was also due to be testing but he spanked himself at a previous outing.
I knew I was part of a live racers' test when a SERT Suzuki came gallivanting past, laying a huge black line on the exit of Albacete's first turn and buggering off into the distance. I'm just glad the bog-stock GSX-R 600 I was riding had wing mirrors.
After the track was virtually dry after heavy overnight rain, I got a tap on the shoulder. When a TT Legends team member asks you if you'd like to ride McPint's 'Blade for 20 minutes, you say yes. I said yes, too. After prancing around the pitlane for a while, the bike was warmed, primed and ready for an outing.
Russell Benney, the team's race manager until Glen Richards takes over, explains that my lap times will be displayed on the electronic pit board. Another team member advises me that they're short of bodywork, so I must not crash it. Chuck a damp track and the fact I'm sharing the track with some of Europe's fastest riders into the mix, there's nowt like a smidgen of pressure before riding hundreds of thousands of pounds worth of exotic superbike.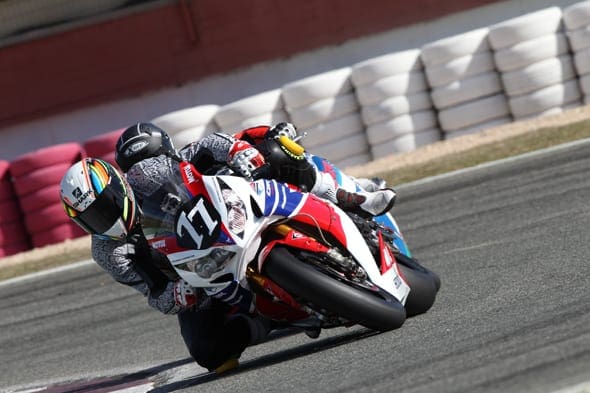 The first impression of the 'Blade is just how comfy she is, which is essential for endurance racing and hour-long stints, sometimes double. Race bikes habitually mean a knees-up-by-your-elbows riding position, but the low pegs and natural handlebar arrangement of the Legends bike mean supreme comfort.
The team use an adapted version of Honda's C-ABS, acting as a safety mechanism in shitty conditions and during late night shifts in the saddle when, sometimes, riders can get a little fatigued. But it took a little while to understand how the system would react, as rather than working from hydraulic lines, the C-ABS works off a pump (and a heap of other technical wizardry) in between the master cylinder and calipers. A little bit of poo came out as I braked from 150mph for the first time – there's absolutely nothing during the initial part of the lever action and then, KERPOW, ball-busting anchor power. It's set-up for racers to exploit the limits, not a morbidly obese journalist wobbling around 10 seconds off the pace.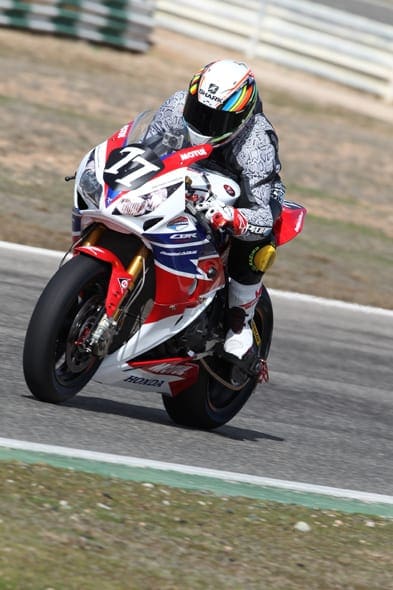 After just several corners, its onslaught of grip is hugely apparent. An endurance racer is all about making life easier for the pilots and the TT Legends 'Blade is fitted with a 16-inch front wheel, which boosts side grip courtesy of special prototype Dunlop rubber. Such is the control and stability at major lean, you could almost jump off mid-corner, do a little dance, and the bike would remain glued to the Tarmac on return. Likewise, the massive 205-section rear hoop exuded more grip than I could chew on.
It also makes a nice change to jump on a race bike that doesn't bottom-out as soon as a whiff of brake is introduced, or runs wide when the throttle is tapped. McPint and Dunlop aren't jockey-sized racers, and that favoured my frame. 16-incher aside, the TT Legends 'Blade could be placed on any patch of Albacete's Tarmac.
The engine, like any other pukka Fireblade we've ridden, feels like a steroid-induced version of the road bike. It spins quicker internally and harvests pretty bangs on the overrun, but otherwise it's a friendly delivery. And mated to the motor is a Nova gearbox, making shifting (both ways) utterly seamless.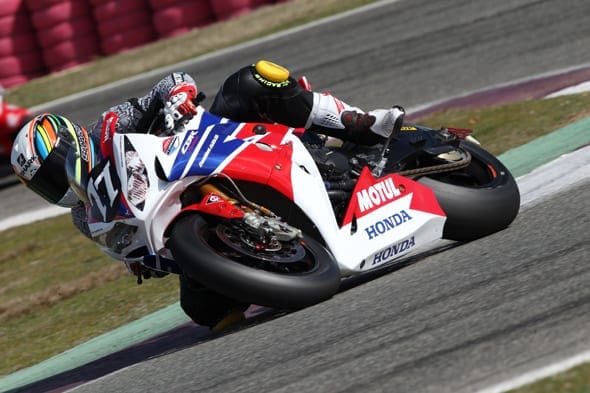 Riding a 200bhp superbike around Albacete is thirsty work, regardless of how much of an armchair you're riding. I could have indulged in the full 20 minutes onboard the TT Legends 'Blade. Then again, I could have launched it into the Spanish mountains. With massive arm-pump causing Popeye-spec forearms, I thought it prudent to return the bike to the pits under its own steam rather than the recovery truck. Needless to say, Mr Tuxworth was happy. So was I. Buzzing was an understatement.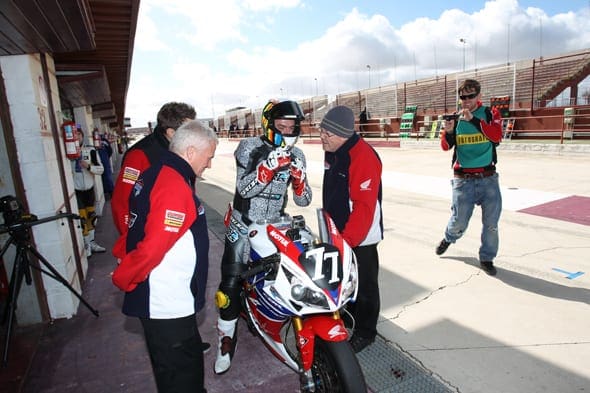 Watch the vid…

Enjoy more Fast Bikes reading in the monthly magazine.
Click here
to subscribe.