I've got 14 bikes at home.
There are loads of race bikes. I've got two full factory TR750 Suzukis. Road bike wise, I've got a brand-new Multistrada. What a bike! There's also two Ducati PS 1000s, a 1986 CBR250 four cylinder that revs to 20,000rpm and that's great fun. I've just renovated a Norton 99SS, too. A DR350 is what I play about on during the winter and I've always got four bikes on tap, so dependent on which mood I'm in, I can go for a blast!
Riding on the road is a bit tricky these days.
Going from road to track is a huge gap. For me, riding on the road is detrimental to your track pace. If you go fast on the road, well, you know how things will end up. I'm just into road riding now, and seldom go near a racetrack. You boys have to mix the two, fair play! I get the offers to go on track but don't take the opportunity. I just thoroughly enjoy riding motorbikes. I've geared myself down to just riding for enjoyment.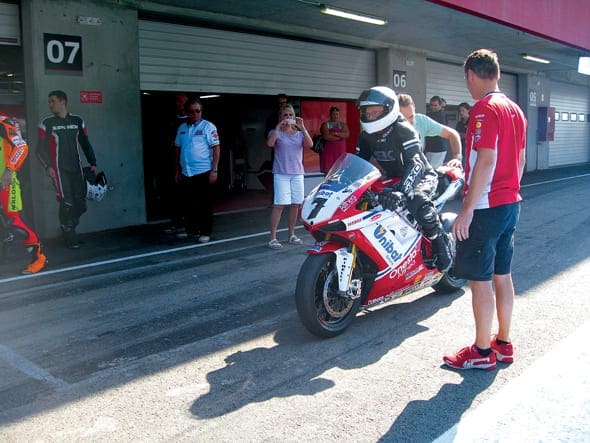 I could say Imola was my favourite race.
At the time it wasn't as important as it is now. It was unexpected, I had no basic objective, and it was a new motorcycle. It was totally out of the blue. That same year, I won the Ontario 200 and I've also won the Bol d'Or. It's hard to single out just one race. The first time I ever left these shores was when I went over to do the Barcelona 24-hour race. We finished third on a 250cc. When you're young, the whole thing was pretty exciting and you got absolutely mobbed in them days. When they built the Olympic village, they lost most of the circuit there. It was built around a park in the centre of the city.
I had some fantastic races with Agostini.
It was when I was riding a Triumph 3. I finished second to him four times, and crashed while leading him. Let's face it, Ago was the target man in those days. I actually beat him in a race at Cadwell Park. I guess the exotica from my era were the MV Agustas. I had the opportunity to ride them, but didn't.
I never won a Grand Prix, I never won a TT.
I had lots of second places in each of them, but it's circumstance, you know. In those days if you were riding a 350 Yamaha and Ago was on the MV Agusta, you just weren't going to win. A second was a win. It was the best you could hope for.
The crash at the North West 200 was probably the worst I've had.
Me and Tony Rutter were dicing for the lead and, apparently, we hit a backmarker who went down in front of us. When you fall off there, you hit walls and bounce off kerbs. Neither of us actually know what happened as we were doing 135mph, flat out on a straight that was four miles long. I bust my wrist badly and had quite a few serious operations. I also bust my collarbone and ribs. I raced for many years after that, but had to have a super-quick action throttle. Being knocked unconscious was the worst thing – walking around like a zombie for a week is never good.
Article continues below...
Advert
I was riding the new Ducati in 1972.
The bike that I won Imola on, and Ducati gave it to me to bring over here. I was racing at Brands Hatch and I beat Phil Read on the JPS Norton by half a wheel. The Ducati wasn't very good at short circuits because it was designed to go around Imola – and nowhere else. The geometry was like a chopper and it had a massive long wheelbase, so going round a fucking tight circuit was a real struggle. It used to wear out front tyres before the rear, it would understeer that badly. That was quite funny. After that, I went off to America because that was where the real money was at in those days.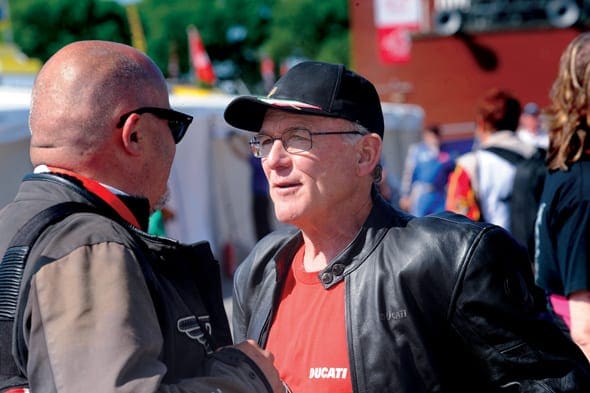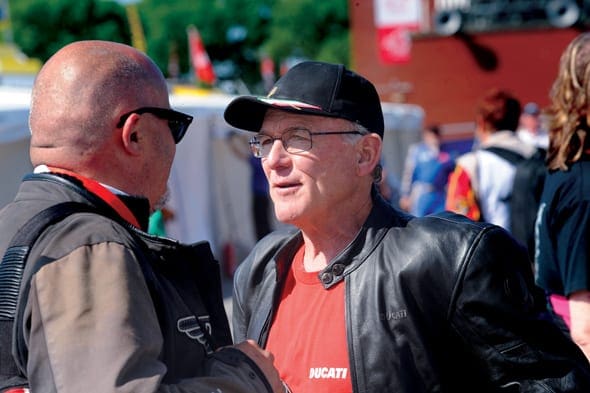 Article continues below...
Advert

Enjoy more Fast Bikes reading in the monthly magazine.
Click here
to subscribe.