Crew Chief for Marc Marquez in his two seasons in Moto2, Santi Hernandez has made the jump to MotoGP alongside the rider with whom he has won a championship and a runner-up finish in the intermediate class. Aged 37, he has spent nearly half his life at racing circuits –first as Suspensions Technician for the likes of Alex Criville and Valentino Rossi in the Repsol Honda Team, and then as a Crew Chief in both 125cc and Moto2. Now returning to the premier class as Race Engineer for Marquez, he oversees the latest Spanish star's move up to the premier class.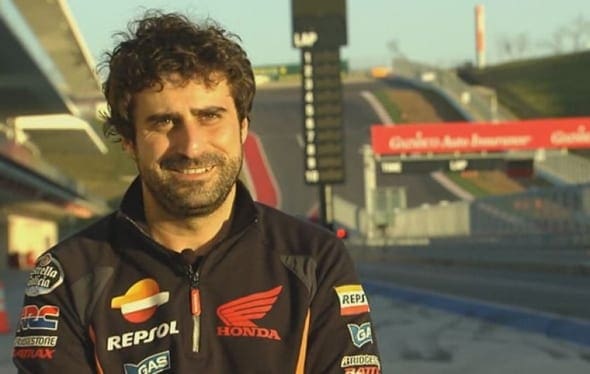 How did the three days in Austin go?
"I would say quite positive. It was the first time at the circuit, a new track where no one had ridden before. After seeing how these three days have gone and how Marc adapted, I think we can say that it went pretty well. The important thing is that we didn't have any other data from previous years because it is a new track, and so I think that both the team and Marc worked very well when it came to adapting the bike to both the rider and to this new track, which is quite complicated."
What can you tell us about this track on a technical level? The grip of the asphalt, the type of corners, is it fast, slow etc.?
"We expected that the entire first half would be a little more difficult, as on the linked corners where there are many changes of direction in rapid succession. It is a part of the circuit where the rider has to work really hard. Also you have the first turn on an uphill, and hard braking with different lines available. It is an unusual circuit, in which the rider has to change the lines a little. This is what we worked on most, especially in the first sector, the changes of direction and hard braking on the back straight –to make the bike stable, the first corner, the hard braking sections…"
Having seen Marc's adaptation to Moto2, did the performance at Austin surprise you in the slightest?
"Looking at how testing has gone, we can say that he has adapted very well, but this does not really mean anything. I guess that the other riders like Dani [Pedrosa], Lorenzo, Valentino [Rossi] and Bradl have also been testing other things with their setups with the Grand Prix in mind. I don't know how they have worked, nor what they have worked on, but I expect that when we come back here things will be different. The results of the three days in Austin don't mean anything. All we can say is that we have been working very well. The results are positive."
Do you think that the fact that you had no previous reference from Austin helped Marc learn better and faster?
"Yes, above all the important thing for Marc was to understand the electronics better, because there was no data to use. We had to try new things on every run. Logically, he understood more about the use of electronics with every corner: More engine braking, less traction, not to lift the front wheel up too much etc. All these things we have been working on, because it's a new circuit for which we had no data. It was also a positive experience in terms of understanding each change we made, in order to solve the problems that we had with the electronics."
Article continues below...
Advert
In the end, you didn't undertake a race simulation.
"It was on the work plan for the three days, but in the end the team decided not to do one, because we had two days of testing in which we worked hard and made a lot of changes. We felt that there were many important things to test ahead of the Grand Prix, to understand the development of the bike more. Then you also have to think that we are off to Jerez for another test. We evaluated the test more things facing the Grand Prix and finish to understand more the development of the bike, to do the race simulation. "
What is your assessment, as Marc's Race Engineer, of the whole adaptation process that he has had since he arrived in MotoGP?
"The overall analysis is very positive and he is adjusting well. We have had three tests in Malaysia, where you have all day to work, try things, look at the telemetry and assess more of the changes that you will make. This gives you time to think more, to have more data collected and be surer about the adjustments. For now, we can say that in testing he is adapting quite well, but we also have to see what happens when we get to the races, at new circuits where we have not ever raced in MotoGP. There will be little time for practice and we'll have to test tyres, gearing, suspensions –many things in a short space of time. All the while you have to clock good times in order to qualify, with the new system that has been implemented for this year. That will really show how we have adapted to the category. As he demonstrated in Moto2, Marc is a hard worker who always knows what he needs to do in order to go faster. In turn, he also gives the technicians very clear information. This helps make the whole process somewhat faster. As I always say, however, wait for the races; they will be a completely different scenario."
How have you and Carlos Linan adapted to the new team?
"The truth is that this is totally different to what we were used to in Moto2 because, in a private team, the team approach is totally different. We have taken a turn for the better. Keep in mind that we are in the MotoGP class, in the best team –Honda– and that for us this is a big step. What we have seen up to now is that there are many more people, many more engineers around, but at the same time you can see why in MotoGP this is required. There are so many things, so many parameters and so many bike parts to keep on top of, that all of this is necessary. The team that we have inherited was Casey Stoner's, and they've been working for a long time together. They know each other well, they are good technicians and mechanics and I think, little-by-little, we're learning more about one another. We're getting closer all the time. I must say that I feel happy to be working with them and, above all, with HRC."
Article continues below...
Advert
Have you found many changes between the Repsol Honda Team when you worked with Criville and now?
"In those days we were running with the old 500cc bikes, two-strokes, and things worked differently. The bikes were different from how they are now. There was not so much electronics. Also, my position was different; I worked as a Showa suspensions technician and wasn't a part of HRC. It's true that I've noticed a big change, because there are many engineers who I worked with who are no longer here, we have new engineers, a new bike etc. You can that say it has changed considerably and, from my point of view, for the better."

Enjoy more Fast Bikes reading in the monthly magazine.
Click here
to subscribe.