It's that time of the month! No, not that one, rather the one where you can rush out to the shops and pick up the May 2013 issue of Fast Bikes Magazine. Or if you've got one of those new fangled devices you can head to the appropriate store for your Apple, Android, Nook or Kindle Fire device and download Fast Bikes Magazine there! It's a proper good issue this month (like it is every month), so put your fingers or your legs in the right direction and get to it!
We start things off in a funny fashion. On the cover we feature what could be the most important machine of the year – Honda's CBR500R. This machine could be the solution for new riders having to face up to the realities of the new motorcycle test. But as Al found out on the launch, things might not be a dire as they seem when you've only got 46bhp to play with – and play Al did.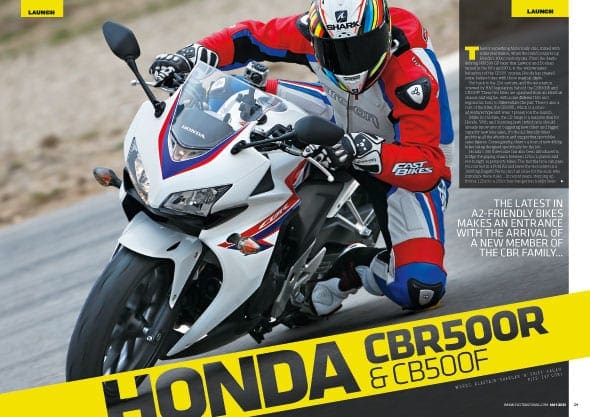 We also head to Spain to check out whether the new, smaller capacity Ducati Hypermotard is up to the hooligan standards of the machine it replaces. Plus we check in at the launch of the amazing new KTM Adventure and the surprising revamped Triumph Tiger Sport. We also test the massive new Moto Guzzi California Custom to see if this mountain of metal is up for chasing a Ducati Diavel here, there and everywhere. If these don't tempt you back into a dealer then nothing will!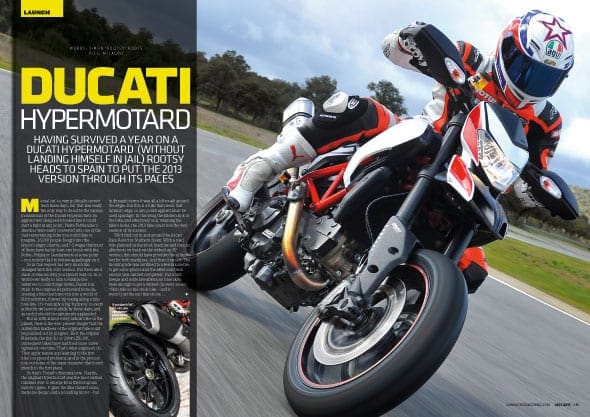 Our big test this month tries to answer a question. We've raved about the 2005 Suzuki GSX-R1000 ever since it was launched, so we decided to see if our praise is justified by sticking it up against the current crop of 2013 Japanese litre bikes. The results will surprise you – as will the video if you download the iPad edition!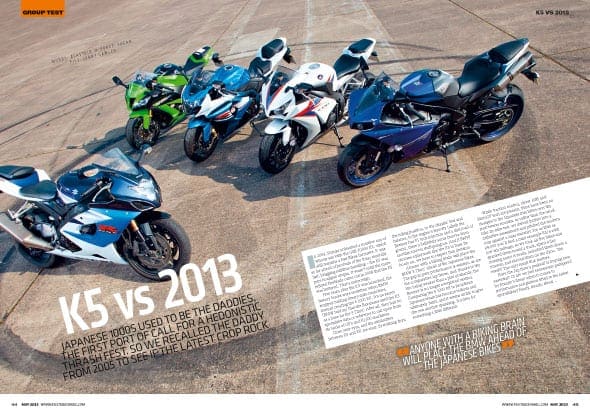 You wouldn't think that 22bhp would be much to shout about, but when that's packed into a tiny FS1-E then you can be sure that the ride is going to turn into a riot. We test the lastest Dunlop sticky rubber in the form of the D212 GP Pro, we check in with the first lady of Nitro Circus, Jolene Van Vugt, give you a handy MotoGP wallplanner and check out some of the most innovative UK companies around.
Then we've got a rather tasty carbon clad Honda Fireblade for you to drool over in our Addiction pages, the used test is of the awesome 2010 Aprilia RSV 4, we speak to the MV Agusta team in world supersport who have resurrected the brand after years in the racing wilderness, we celebrate the arrival of a few of the 2013 fleet of longtermers, speak to Danny Kent, Chaz Davies and Steve Parrish, round up the ten best gloves on the planet, and, well there's still stacks more so why don't you check it out for yourselves!
Download Fast Bikes for Apple iOS devices
Download Fast Bikes for Android devices
Download Fast Bikes for Nook devices
Fast Bikes is also available on Amazon's Kindle Fire – search for it on your device.
It's another stacked issue absolutely rammed with goodness. We loved making it and hope that you're going to love reading it! Click the image above and it will take you to a pdf version of the contents to see how much we've packed in!

Enjoy more Fast Bikes reading in the monthly magazine.
Click here
to subscribe.