The flag drops for the 77th Bol d'Or today, with the Honda TT Legends team hoping to make a real impression on the event. The team comprises John McGuinness, Simon Andrews, Michael Rutter and Michael Dunlop – with Glen Richards at the helm. Given the pace shown by McGuinness, Rutter and Andrews in their various BSB appearances this season, the team should be hyper competitive.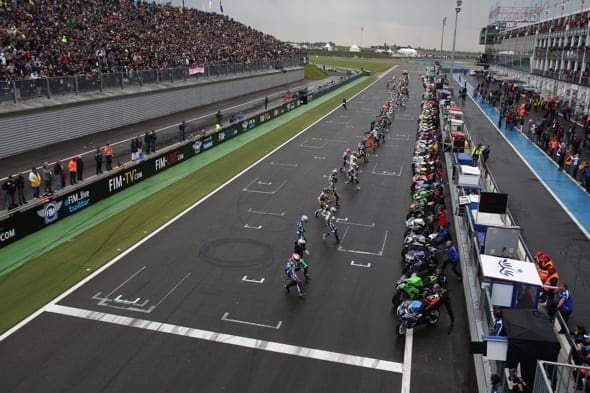 Manxman Conor Cummins is also racing for a two man Slovakian Yamaha outfit (good luck with that – two men!). Broc Parkes and BSB's Josh Waters are riding for the YART Yamaha team, Karl Muggeridge is on a BMW, Loris Baz is on a Kawasaki,  and look out for Romain Grippy in the ACR74 team – what a great name – there's even a French Olympian out there who competed in the Olympics at the pole vault! It really is a mouth watering line-up and the strongest field we've seen for years.
The race kicks off a 2pm BST on Saturday and runs for an unsurprising 24 hours. There doesn't appear to be any live UK coverage, but there will be tweets galore from the team  @HondaTTLegends on Twitter.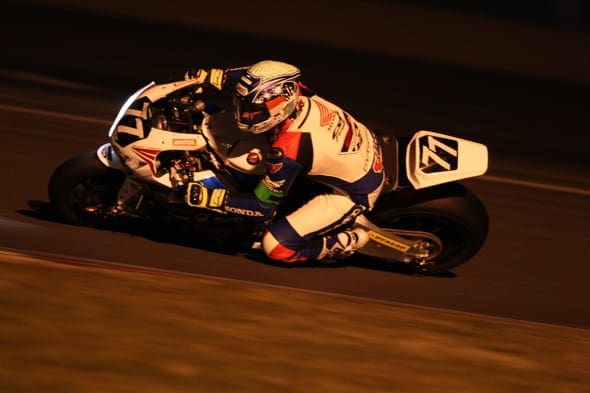 Here is what the team members had to say after Thursday's practice.
John McGuinness
I'm feeling good. It's our third year here at the 24-hour race and I'm looking forward to it, I'm excited. We finished fifth the first year and sixth last year, so this year I'd love to get on the podium. I think we deserve it! We've got some new electronics on the bike and a few different people in the team – some really strong and experienced riders – so it's all good. After a long, cold winter in the UK it's nice to be here, whizzing round on the bike in the sunshine. We'll just see what the weekend brings and hopefully we can bring the bike home safe, standing on the steps.
Simon Andrews
I can't believe it's a year since we were here last. Things have changed – we've got new electronics, a few changes in the team, a couple of new riders. It's good to have Rutter and Dunlop on board and have a couple of new minds working on the project. I'm a lot fitter than I was this time last year and I know what to expect this time, so that will all help. We had our first run on the bike yesterday in good weather, and so far, so good. We're all happy.
Michael Rutter
I was feeling quite good until I spoke to everyone else and they told me what to expect! It's daunting to know that you've got to do 24 hours, especially through the night as I've never been out in the dark before. It's all completely new but to be honest yesterday's free practice was really good, the bike went well and we've got time to get a few more laps in before the race.
Michael Dunlop
It's obviously my first time at an endurance race and it's Rutter's first time too so we're trying to get as much track time in as possible before the race. It's all looking good so far and we'll get the qualifying done and see who's going to be racing, that's the main thing. It will be interesting to see who ends up in the line-up. I'd love to race, it'd be great to have a 24-hour race on the CV but we'll see what happens.

Enjoy more Fast Bikes reading in the monthly magazine.
Click here
to subscribe.