After a disappointing race at CotA on his Yamaha M1, Valentino Rossi has (again) swapped two wheels for an outing in a car – this time using his Monster Energy contacts to blag a ride in Kyle Busch's Nationwide Toyota Camry NASCAR at Charlotte Motor Speedway.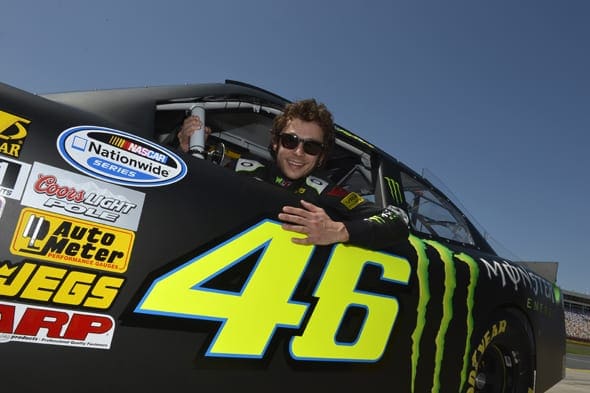 Rossi spent yesterday lapping the North Carolina circuit with help from Busch (the winner of the last three NASCAR Nationwide races) and adjusting to life with a V8 making 650bhp, and 24-degree banking. Overseeing the day was team-owner, Joe Gibbs, who is no stranger to bikes himself – he ran James 'Bubba' Stewart in AMA Supercross. And VR46, unsurprisingly, was on the pace.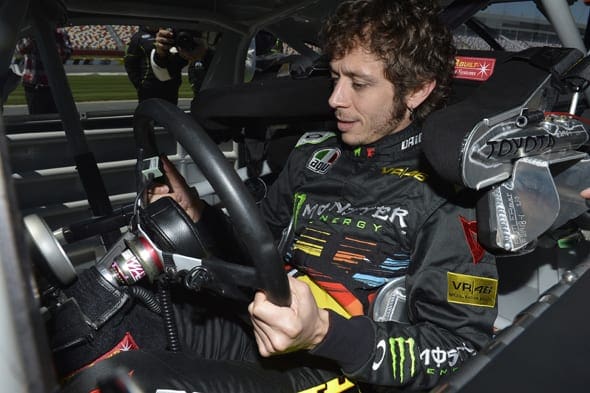 "It was so cool to understand the feeling!" said Valentino. "I have a lot of friends from Europe and Italy who follow NASCAR. It looks like it's a completely different type of racing than what we do in Europe and I expected something more like this – exciting, high speed and a great feeling in the corner. In the bank you have a lot of grip, so you are glued on the racetrack. It was great, I enjoyed it a lot. I love driving the race car, and I always have, so it was exciting to drive a NASCAR."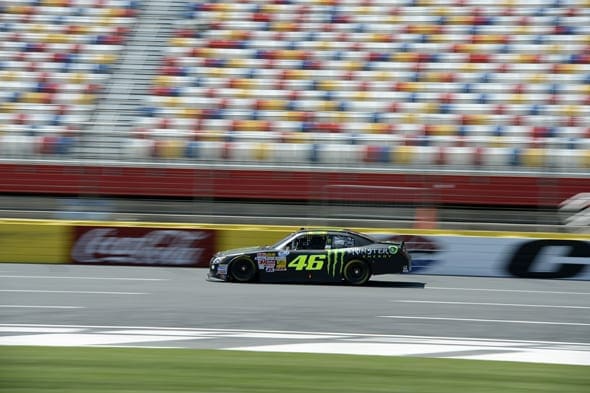 Valentino added:  "At the beginning it was a bit strange because it's difficult to go straight. But after some laps, I had a lot of confidence and I was able to go faster and faster and faster. I must say I got along very well with Kyle. He's a good guy. I like him and he gave me a lot of important advice."
Kyle Busch added: "I thought it was a really cool experience and it also helps when you have two guys who are enthusiastic about their sport and have a good mantra about it," smiled 'Rowdy' Busch. "I think Rossi is a really cool dude. We were just having fun, hanging out together. To me, I thought the experience was awesome. It's cool Monster Energy brought us together, it was a lot of fun. Just getting the feeling of asking him about his sport and him asking me about NASCAR a little bit. Just having the dialogue there was good."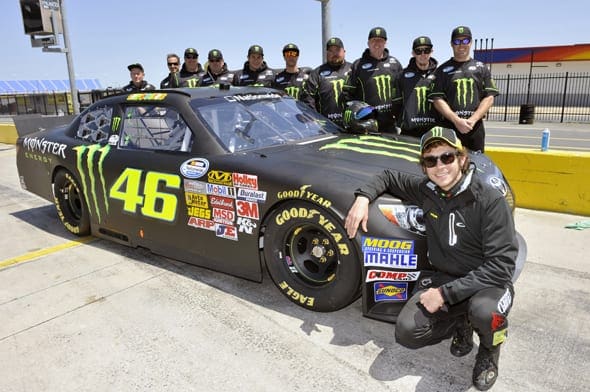 "And as far as driving the car, I thought he did pretty good. He started out a little slow, which is fine, but every lap he picked it up a lot. He got to where he was running some competitive lap speeds – times that would put him in the top-15 in Nationwide Series practice. That's pretty good for a guy in his first start, who is just coming over and getting used to things and someone that is used to driving on two wheels."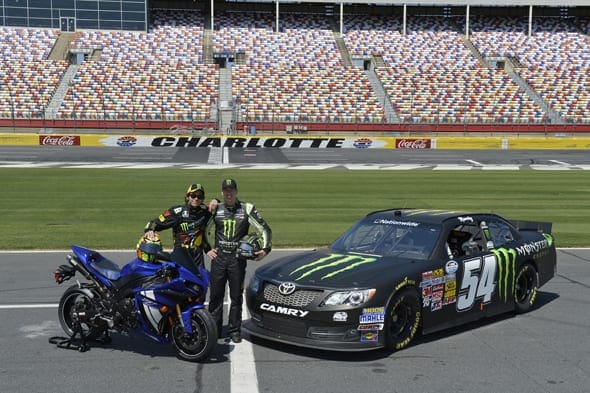 Lin Jarvis, Managing Director of Yamaha MotoGP, had his own unique perspective on the collision of two radically different forms of motor racing. "For me it's really fascinating to come here to Charlotte, to the home of NASCAR – this is my first contact with NASCAR, ever – so it's something I really wanted to do at least one time. To be here with Joe Gibbs Racing and Kyle Busch, that's as good as it gets. To have Valentino mix it up here, experience the car, is a fascinating experience for him as well. I just saw Valentino when he came in off the track and even through that helmet, you could see that huge smile on his face."
Let's hope The Doctor doesn't permanently swap to four wheels in the immediate future

Enjoy more Fast Bikes reading in the monthly magazine.
Click here
to subscribe.