At some point you'll notice that some pictures are special in some way, and some time after that (it could be seconds, it could be years) you might wonder what makes the difference. Sometimes the difference is in "the bit extra".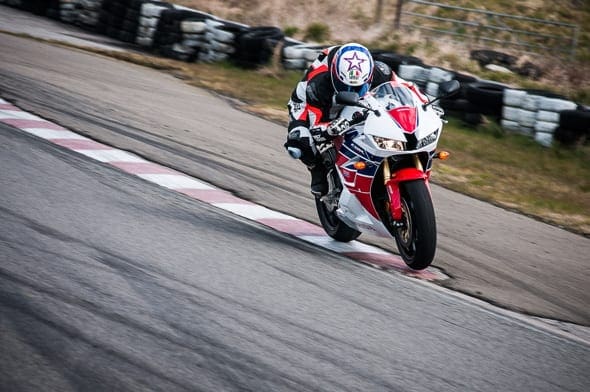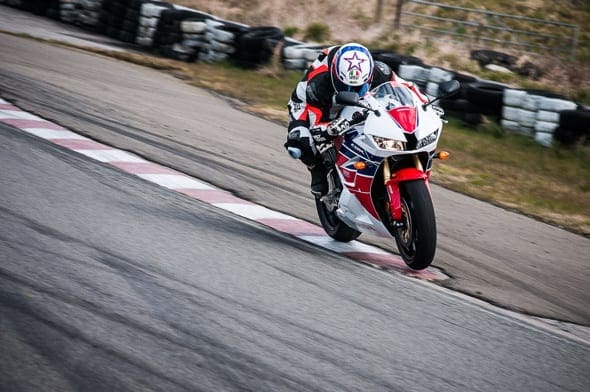 I'm not saying this picture is particularly special, but it does illustrate the idea. The annual problem that is The SuperSports Grouptest came round again, and basically I just thought I'd stand at various points and hope that things would occur. It was windy so I used the 180mm lens instead of the 300, which at least meant that those "various points" were different to last time.
I call it a problem because showing a 600cc motorcycle's track strengths is a challenge. Its lap time advantage is in the corners, and in riding it hard but precisely using all the available track. Giving an impression of that kind of thing with a series of images is a task, getting it in one picture is a vague hope.
Simon was routinely running up the kerb here so I thought well that's something, and when I moved nearer and framed it up he turned on the photo style a little bit. From one sequence of four frames, this one shows a tiny gap under the front wheel. That's the bit extra, the little surprise that says "thanks for looking", the end of the conversation between creator and viewer. That tiny gap ends the story that's started by the position of the rider on the bike, the bike on the track, and the track in the frame.
The bit extra is the reward for paying attention, and the confirmation that yes, if you get it, this is for you – and that our time and effort were well spent.
Jonny Gawler

Enjoy more Fast Bikes reading in the monthly magazine.
Click here
to subscribe.