I'd say most of my fans know I'm into bikes.
It's the general punters that are aware of me that wouldn't know. My hardcore fans are sick to death of me talking about bikes! When I'm out and about on bikes and pull up, some people say, 'oh, I didn't know you were into bikes'. They're surprised, like they've caught you wearing just lacy underpants in the high street. I go on my bike to do a lot of telly stuff. Studios usually want to send a car to collect me and that's my idea of a nightmare. As soon as they hear you're coming on a bike, they freak out, thinking you're going to die.
My mum always said, "Bikes are dangerous, you can't have one."
But as a kid I was a massive fan of Kickstart. I used to ride my BMX doing all the trials stuff, but any suggestion of riding a motorbike was written off by mum and dad.
When I was 18, I moved to London and bought a Honda City Express.
I was going to get a proper bike to do my gigs on rather than take the Tube. Then I discovered that because I was a comedian, the insurance would be horrendous. Even for my Ford Fiesta it was £2,500. I was pricing up insurance on a 125, and it was in the thousands. The 49cc Honda City Express still cost me 1500 quid to insure! It was an old pizza delivery bike, and if I got a puncture or something went wrong, I used to go see this Greek bloke who serviced the pizza bikes and he'd do it for free. Then I got a Kawasaki KMX. It was when the insurance started going down, that the collection grew!
I toured Australia and I decided that I was going to do the whole tour without planes.
So I did an 80 date tour and travelled 26,000km on a BMW R 1150 GS. I picked the best touring bike possible. When I lived in Oz, I lived quite near Phillip Island, so started to get into trackdays.
My love for off-road started when I bought an old trials bike.
We used to live in a national park, with hundreds of miles of riding land. It went from being happy on firetracks, to finding single track stuff, then searching for logs and rocks. The next thing you know I'm racing. The first race I did was a 24 hour enduro and then I got into the extreme stuff.
I did the Red Bull Romaniacs race last year.
I finished it, did the full five stages and came 12th in the hobby class. Half the field don't even finish. Don't get me wrong, it was the hardest thing I've ever done in my life, and the thing I'm most proud of. Before doing the Romaniacs you'd get people being a little snide about things, but I proved a point. There are quite a few media types that are into bikes, but are more into posing. I'm not a double-denim wearing biker who rides my Harley up kings road, I genuinely love riding bikes.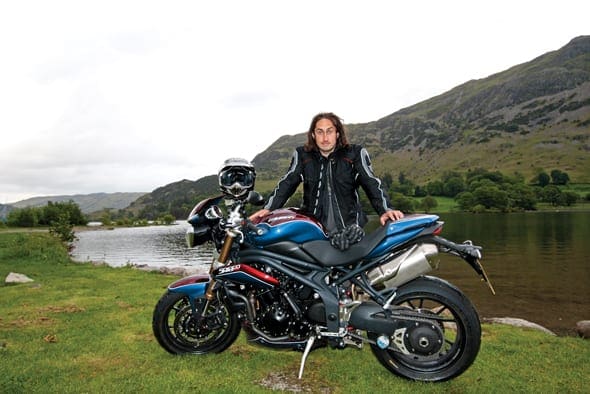 I'd like to have a go racing.
Maybe in the Triumph Triple Challenge. It's possible. The next thing on the list is going off to do the Roof of Africa in November, which people say is harder than Romaniacs. I'd also like to do the Scottish six-day trial. I like the dirt stuff, as it's constantly changing and there are a few ways of doing it. Road racing is the same thing, with grip changing dependent on tyres and you're talking centimetres and millimetres. But it's easier to practice off road; I haven't got a full size track in my garden…
My wife bought me a 1976 Norton Commando for Christmas.
I've got a day-to-day Triumph Tiger 800 XC that I go to London on and to the shops on. I've got a Daytona 675R track bike and a Ducati Streetfighter. Now that's an awesome bike – it's my 'oh, shall I risk my license going down the shops' option. Stuntman, Paul Gower, took me up to an airstrip doing wheelies. You move your arse back a centimetre on the seat and the front wheel just launches. It's just an unnecessary bike in every sense, an utter hooligan, it's too powerful and too fast, and you can't even take it out and park it because it'll get nicked. It's totally impractical, but I love it.
I've also got a Triumph Scrambler.
If I'm off to a craft fair or agricultural show, that's the bike to have. And then I've got my dirt bikes, a KTM 350 XC, a Gas Gas 250 Raga rep, and a Husqvarna 510 SMR. If anyone wants to buy it at a cheap price, let me know. I'd just like to point out I do have a incredibly expensive security system. My wife pointed out the cameras should be pointing to the house where my family is, not to the garage…
I've got a bike for all occasions.
I was looking at the Ducati Multistrada, especially after watching the Pikes Peak race. I look at it and think, 'that's perfect', but then realised I've got a bike for everything already.
I don't really have a dream bike.
It's probably something that'll sit there and not get ridden. I like the Desmosedici and I'd get one if I was going silly. Maybe one of Troy Bayliss' old Ducatis, or if Rossi had an old bike kicking around I'd have that.
Rossi back to Yamaha is great.
I wanna see him win again just to show Lorenzo how to do the victory celebrations. I've got no gripe with Lorenzo, but he's such a plagiarist when it comes to bringing out the flags and all that. I don't mind the guys who hate the interviews and media stuff, and I'm a huge fan of Casey Stoner and he doesn't like any of it. I love the way he gets arsy about everything away from his day job and clearly all he wants to do is ride bikes.
To keep up with Ross' twitter travels, click here

Enjoy more Fast Bikes reading in the monthly magazine.
Click here
to subscribe.