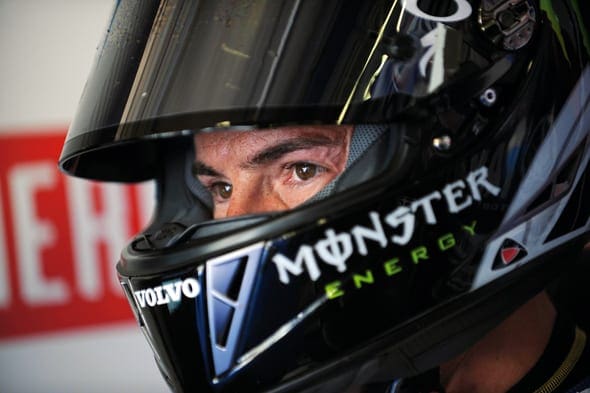 It's 1998, and a future FB staffer is stood in front of the podium celebrations at Assen, after Carl Fogarty won an incredible race against Frankie Chili. Most know the story by now – Frankie fell off at the last turn, threw some insults and fists at Carl in parc ferme, then turned up to the press conference in his bathrobe for another ruck. Good times! Anyway, while Foggy was spraying the champers the aforementioned future FB staffer was making his way out of the scrum, and noticed a young James Toseland standing with his mechanic and then team manager, Neil Tuxworth. He was transfixed, eyes never leaving Carl, who was busy lapping up the glory. James was in his first year in WSS with Castrol Honda, yet had seen a potential debut podium go west when his gear lever fell off. So there he stood, arms folded, watching the king Carl do his thing.
You could see the passion burning in his eyes, he wanted the adulation he was witnessing but more so, the success. As it happens, we sidled up to him as we left and said, "Don't worry James, you'll be there one day." The response we got said it all, "Cheers mate. I know I will, one day."
Now, many may think that the response of a big-headed racer, full of testosterone and confidence, but that's just one aspect of JT's career that's generated debate aplenty. We wonder whether or not there's been another British racer in recent history, that's generated and divided opinion as much as James Toseland.
Yet one thing can't be denied, and that's James' fighting spirit. It won him two world championships, both against the odds. 2004 is a perfect case in point, and you need only watch races from that year to know exactly why James is, and always should be, a national racing treasure.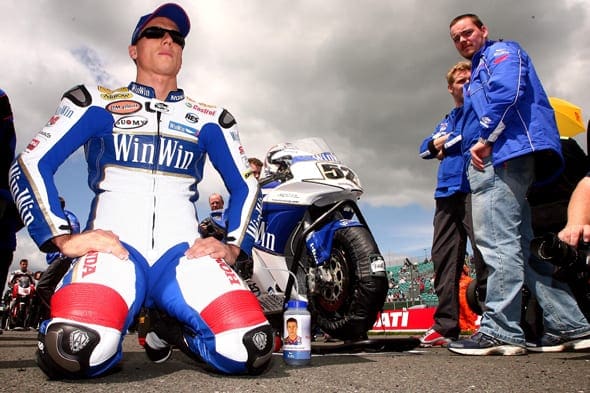 We wonder whether or not he knew he had that in him, even when he was riding a teeny trike in his Mum's back yard aged three?
"Barely!" said James during his visit to the office to say his goodbyes. "That was before my Mum met the man who sent me racing, Ken. He passed away, sadly, but Ken is the one responsible for me riding and racing, I'll always have him to thank. I was eight-years-old when I got my first proper bike, then it seemed like no time before I'd won my first championship, which was the first I'd ever entered, the 1995 Junior Road Race title.
"Then we moved up to the Superteens championship, but made a big mistake. We bought a Cagiva 125, the same year Aprilia released their RS125, and got completely spanked. In fact, I was even lapped by none other than Steve Brogan at Brands Hatch! Less than a year later, however, I was racing against people like Paul 'Marra' Brown, Ian Simpson and John Crawford in British Supersport. It was because of the CB500 Cup, which I'd done a bit of winning in. Honda took notice and suddenly I was in a proper national series. What actually happened is that the rules were changed just for me, so a 16-year-old could compete on a 600. It's a little bit of history really, because they wanted me in it so badly, and now other riders of that age can compete too. I'm kinda proud of that in many ways," said James.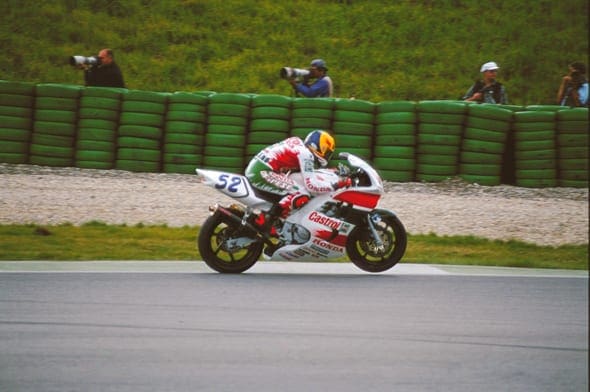 And some superb rides saw him graduate further and far faster than normal, to the World Supersport series with then WSB champions Castrol Honda. A dream move, you'd think, but that couldn't be further from the truth, as James remembers.
"That was a really tough couple of years, super tough. At the time the CBR wasn't competitive, or at the very least ours weren't. Races were being mainly won by Yamahas, Suzukis or Ducatis then. Also, the Michelin tyres were a couple of steps behind the competition, so we were almost overriding the bikes to compensate. Then came Monza, and on the Friday I broke both of my ankles in a big smash, as well as suffering other injuries. Then the following day my team-mate, Michael Paquay, was killed. Not long before that, my cousin had been killed at Cadwell Park. So we were dealing with that, then Michael's death, and me virtually immobile in a wheelchair for over a month. That period really brought home to me and my family just how potentially dangerous bike racing is. It was all a bit too close to home, and I'd risen on such a fast incline that I didn't have time to think up until Monza. So I took stock of things, and decided to come back to Britain so I could ground myself somewhere in reality," he said.
And that reality would be BSB, with the Vimto Honda Paul Bird squad. James would go on to highlight his talents until Cadwell Park played another joker in his life.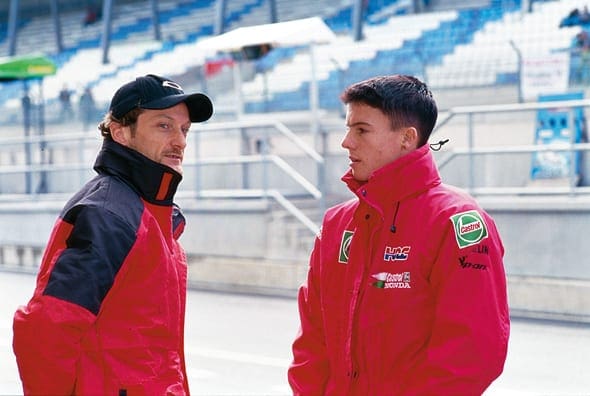 "I tell you what; I loved working with Paul Bird and his squad. Phil Borley was my crew-chief, and I'd been racing against him a couple of years previously. We had what was basically a kitted SP-1, and it was so slow compared to everything else, but handled beautifully. The boys had it so it felt as though it was on rails. But I still had some good performances, like beating Niall Mackenzie at Oulton Park – until going to Cadwell Park and breaking my legs," said Jimbo.

Enjoy more Fast Bikes reading in the monthly magazine.
Click here
to subscribe.