Pipe Werx is an exhaust company on the up. Keen on producing quality at a relative budget, it's also eager to distance themselves from the glut of 'zorst tat that currently circulates, with pukka engineering and innovative ideas – hence the firm created Stumpy, their badass travelling show weapon based on a Suzuki GSX-R1000 K8. Unfortunately, Stumpy got stolen and was never recovered, but we got lucky and had the chance to thrash the masterpiece.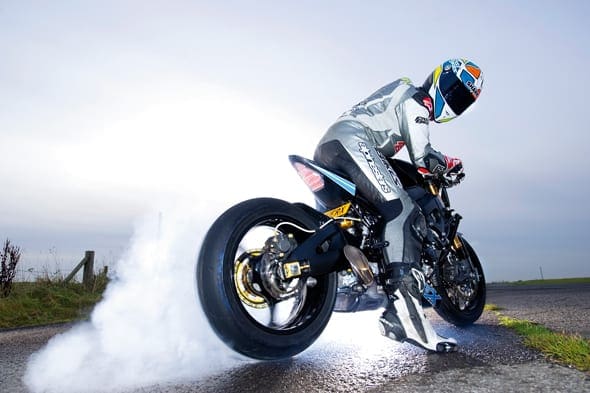 In Fast Bikes' hands, it was safe to say that Stumpy got masses of attention. From the moment it left the van, the local skanks from the Job Centre wondered if leprosy had spread into the motorcycle world. Then, during the test, a medley of low-speed shunts were caused as drivers gazed in awe.
I know what you're thinking – how the bloody hell are you supposed to open the gasser and not fall off the back? An R6 pillion seat has been forged on to Stumpy as the pilot's main bench. The inherent danger of having your spam-dagger and pals crushed between the rear wheel and subframe of Stumpy was slightly daunting, pre-ride. Diamond aftermarket rearsets not only provide oodles of ground clearance, but also grip assistance to stop the potential of mangled gonads.
Riding Stumpy is like riding (and trying to tame) an angry Pit Bull with ADHD. The riding position is relatively comfy and upright, with clip-ons mounted upside-down on purpose for a super-naked feel. And there's more to Stumpy than just a few bolt-ons to claim exotic status; the tank has been subtly reshaped while, despite most if us adamantly insisting the headlight was from a GSR600 at first glance, a more relevant FZ1 unit is Stumpy's shining ray of light. But it has attitude aplenty.
The bike's suzzies were set-up at Donington Park during a few trackday sorties and, after looking at the Pipe Werx one-off slash-cut exhaust, we wondered how the feck it passed the noise test. How can something so short and menacing do such little damage? We often ask Toni Elias that very question. Keeping the Cat' in was the answer, and the bark is relatively restrained for such an aggressive look. This also crucially means there's no necessity for an aftermarket fuelling module; Stumpy guzzles the life juice with perfection. The motor still pulls hard and loses the fluffy restriction that comes with the hideous standard cans, with added punch in the midrange. Any more power would require a sissy-bar.
A 520-pitch conversion and shorter gearing (16t front and 47t rear) inflates the standard motor's ego, and opens up a medley of gearing options. The addition of four extra teeth makes the delivery snappy and more willing to gargle gears. And even more wheelie prone…
With little engine tinkering, Stumpy's real party trick is the chassis. Öhlins fork internals slot into the standard tubes and a super-bling TTX shock sorts the rear. A GPR steering damper also boosts rigidity. This combination has dramatically stiffened the ride but also sharpened its senses, making the chassis way more responsive. Coupled with the new-found centre of gravity, weight loss, and zero weight transfer, Stumpy feels like a fully-sorted race bike that's forgotten to get dressed in the morning. And, despite its looks, is a whole lot comfier, too.
The stiffer and higher arse puts more weight over the front-end, offering utter confidence to push on and off the throttle. The disappearance of the rear-end and associated mass, along with the TTX shock has diminished rear-end grip, and Dunlop GP Racers aren't known for their dapper skills in shite weather conditions anyway.
Sorting the GSX-R's shoddy OE braking set-up without remortgaging the business for Brembo calipers, Pipe Werx fitted HEL braided lines and Armstrong discs. You're unlikely to trouble the OE master cylinder in Stumpy's current guise, but the fade from the standard paraphernalia has gone.
Stumpy certainly needs no more power. Eye candy and originality are way more significant than lap times and raw pace, but it offers impressively more go-go, along with the show-show, way more than we expected. Stumpy not only looks more badass than Jean-Claude Van Damme in a Taliban snuff movie, it's full of intrigue and deft little touches. Ou est le indicators? Dans le LED rear cluster and the headlamp, mon amis. The bellypan is beautifully crafted, moulded into the lines of the Gixer. Even the front mudguard is a bespoke fabrication. This is a seriously polished one-off and is fresher than a carton of Tropicana. Pipe Werx, we salute thee!
Pics by: Mr Mark Manning
Enjoy more Fast Bikes reading in the four-weekly magazine.
Click here
to subscribe.
Comments
comments