This game ain't just about 200bhp and enough gizmos to open a branch of PC World. But if someone said to me, ten years ago, that the future of racing would involve happy-shopper commuters, and an SV650 would manage a near-120mph lap of the Isle of Man TT course, I would have wet myself – 2012 saw history being made with a new dawn of competition, and the excitement of Supertwins rolls into 2013.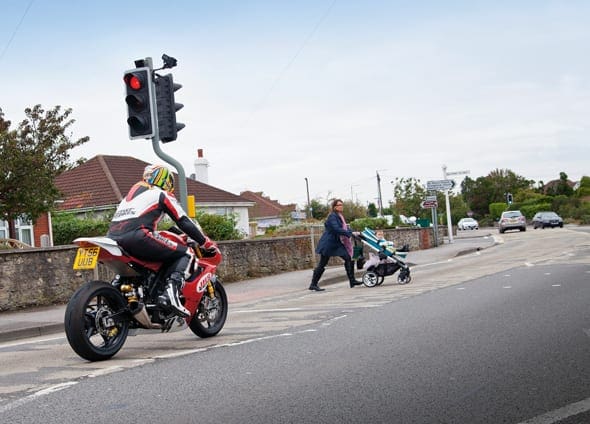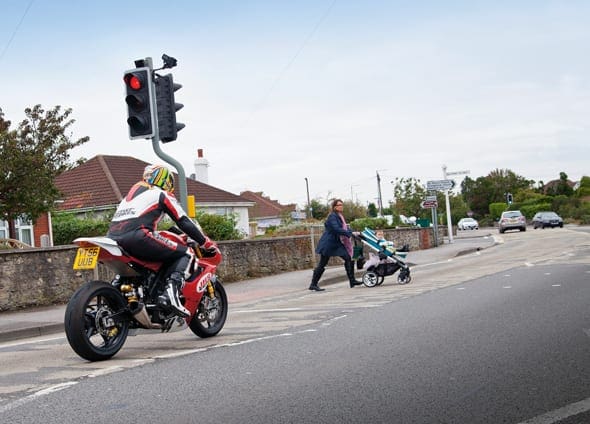 The Isle of Man TT is the ultimate test for a motorcycle. There were a whopping 60 entries for the new Lightweight class this season, and about 55 of them were Kawasaki ER-6s – most of the 55 were Ryan Farquhar built with Team Green backing. Taking on the might of Ninja power was a little shop in Bristol. JHS Racing entered as a privateer entity, with the previous year's Manx GP winner, Dave Moffitt, as the pilot. The team managed an 11th place finish and was the top Suzuki, splitting a horde of Kawasakis and narrowly missing out on a top-ten due to some technical issues. Nevertheless, the JHS Racing SV650 also zapped the speed traps as the fastest Supertwin at this year's TT, and boasted the healthiest horsey output on the TT paddock dyno. The team are racing at the North West 200 before heading back to the Isle of Man, and retiring the SVs to start developing Suzuki's Gladius.
As you may have spotted, I been campaigned the bike on the short circuits last season with, er, mediocre success. After a year's worth of development and tinkering, Fast Bikes decided to release the SV650 from circuit captivity and return it to its natural environment – everyday chores on Her Majesty's highways. A nifty daylight MOT certificate and a trip to the Post Office for some road tax later, we were let loose on the TT course. The Mendip TT course.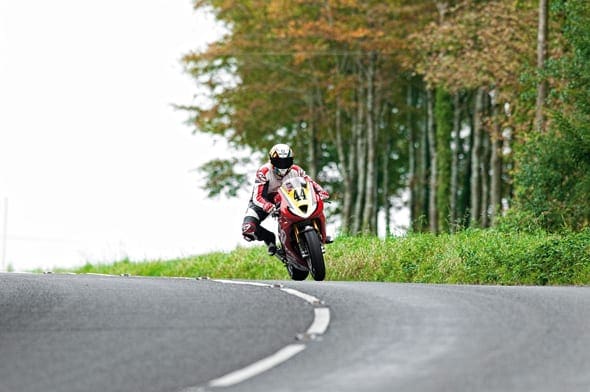 There's no doubt the class has brought excitement and a raft of new technologies, bordering on prototype material, such is the openness of the rulebook. Manufacturers of aftermarket parts and tuning bolt-ons must be rubbing their hands with glee, what with the influx of interest in the ER-6. But with all the financial shitstorms circumnavigating the world right now, do we really need a class that requires £15,000-£20,000 spent on being at the sharp end? Hell yeah…
Airbox/induction
JHS has developed a Triumph 675 intake that fits snugly to the SV's headstock. Forced air volume is at least doubled over the standard. The true magic lies beneath the tank and if we printed what was under there, we'd be sleeping with the fishes.
Electronics
The ECU has to remain standard, but the loom is open to all sorts of, er, openness. JHS has used its experience of racing Minitwins and developed a loom using CAN-line technology. A Translogic quickshifter sharpens the shifts, while a super-light and heavy duty battery ensures the fuel injection system can fire the juices. As the year progressed, a lot of the unnecessary goodies were removed because of complications, like datalogging.
Back-end
The standard swingarm has been modified to house a 675 rear wheel, and is supported by an Öhlins shock that's been built specifically for this bike. An underslung brake caliper speeds up rear wheel changes, not to mention makes the process much easier. Various linkages have been tested but the standard linkage rate seems to work best. And a new swingarm will be fitted later this year.
Engine
In its fifth generation, the JHS lump has severely gone under the knife. As previously mentioned, all that remains from the standard lump is the crankcases and the crank itself. Everything else is made in-house (pistons, con-rods etc), and with hours of head work and valve detailing, James has now found the limits of the internals.
Clutch/gearbox
The big difference between the TT bike and the short circuit bike is the gearbox. The 'factory' bike has a close-ratio 'box that allows for not only higher terminal speed, but better acceleration. The standard gearbox has country miles between certain gears, which makes gearing for certain tracks a friggin' nightmare. Sigma (as in Neil Spalding off of the Eurosport telly box) designed and manufactured an SV-specific slipper clutch to cope with the 30 per cent extra power. Engine braking is so fierce, clutch wear was ruining a race weekend…
Front-end
The eagle-eyed amongst you will spot this SV wears a complete 675R front-end. A little stem modification, and the Triumph yokes, forks and wheel slips on nicely. The Öhlins internals have been revalved and shim stacks adjusted. The length of the fork stroke has been lengthened to aid balance.
The JHS Racing SV650 is one tricky bitch to ride in more ways than one. This is a bike honed for flat-out buffoonery, throttle tube pinned to the stop, throttle bodies battered and soaking up v-twin vibes, with the dash never hovering below 6,000rpm. The biggest problem we faced on the photoshoot though (and the KFC drive-through) was the steering lock. It's got the turning circle of a sinking Dreadnought, although that matters little when giving it the berries.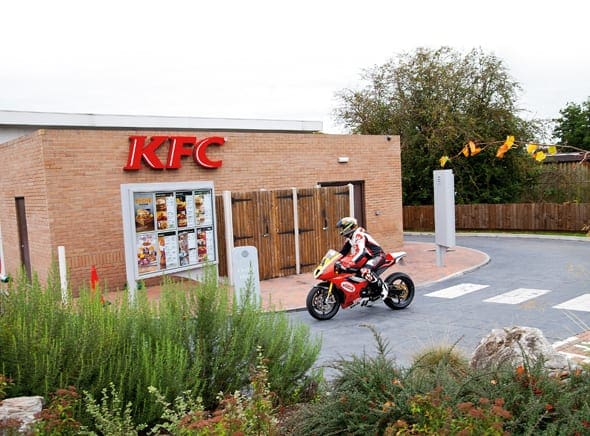 Think race bike, think stiff and unforgiving. Not really. Even with my weight to consider, the suspension is far more progressive and controlled than OE road kit. The JHS SV has bump management that £20k superbikes would be envious of. Until active suspension is properly proven, the combination of super-gnarly bumps at Ginger Hall and baby-bum smooth Shellgrip Tarmac over The Mountain will have to be sorted via good old fashioned screwdriver know-how.
The riding position does little to nurture comfy riding, as the standard tank makes for a far reach with race clip-ons and the Daytona 675R front-end, and the super-high pegs necessary for its addiction on corner speed. After half an hour of riding, my wrists were ready for bed. But the crux of the stiffness and rigidity is down to the frame and aftermarket race components (mainly the extra rigidity of the 675R Öhlins fork).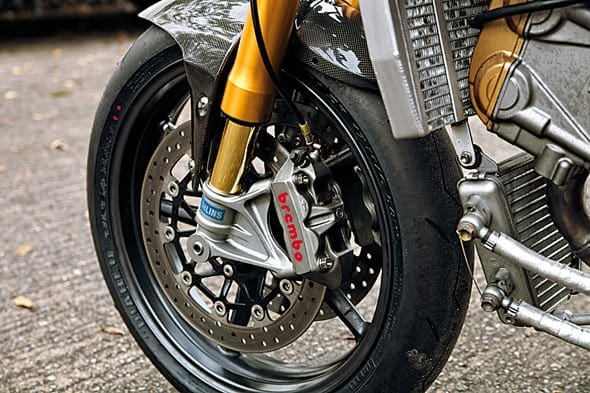 If you missed out on our adventures of Thundersport GB last season, you wouldn't know about the teething issues we've had. This is a bespoke machine with bugger-all to aim for from a base setting, and radical geometry changes from a standard SV. It's like cut-n-shutting your mountain bike, hacking off large amounts of metal and welding on some more, and expecting it to handle. Well, that's what it feels like, anyway.
It feels long and stretched out, perfect for attacking open corners, yet with a whiff of bar, it falls on its ear without instability or any nervousness. It's sexy cornering rolled into a 165kg mass. Apart from shitty ergonomics and the AIM dash, and having to lean it against the petrol pump to pay, not once did I think I was on a race bike.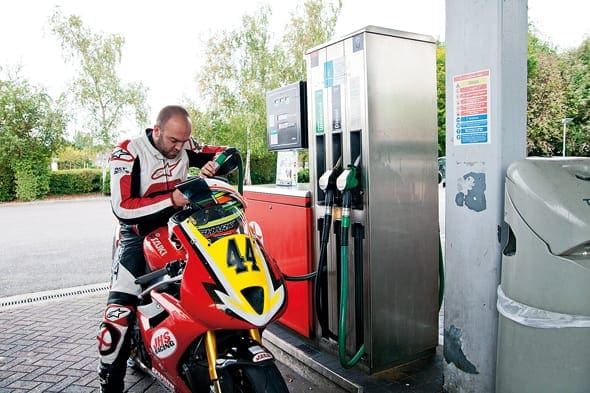 It's only when we edged out of town and beyond urban environments that I had to think about riding, and any limitations involved. It's a bike that only truly functions in a small parameter of thrashing, yet is still capable of dawdling and high street window-shopping. Must be all down to those SV genes.
The Bridgestone R10s are an unbelievable race tyre, but do little to inspire confidence on the road with this set-up installed on the SV. A bit like Rossi at Mugello, when he slowed his pace a little and bust his leggy-weggy, you have to stay committed to maintain heat in the rubber. UK climes, 72-point U-turns and modelling for the camera don't mix. This isn't a Page Three poser, more of a sexy back-page headliner.
We started off the year with a Power Commander auto-tune unit but not even that wizardry and technology can handle the bespoke and finicky air/fuel ratio of the JHS Six-Fiddy. When you've got the induction intake the size of a killer whale's vagina, gasping for gargantuan amounts of oxygen, and an intricate fuel injection system that pumps in copious amounts of gasoline, fine-tuning has to take place in realtime and 'pinking' has to be disciplined.
Many thought there would be oodles of torque and usable grunt escaping from a tuned 100bhp SV650. This puppy is relentless in its charge to the redline and has around 4,000rpm of viable power and is only really happy when the shift rod is activated and rebounding for another climb up to the rev ceiling. A big, bucket-hand fistful of throttle and an equally brutal clutch hand are needed to even launch cleanly, despite the stupidly short first gear. There's no pussyfooting welcome here. You need to boss it.
Everything you see here is 100 per cent legal, but I still felt like I'd fondled my neighbour's wife and was on the run. It's not obtrusively loud or offensive, but like anything slightly idiosyncratic, this bike attracts needless attention. Two coppers fly by and I tense up, grabbing the bars with superfluous angst. Chill out, man! A quick glance later, they were off to catch proper criminals…
The majority of race bikes we ride bear some resemblance in feel, and looks, to their donors – even the triple-figure WSB bikes. But the JHS Racing SV650 is unique and offered some of the most fun I've had on two wheels. It's an SV on serious steroids, and it's legal.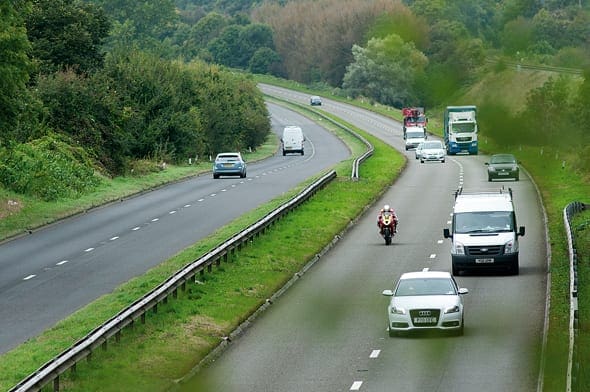 Enjoy more Fast Bikes reading in the monthly magazine.
Click here
to subscribe.