So then, folks, what a decent weekend ahead for us bikers!
First up is the North West 200 which runs on Saturday, and should be viewable via the BBC's red button or BBC Northern Ireland. It's looking like another cracking meeting, so long as the weather plays ball, as there's rain mooted in many areas by the Met Office right now (Friday morning), along with strong northeasterly winds and a lot of cloud. Fingers crossed!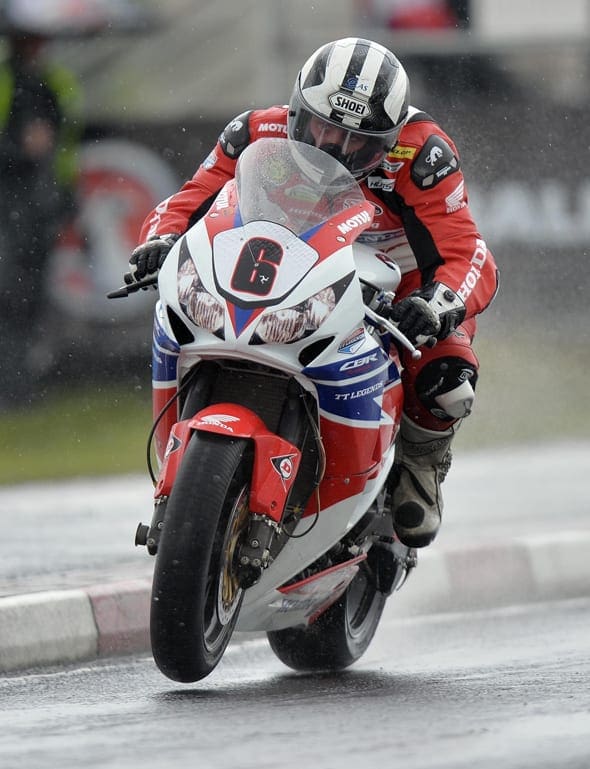 Of course, the big story is Tyco Suzuki's BSB charger, Josh Brookes, taking part in his first road race. And he's not done too badly, either, qualifying on the second row of the grid for the Superbike outing. Not bad at all Josh! And kudos to the guy for putting his unmentionables on the line, away from 'safe' short circuits. Let's hope he sticks it in amongst the regulars, if anyone can catch Michael Dunlop, that is, who is flying at the moment. The NW200's top six in Superbike practice are below.
1 Michael Dunlop
2 Bruce Anstey
3 Guy Martin
4 Dean Harrison
5 Josh Brookes
6 William Dunlop
We look forward to perhaps what's the equal of the TT in terms of spectacle, mostly because it's an actual race rather than a time-trial. Bring on the madness, and the best of luck to the JHS Racing crew, too! View it live, here
Of course, we also have MotoGP from Le Mans this weekend which we imagine quite a few of you will be whizzing down to attend. Not to worry those travelling on Saturday, but there's a chance of thunderstorms to the South and East of Le Mans, which may spill over, although temperatures should be around 16-deg'. For race day it's cloudy with a chance of rain, surprise surprise. Well, it is Le Mans after all, it's either wet or baking and rarely in between.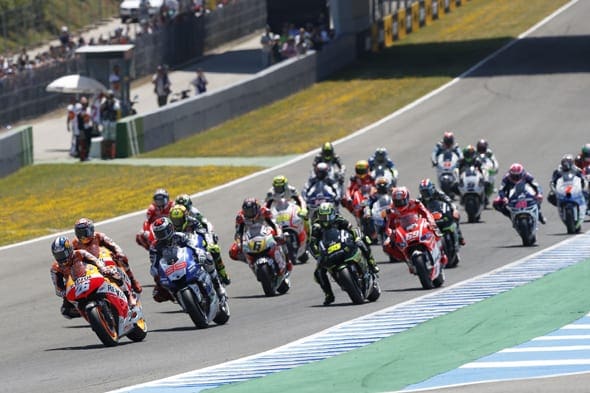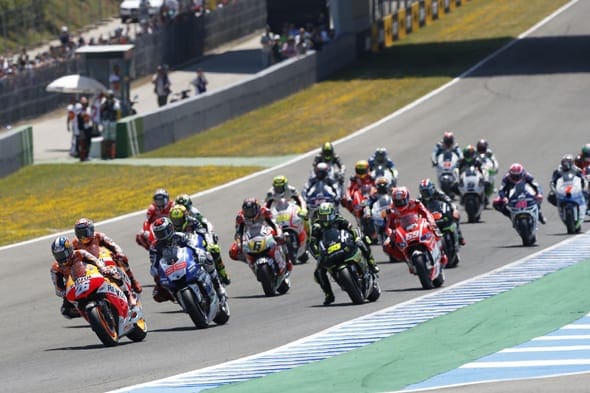 So what will happen with Rossi this weekend? He's claimed the place as one of 'his' circuits, and needs to reaffirm his fans' faith in him as being back for good. Austin and Jerez were not great, they simply implied that he's going to struggle to catch the top three of Marquez, Lorenzo and Pedrosa. We'd love to see a great result from Cal Crutchlow this weekend, but the aforementioned four could all be described as Le Mans 'experts' so it's a tough ask, no matter how hard he's charging. Rossi is his target, who he needs to aim for, especially with rumours suggesting he's gobbed himself out of a Yamaha seat next year to make way for Pol Espagaro. Proving his worth on track is the key, good luck to Cal, Bradley, Scott, Michael, Danny and all of the other Brits racing in France – kick some arse, lads!
And let's enjoy it while we can, while it is free and millions of people can, and do, watch it. Back to the 'specialist sport' dark ages next year and beyond potentially, we're afraid. Can all be viewed via BBC, Moto2/3 online or on the Red Button and MotoGP live on BBC2, while Eurosport UK will show Moto2/3 live with delayed MotoGP coverage. And don't forget practice and qualifying either, all sessions live across the previously mentioned platforms in the UK.
Most UK bike track days running this weekend are fully booked so far as we can see, although California Superbike School has a day at the Megara circuit in Greece, if anyone fancies a last minute jaunt and some guaranteed sun! Head to the website to find out more.
There is a novice-only day at Snetterton on Sunday via MSVR though. Never been on track before? Maybe now is the time, details here and have fun!
And there's an ACU testing day at Cadwell Park on Saturday, if you enjoy watching guys bounding over the mountain for a few hours, with a ride there up and down the swooping surrounding roads.
As for shows, there's the BMF Show on in Peterborough during Saturday and Sunday, where doubtless there'll be dozens of glove-crammed bins with £20 tags on them!
The second Monks Rally is also on, at The Barn @ Beal, just off the A1 on the road to Holy Island: www.berwick.org.uk/bmc/
And a there's a bunch of other stuff you can find online just by using search terms such as UK, Motorcycle Shows, 2013.
If quick fixes are your thing, don't forget to watch our exclusive Tommy Bridewell blogs and latest videos here. It's going to be really interesting to see how Tommy's blogs progress as he gets more comfy in front of the camera. Bridewell for Kiyonari's ride? A swap, take the pressure off Kiyo in a private team, give Tommy a chance with the best equipment? Wouldn't hurt, we say.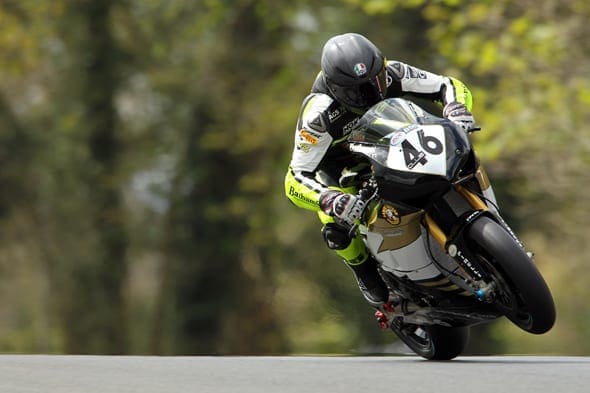 And apparently there's some football on this weekend, and then there won't be any for ages. Boo hoo. At least we won't have to listen to a constant stream of "One team in North London!" by the only man in the office with his shirt off. Yes, the one in the McDonalds wrapper strewn corner…
Anyhoo, plenty to see, watch and do for you and if none of that suits, there's nothing wrong with going for a bit of a ride, is there? Aside from that big rain front set to hit us on Saturday and Sunday. Do us a favour eh Mr Rain Front – push off, there's a good chap.

Enjoy more Fast Bikes reading in the monthly magazine.
Click here
to subscribe.