The continual downward spiral of the financial markets taking scalps across the UK has been the order of some bad press over the past couple of years. It is brilliant, therefore, to be able to celebrate the return of old faithful fun days with Demon Tweeks and Fowlers of Bristol in previous weeks. It's also great to welcome an expansion to MotoDemon as they opened their doors to new premises for the first time on Saturday.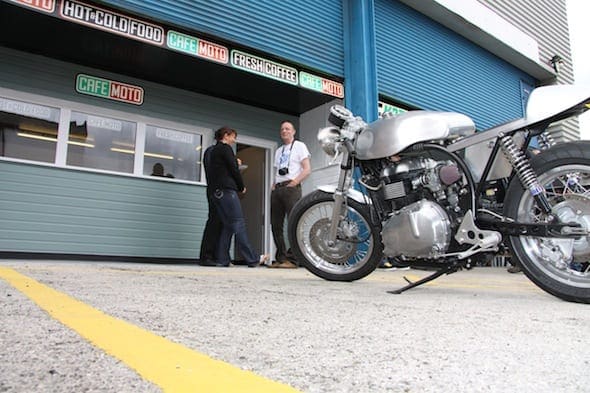 The expertise of Mark Jarvis and his team at MotoDemon has paid off, as the business premises have developed from warehouse to retail arm, motorcycle café, workshop, polishing shop and offices. On the shop floor are examples of Mark's own brand labels of motorcycle leisurewear, which includes the complete range of Fast Bikes Merchandise. In addition, there are multiple Motografix kits for all bikes and at the opening his work on Gary Johnson's three 2013 TT bikes were clearly on display.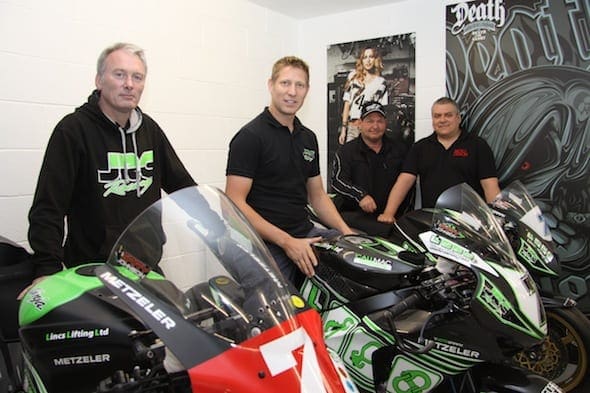 Gary had joined his bikes for the official opening of the shop on the Alma Road, Rotherham. Mark has been doing the graphics for Gary's bikes for years. As Spider, Gary's chief mechanic pointed out, Mark can supply the graphics yes, put them on? Absolutely not. Gary does that and only Gary – he knows exactly how he wants his bikes to look.
The workshops at the MotoDemon Speed Shop will concentrate on Japanese 70's and 80's restoration projects as well as classic 2-Strokes. Many of Mark's own collection are on display so you can see his expertise which Rotherham Mayor, John Foden, seemed to be impressed with having cut the opening ribbon. So much so that he almost missed a couple of other bikes that collector John Champion had leant Moto Demon for the day.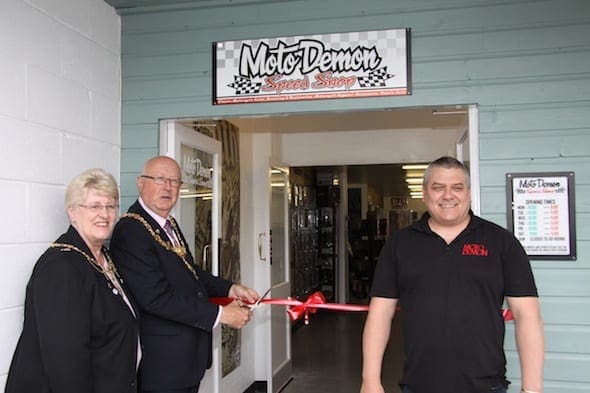 Hailwood's 1966 RC was parked alongside Agostini's 1964 MV3, with both bikes soon to be back in action in the 1967 TT re-enactment. John McGuinness will be on Hailwood's machine against Agostini himself, who'll be reacquainted with his old machine. These two bikes alone are worth over £220,000. Beating this though was Freddie Spencer's 1985 World Championship winning NS500 – a quarter of a million pounds worth of legend, sitting right there in front of you.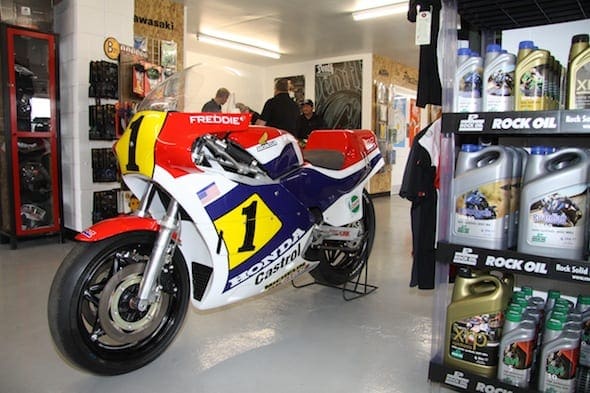 Unfortunately, these bikes will not be constant fixtures at the shop but plenty is, so pop your head in when you're next in the area. There are some cracking roads up there, too. The Café is open 7.30 am- 2pm Mon – Fri and from 8am – 4pm on Saturday. You have to see the ceiling and they promise you will "Ride in hungry, Ride away fed up!" The main shop is open from 10am – 5pm every weekday, from 8am on Saturday and Closed on a Sunday…….. to go riding.
Article continues below...
Advert
For more info – http://www.motodemon.co/
Or dive straight in at –
The Boiler House
Alma Road
Rotherham
S60 2HZ
+44 (0) 870 224 2880
Article continues below...
Advert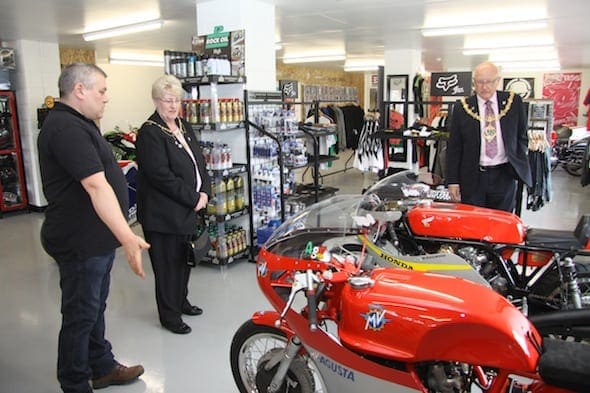 Enjoy more Fast Bikes reading in the monthly magazine.
Click here
to subscribe.