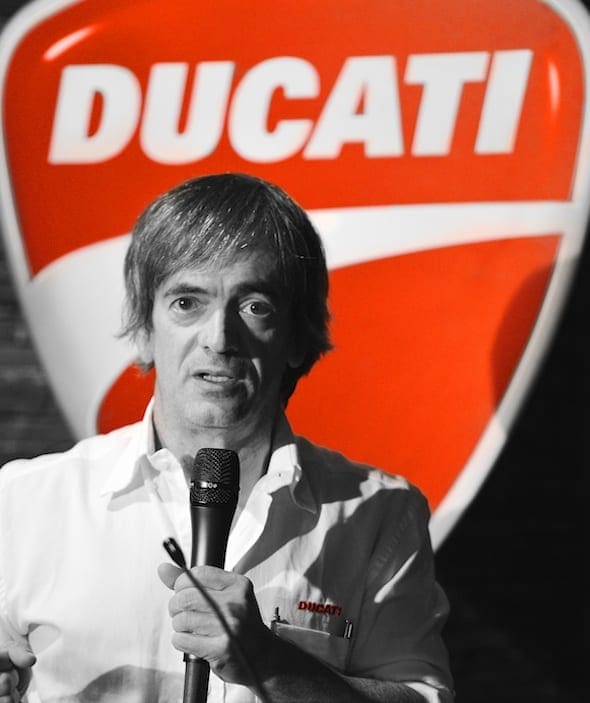 Technology is the future.
The semi-active suspension on the new Multistrada is only a step towards what we are doing for the future, for eternity, as technology never stops. This is great technology for Ducati, but not a target for five or ten years, it is for forever!
We don't want to give the ECU too much control.
You may say that now we are already at that point where the ECU can determine everything for suspension, but a rider is a strange guy. He wants to personalise this bike, he wants to have a bike that is compliant to his feeling. So even in the case, and this is the case, that the algorithm and the ECU try to do its best setting in every situation, still the rider for sure does not always like what the ECU is doing.
We will keep the personal touch.
He wants to put his imprint on what the ECU is doing to the suspension, that's why we leave the possibility to personalise the overall behaviour of the algorithm. At this moment the ECU can do everything, it could be already now that it does it all, but in my opinion this is not what the customer wants. Many customers still want to personalise their bike, to have a feeling that is good for themselves.
Suspension one day will be 'fully' active.
For sure, to change the spring-rate and the preload is the next step. it is not so  complicated with software, but much more energy and force is required to actually change the spring preload and spring rate, and probably the way we use current actuators is to make them faster, or stronger or something like this, to change the principal of adjusting stiffness. This is under investigation, and something we will see in the future for sure. Eventually, all our models will have something like this.
We are not dropping Öhlins for Sachs.
It is not a matter of preference over which supplier we use, it is just the fact that Sachs had their package ready for mass production. Öhlins' similar system is still under development, good of course, but we had the opportunity to change and improve the Multistrada – why not, it works, it is a good package and, let me say, a cost-effective component. The core of the system, the solenoid valve, is used on cars so everything has already been industrialised and produced. So the cost is reasonable so why not? It is a step toward the future.
Sachs is now a big player in suspension.
We are using their components already in the past, shock absorbers and so on. They change their position in the market of suspension manufacturing. In the past they were more about producing cost effective components instead of top performance. Now they have changed position and this is the result, and we are satisfied. Also, Marzocchi has under development its own system. Where they are exactly I don't know, but all the major manufacturers of suspension are working on this system for the future.
ABS will get much better, too.
Even ABS systems will have a big step forward in the future, and what we expect is that now ABS will be refined. For motorcycles it works when the bike is basically vertical, in the future there will be an ABS system that operates in the middle of the corner at full lean. Also there will be the refinement of feeling, as in order to save someone it has to release, but it can be refined further to avoid unforeseen circumstances, like if a bike hit some gravel while trying to stop, for example.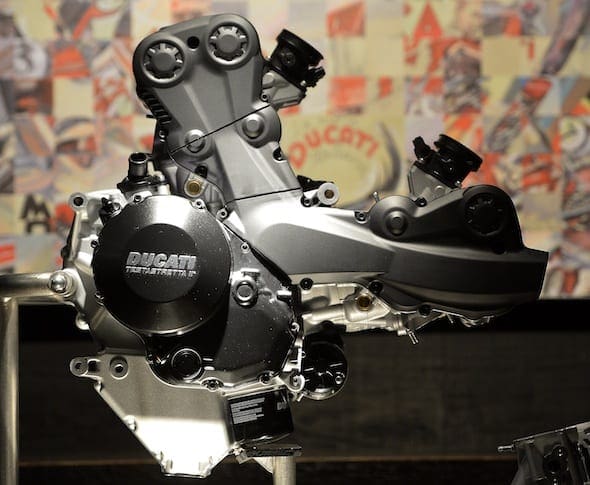 My dream Ducati would be a sporstbike.
Choosing one dream Ducati is hard, that is like asking a father which child is his favourite! When I was younger, I had to buy a motorcycle, and with my money I could afford only one – I always chose the sport bike, because it is first of all fun. A sportsbike is still the best for me, I understand it is uncomfortable, and it has some limits. But when I was younger I overcame those limits by putting sidebags on my Ducati Pantah or F1, and travelling Europe on those bikes. If today I have to make the same choice again, even if now I am old, I will always choose the same, a sportsbike.
I ride all year, when possible.
From spring to autumn I ride to work everyday. And all the year long, every Saturday I ride. I also get to ride all the prototypes too, although they are always full of sensors and recording devices. Three years ago I rode the first Panigale and the bike is all in black, it was handmade with wires and everything. It is moments like these where I think I like my job, it is fantastic, I am very happy and lucky that I do what I do.

Enjoy more Fast Bikes reading in the monthly magazine.
Click here
to subscribe.