If you're a regular reader, you should know Talan Skeels-Piggins. Talan became the world's first paraplegic racer, and in between racing his SV650 and skiing for Great Britain, he runs a charity called The Bike Experience – helping others get back on a bike after paralysis or other disabilities. The man is a legend, and we spoke to him a while ago…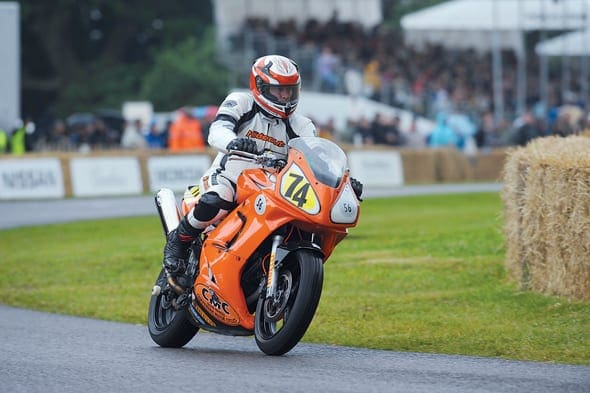 I was involved in a bike accident in 2003.
It obviously changed my life forever. I was knocked off my 'Blade into oncoming traffic and was hit by a car. Afterwards, x-rays and scans revealed I had broken my C7 vertebrae in my neck and severely smashed my T4/T5 vertebrae in my upper spine. This caused irreversible damage to my spinal cord, which resulted in paralysis from the chest down. I wouldn't recommend getting run over by a car – it'll ruin your afternoon.
I started a charity called Bike Experience.
It started off as me helping other disabled riders back onto a bike, but 2012 has been a major year. The big thing for the Bike Experience has been receiving lottery funding. This meant we could become a registered charity, which made us eligible for other types of funding. We've attracted interest from Aprilia and Suzuki, and gained two Manas and an SV650. We've got a great working relationship with racers like Mike Edwards and Maria Costello.
I went to the Goodwood Festival of Speed last year.
It was just truly amazing. I got to ride up the hill with Wayne Gardner, Bradley Smith and Troy Corser, but it wasn't just beneficial from a personal view, but for the Bike Experience, too. We've had lots of other disabled riders come to us and want to ride again after meeting us at events like Goodwood.
We're now involved with the armed forces.
We help soldiers injured in combat to get back on a bike. We've recently helped a double-leg amputee. All he had was his left femur. It's free for disabled riders who want to ride a bike again, who get injured through no fault of their own. We've also taught people with polio, MS and stroke victims. If there's arm strength and a degree of hand function, we can teach them on the Manas.
Dave Stewart (Thundersport GB) is the man.
He was the person who stood up and took responsibility for me racing, essentially putting his licence on the line. I went to Snetterton last year with Thundersport GB and doing those races was simply the best day of my life – before I was injured, or after I was injured. Yeah, I got lapped, but just to be out there with all those other racers made all the hard work of the last ten years worth it. It took me to a place where I never thought I'd be. Rolling into the first turn was the most exhilarating moment I've ever had.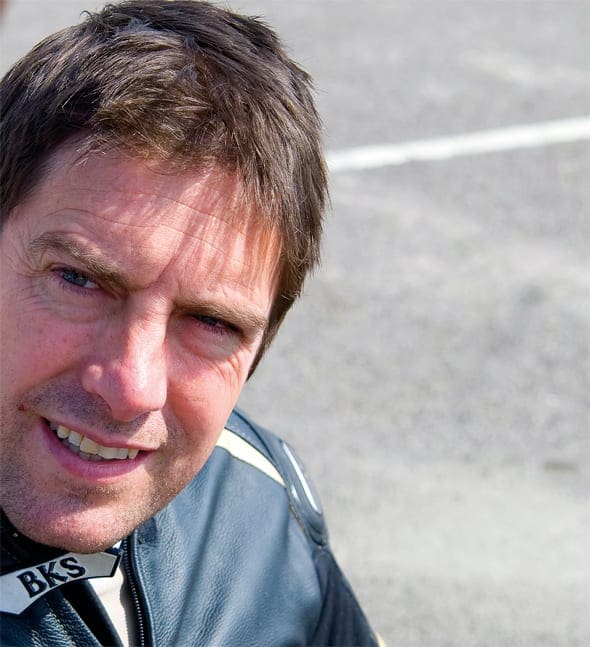 My aim isn't just to race now.
I want to chip away at my lap times and beat the next guy. I can't get suckered into what others do. I've got to ride my own race, as when some guys come past me, I automatically think 'I could do that', but in fact I can only use the steering and bars to turn the bike, so can't get the bike from upright to full lean as quickly. At the end of fast straights, I almost have to do a Scandinavian flick to get the bike into a corner!
In hospital, I never thought I'd ride again.
I was in hospital for nearly seven months, and even after another five years after my accident I didn't think riding a bike was possible. For me, my goal was to go skiing and get to the Paralympics. I was always pushing myself. If you have nothing to aim for, then you think 'my life has changed for the worse' and there's no way of escaping the negatives. It's tough being in a wheelchair but there are still lots of things we can do with a positive mind-set. It might sound like a cliche, but positive people bring positive things.
I'll be heading up to the ACU soon.
I'm going up to start the dialogue and discussion about getting other disabled riders into racing, to talk about how we're going to create a pathway for others, and get something in black and white. I want to help create this pathway and help others, rather than let others go though what I went through.
I felt honoured to carry the Olympic torch.
Before I was injured, I used to be a PE teacher and was put forward by an ex-pupil. The whole deal was really something special. I couldn't believe the amount of people who turned out. For the first ten minutes of being there, I don't mind admitting I was in tears through the whole emotion. If someone had pinched the torch, I don't think I would have been able to chase them up the hill!
Although I'm paralysed, I'm still in pain.
I have neurogenic pain, what some people may think of as phantom pain. Where the nerve has been cut in my sternum, it feels as though I'm in boiling water and people are sticking needles in me. It's one of the reasons I keep myself occupied. If I'm riding or skiing then I'm pain free, and managed by heavy-duty pain killers. The only thing stronger is morphine. Some of my mates have taken them and been on the sofa for days, hallucinating.

Enjoy more Fast Bikes reading in the monthly magazine.
Click here
to subscribe.