Hi everyone!
It is coming up on a week now since I picked up the 848 EVO and I am settling in well to Ducati motorcycling. I have ridden the bike every day, mostly commuting to work, although I did get across to the coast at the weekend.  One of the first places I headed for though was Squires Coffee Bar near Sherburn in Elmet, North Yorkshire.  It was a glorious sunny evening so it would have been rude not to.  True to the weather the place was alive with bikes, sun-drenched people and the odd dog or two.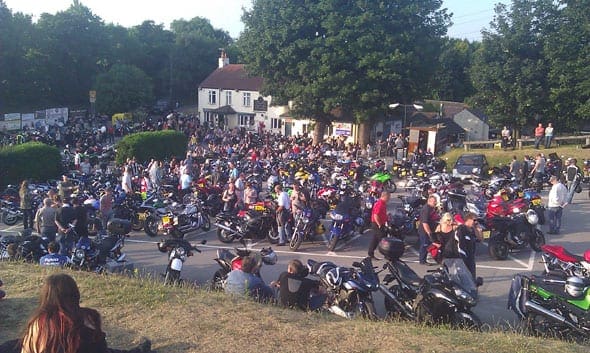 On any trip to Squires on a sunny Wednesday evening, you will find hundreds of bikes of all shapes and sizes. There were race reps, tourers, classics, home-made creations and so on. What there wasn't a lot of, were Ducatis. In fact I could only find a 900 Supersport, an 1198 Bayliss replica, a very trick 999 and of course (my) 848 EVO.  Now I guess we all feel to some extent that the 'Ducati club' is somewhat of an exclusive one, but four bikes in what must have been knocking on for 4-500 is exclusive to the extreme. But it needn't be that way, as Ducati has a secret.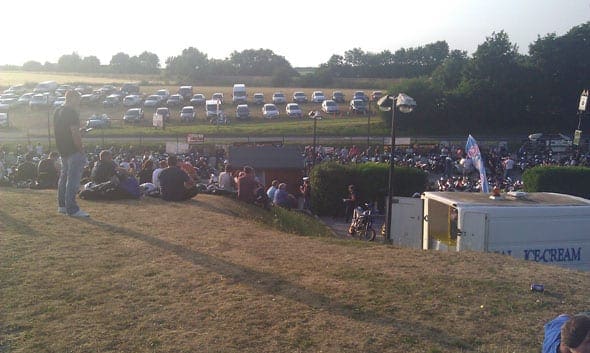 The Ducati 848 received plenty of admiration from passers-by, most of whom stop for a closer inspection. Seriously guys, if you think they look good, try riding one!   The general consensus from these admirers was along the lines of "Gorgeous bike mate but they're a bit pricey aren't they?  Not sure I could afford one".  The reply is, "Not really and neither did I".  Maybe that's the preconception and it is one I have been guilty of too, but it would seem Ducati have been working hard to remove that barrier and on a scheduled trip back to Ducati Leeds earlier this week, Paul, one of the sales guys there, showed me how easily the dream of Ducati ownership can become reality.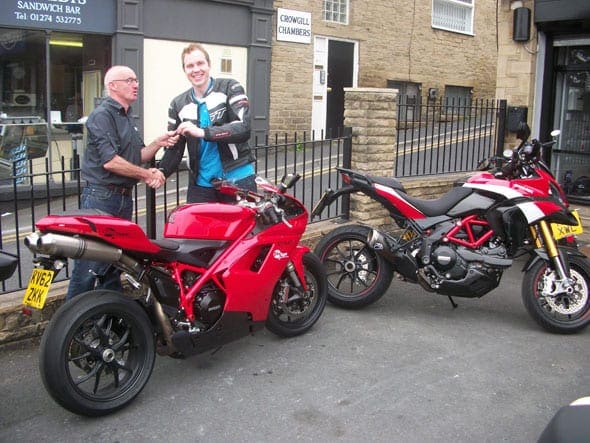 Ducati, of course, aren't giving them away but it's a hand built motorcycle, so why should they?  What they are doing is making owning one, affordable and accessible.  In a world where other manufacturers are closing the gap on price,  £11,238 on the road for the 848 EVO that I am riding around on, is pretty close to the rest of the (circa) 140bhp Supersport crowd. The good news, and the truth, is you don't need £11,238 – not even close.  All you need is PCP. Er, that is personal contract purchase and Tri–Options. Not the 'other' stuff!
Article continues below...
Advert
Yes, yes we have all heard about loans and lines of credit and HP etc, and whether you think this is any different you can judge for yourself. And that really is all I am saying because, after hearing what Paul had to say about the options available I can honestly recommend a trip to your local Ducati dealer. Hear them out, if you are not surprised by what you hear then I will be.
What really grabbed my attention was the flexibility of the Tri-Options. In straight talking terms all I need in order to have my very own shiny 848 EVO, is a 25% deposit (my current bike), and £119 per month or around £28 quid a week for three years.  Yes, less than half the weekly shop or a few less beers on a weekend can really be turned into a brand new, hand built, fire-breathing Ducati.   Of course after the three years you don't own it, you, erm, have Tri-Options. That's three, for those not listening!
You either hand it back and walk away – why? Pay it off, maybe…or swap it for another new one, hmmm yes please!  In reality it is even more flexible than that because you don't have to wait the three years and with it being a Ducati you could conceivably sell it at the end of the three years, pay it off and have change left over.   Think that a Panigale is still out of reach or a shiny new Multistrada? Think again!
I am not saying that the PCP/Tri-Options is for you, maybe it's not, you're a big boy or girl. Look into it and make up your own mind, but it could be Ducati's best kept secret.  What I am saying is be your own judge and for goodness sake, if you have ever thought about, dreamt about or plain and simple want to own a Ducati you owe it to yourself to check it out.  Hand on heart I was genuinely surprised by how easy it is to have one in your own garage. Short of being really lucky and winning the best competition ever! Thanks again, Fastbikes!  You really don't need to win the lottery; you don't need a suitcase full of money.  All you need is a modest cash flow and maybe a few sensible savings here and there, and we could all see a few more Ducatis at our local bike meet – who knows, one of those could even be yours…
Article continues below...
Advert

Enjoy more Fast Bikes reading in the monthly magazine.
Click here
to subscribe.