It's time to hit the shops and pick up the latest issue of Fast Bikes Magazine! Yup, issue 279 – AKA the September 2013 issue – is crying out to be bought from a  newsagents right now, it's ready for you to scoop it up to love and cherish. There's also a fantastic FREE Scotland Ride Guide for you to drool over after Rootsy spent an amazing few days tanking round on a Trumpet. Who knew that some of the best roads in Europe were just over the border! It's also up on the digital newsagents of the world, so head to your favourite outlet on Apple, Google Play, Android, Nook or Kindle and download your copy NOW!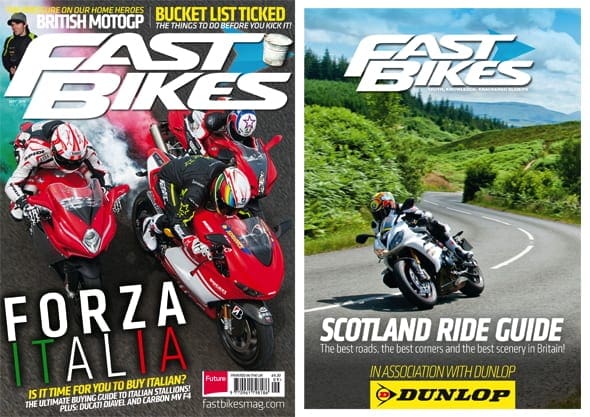 Our big test this month is a celebration of the Italian nation. Forza Italia is an in depth analysis of buying Italian, because everyone should have a Ducati, Aprilia, MV, Benelli or Bimota in their life at some point. Not only do we pick four of the best and most interesting used Italian bikes about, but we also talk to the people that sell and service them to give you the low down on whether you should take the plunge or not. Is all the pain worth it? Do they deliver the ultimate rewards? Do they breakdown every three weeks? And that's not our only Italian beauty in the magazine as we have a rethink on the Ducati Diavel and wonder why so many are lingering in the shops this year. We also get to ride a Ducati Supertwin race bike of Italian extraction and discover it's a belter.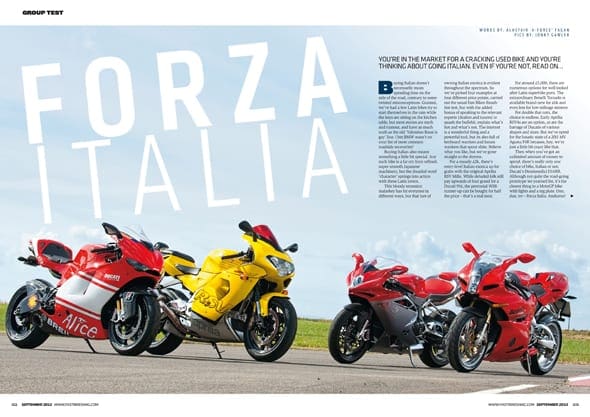 We had a quiet word in the ear of a serving traffic policeman and asked his advice on how to stay penalty point free – when it's so easy to lose them on 180mph machinery. We check out Avon's new Storm 3D tyre, look forward to the Classic TT and ManxGP, and ponder whether the Festival of 1000 bikes or the Goodwood Festival of Speed rocked most this year. We tick off two experiences on our 'to do' list and take a rookie to the Ron Haslam Race School to see if we can turn him into a racer.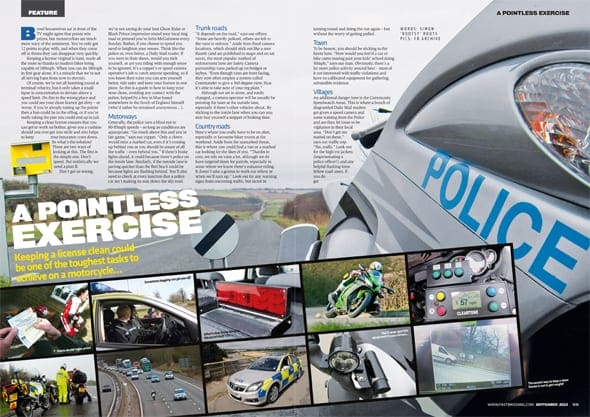 Then it's our brilliant regular features, with a stunning carbon clad MV Agusta F4 featuring in our Addiction pages, our Masterclasses telling you everything you need to know about riding, bikes and your legal position. We've bring you the best in products, round up the month's news, hear from you lot and your month, and check out what's been going on in the Fast Bikes fleet.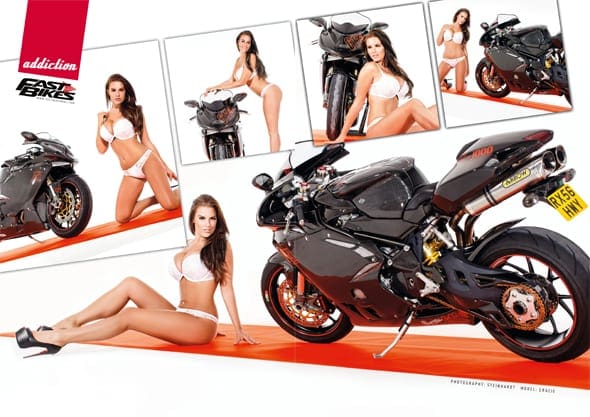 Racing wise, we see what pressures our British riders are under racing at their home Grand Prix at Silverstone, we ask Bradley Smith how he goes round Silverstone on a MotoGP bike, check out how Team FB got on this month and speak to PJ Jacobsen, Chaz Davis and Steve Parrish on their months.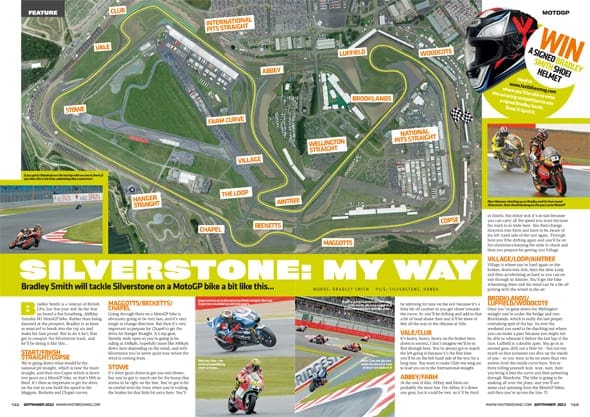 Download Fast Bikes for Apple iOS devices
Download Fast Bikes for Android devices
Download Fast Bikes for Nook devices
Download Fast Bikes for Google Play
Then both paper and digital readers can get stuck in to our Scotland Ride Guide, featuring ten belting roads for you to head north and try out for yourselves. And yes, the weather really was that good – and so were the roads!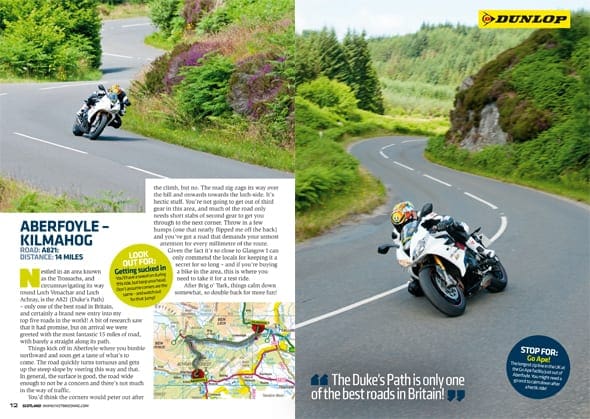 There's even more stuff packed in, so get yourself a copy and relax reading the best sportsbike magazine on the planet…

Enjoy more Fast Bikes reading in the monthly magazine.
Click here
to subscribe.