Hi guys,
I trust that you have had a good last weekend?  My weekend was excellent as I spent Sunday at the BSB round at Oulton Park after being kindly invited to experience some Ducati UK hospitality.  A quick trip along the M62 and down the A49 found us at Oulton Park and we then promptly found our way into the paddock and to the Ducati UK hospitality truck.
The Ducati truck was just behind the pit garages and trucks so you could get a real sense of the racing paddock atmosphere.  The truck itself is decked out inside with pictures and memories of past Ducati riders, there are refreshments from fresh coffee prepared by the barristers, ice cool water, fruit juice and even some Italian beer, there are also TV screens in there so you can watch live coverage of the on track action should the rain attempt to dampen your day, no such problems for us though as the sun was shining.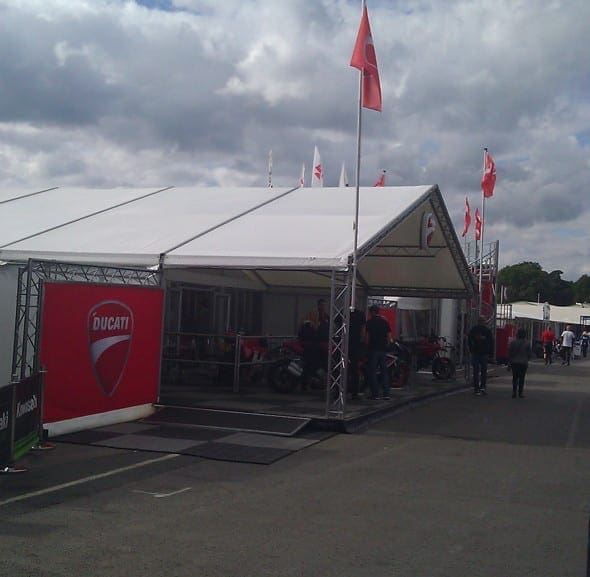 Welcoming your arrival at the Ducati truck are a selection of their model range and even if you aren't adorned with the relevant pass to get in the hospitality you are still able to swing a leg over some of their finest and try them on for size and it is great for the kids and also a nice photo opp.  I really thought that was a nice touch from Ducati and they had even brought a couple of Desmos along, although they were inside the hospitality area.  However, being as I was equipped with my new guest pass, it gave me a chance to get up close to one for the first time, hmmm! Move item to top of bucket list…must ride Ducati Desmosedici!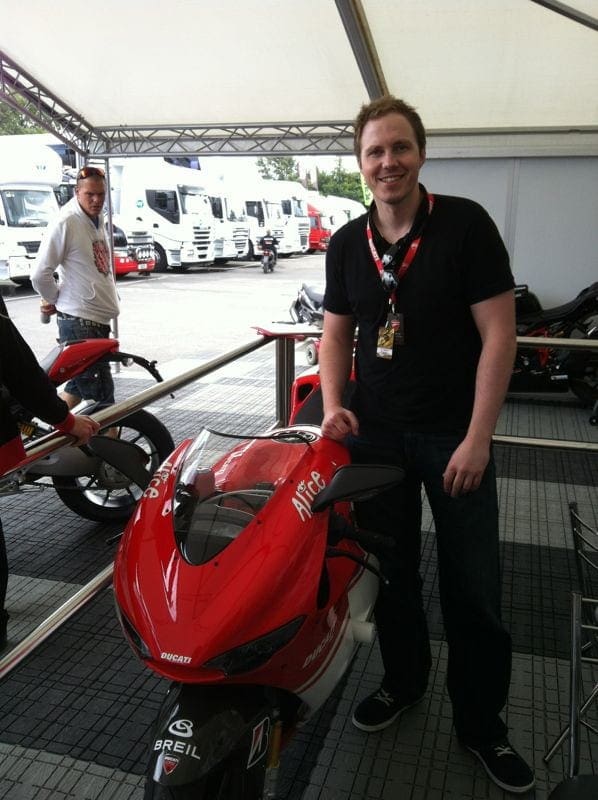 As well as providing me with an up close encounter with one of the greatest ever road bikes, the Ducati UK hospitality truck supports the Ducati Tri-options 848 challenge.  It is at every round of the season where the challenge series is on the program and the series ambassador Neil Hodgson was on hand interviewing the BSB and Superstock Ducati Riders over lunch.  The lunch by the way was excellent with a number of options and it was worth a trip to Oulton for the carrot cake alone, but don't worry if you don't like carrot cake, there were four others to choose from!
Cakes aside we arrived at Oulton in good time to see the 848 challenge race, and even round the snake like undulations of Oulton Park the 848s still looked composed and planted.  Entering the 848 challenge really is next level Ducati ownership and must be the ultimate way to enjoy your new Ducati, they even knock a grand of the price if you are entering into the series.  Now, all I have to do is think of a way to get the race budget or maybe I could get the guys at Fastbikes to setup a new competition.  How good would that be?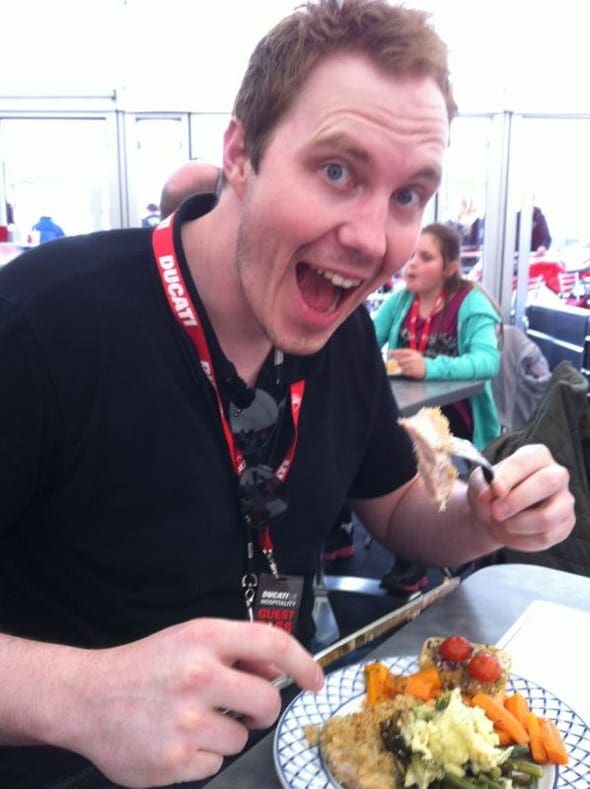 Should the thought of having your own slice of Ducati paddock hospitality be tickling your fancy, winning a competition or being an ex-word champion is not a prerequisite to getting a piece, check out your options here on Ducati UK's website.
As I am sure many of you saw, the racing at Oulton was frantic and furious with a different winner from each of the three superbikes races over the weekend.  Man you gotta love BSB! Rapido Sports Ducati Racing's Matteo Baiocco is putting in some solid results on the Panigale.  Coming from the open and flowing European tracks to learn the tight and twisty Brit tracks must be something of a culture shock but he seems to be taking it all in his stride and is going about the business of allaying the Motec system to the Panigale, his task is not made any easier by the fact he is having to do it in a one rider team but this guy won the Italian superbike championship twice, so he knows his way around a bike.  Given time to learn the tracks could see him move smoothly further up the finishing positions.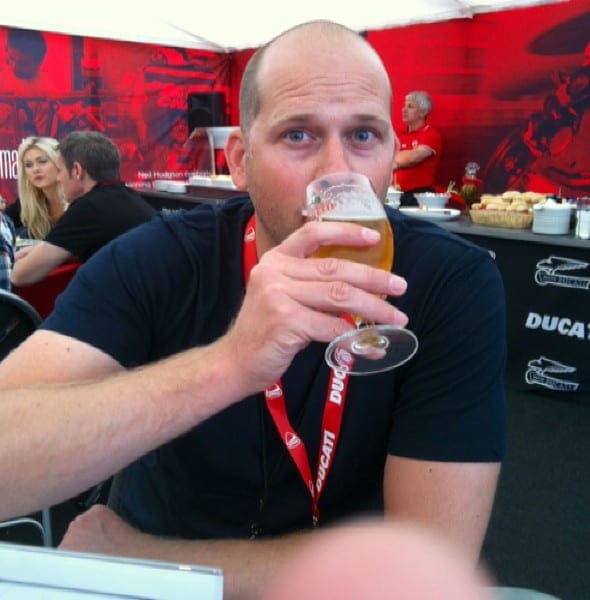 One guy who doesn't need to learn the tracks is Ducati's Superstock contender Tristan Palmer, who put in a commanding performance to take a closely fought but convincing win with the Ducati Panigale in the Superstock 1000 outing and at the same time proving the worth of the Panigale in Superstock trim at least and less face it, that is the one you can go out and buy from the show room at your local dealer anyway. Congratulations Tristan!
All in all we had a great day; we enjoyed Ducati's splendid hospitality, ate some delicious food, soaked up the sun and a great atmosphere and witnessed some fantastic and truly breath taking racing.  What more could you want from a sunny Sunday afternoon?  A quick thanks to Alan Jones of Ducati UK for the invite and I am sure you will join me in raising your hats to all those racing last weekend, and every weekend.  Respect where respect is due!
Phil

Enjoy more Fast Bikes reading in the monthly magazine.
Click here
to subscribe.