Fast Bikes Magazine is officially in the shops and available to download now! Issue 280 will be weighing down the shelves, both analogue and digital, and what with an excellent FREE Suspension supplement you should form a disorderly queue right now!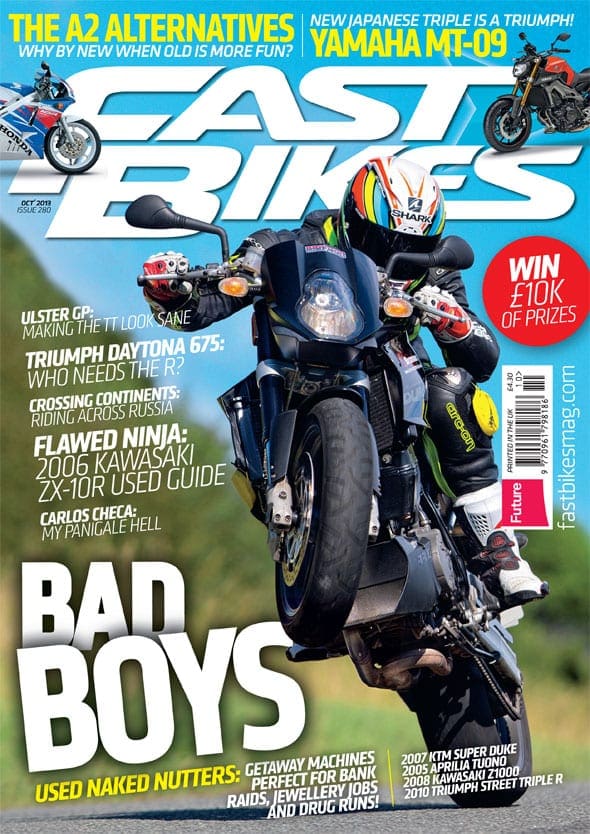 The FREE Suspension supplement is a 16-page guide to help you understand what's going on with your springs.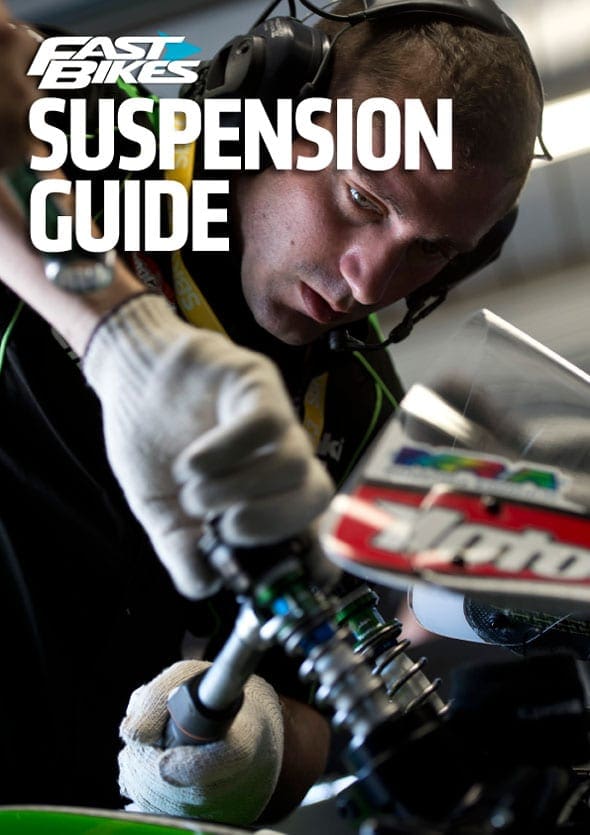 It's a complicated business, so we've gone back to basics and asked the people in the know (JHS Racing, MCT Suspension, K-Tech and more) to explain what's going on when you hit a bump and how to optimise your suspension for the best possible ride. It's a handy guide to keep and refer to later, so make sure you don't miss out. We've tagged it on the end to digital issues, so you lot don't miss out.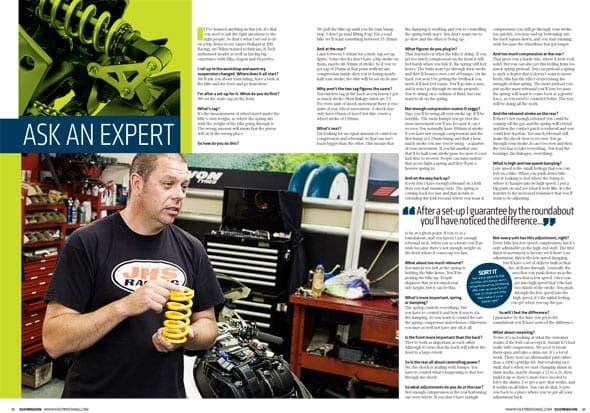 Our big test and cover story refers to the naughty side of life. Naked sportsbikes rock. They are fast, fun and full of frivolity, meaning that while they might not be able to hit 180mph, their speeds in smiles per hour is much higher. We've chosen four prime used examples; KTM's Super Duke, Triumph's Street Triple, a Kawasaki Z1000 and an Aprilia Tuono to monkey about on. They were a hoot, and if you're in the market, this is a priceless guide.
We also have a look at the new A2 market that's emerged. This is in response to licensing changes that prevent rational, sane humans not being able to ride a big bike until they are 24. So in response, we've gathered the obvious choices new and compared them to what you can get used. There are some classic two strokes here, and they proved to be an absolute hoot. Yamaha's new MT-09 is launched, and Rootsy reports back from this most remarkable return to form from Yamaha. Plus we also jump on the new Triumph 675 stock model for the first time (after only being offered the R up to now) and also check out how clever the new Aprilia Caponord is.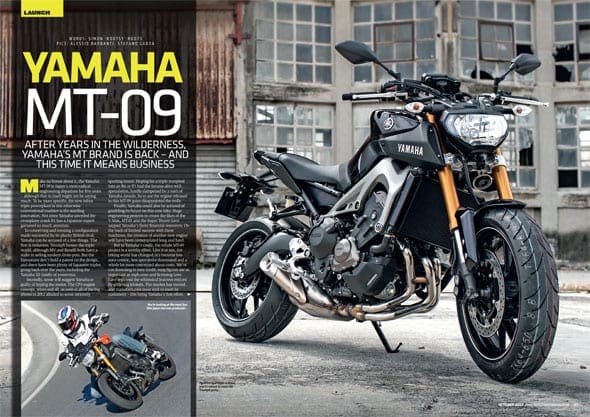 Feature-wise, we send Al off to get tempted into trying out the Ulster GP, the fastest race in the world, but decides that even he isn't mad enough to give it a try. And our Rookie to Racer gets his second stab at the cherry, and proves that you can teach a young dog new tricks. Then there is all your favourite regular features. We look at the 2006 Kawasaki ZX-10R as a used bike (and suggest why there are some better alternatives), we catch up with Andy Ibbott and the California Superbike School for some tips, answer your mechanical maladies, tempt you with some ace new products, check our legal position, suggest roads for you to clear off on, round up our month on the longtermers, give you and ace CBR600RR and model to drool over and let you know all the news of the month – including how our prediction of the new Ducati 899 came true.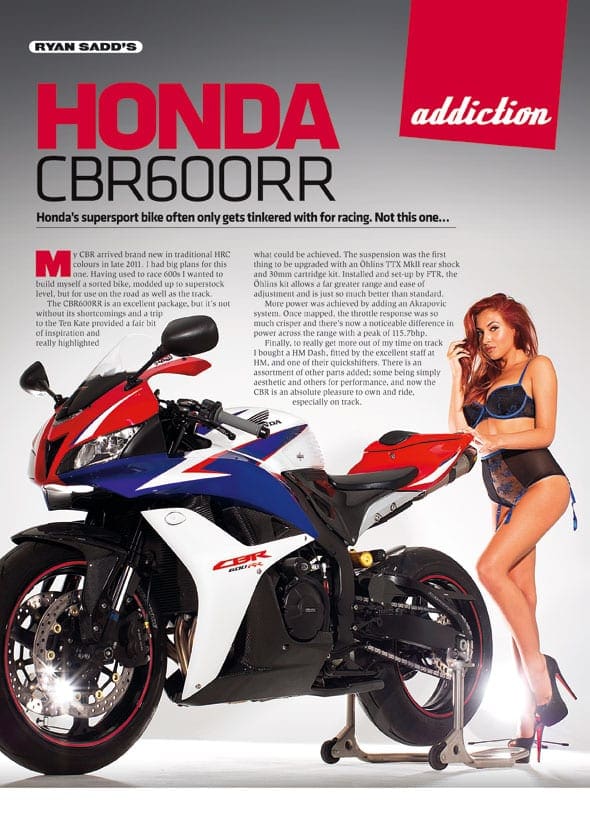 Racing wise, we get to speak to former WSB champ and racing veteran, Carlos Checa, and see how he's struggling with the Ducati Panigale, and you HAVE to check out what happened to Alastair in the last round of Thundersport GB – you will not believe the picture. It's another packed month of Fast Bikes magazine – and it's a souvenir issue as there's a classic spelling howler on the cover. Yes, er, sorry about that. But unless you are Lynne Truss, it won't spoil your enjoyment of the October issue of Fast Bikes!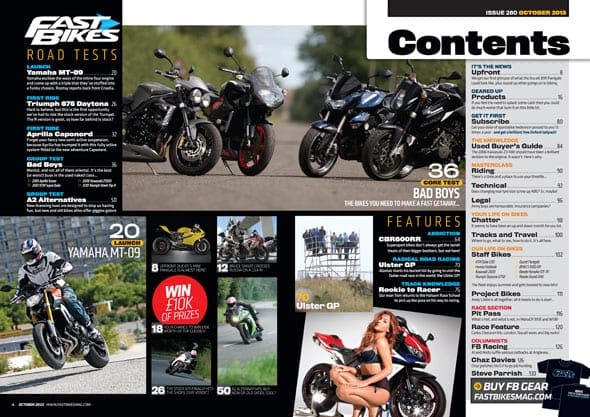 Download Fast Bikes for Apple iOS devices
Download Fast Bikes for Android devices
Download Fast Bikes for Kindle
Download Fast Bikes for Nook devices
Download Fast Bikes for Google Play

Enjoy more Fast Bikes reading in the monthly magazine.
Click here
to subscribe.