Hi guys, my last blog on the 848!
Having injured my hand I had to stay off the bike for six sweet, hot, sunny days, it was difficult and now, when I am able to ride again the weather has turned but, is that going to stop me?  No chance!  Having been starved of my Ducati fix for a week and the fact it will be leaving soon, I am making up for lost time.  Even a cold and wet midnight run down the M18/M1 to Sheffield couldn't dampen my riding spirits.
The 848's current hard set up and sports focussed Pirelli Supercorsas, aren't the best choice for wet roads but, the characteristics of the over square L twin 848 EVO make up for the absence of the modern day obligatory traction control.  Keep it under 5000rpm, a gear higher than you may otherwise wish for, don't tip it over too far and there is a complete absence of arse twitching moments.  Should the worst happen I have the guys at Bikesure Insurance backing me up, although I would rather not have a need to give them a call and happily I didn't need to.
The EVO is comfortable on the motorway and in top cog ambling along at non attention attracting speeds, saw the 125 mile round trip pass by without a hint of a reserve light.  Not that comfort and economy is what you buy a Ducati superbike for but, it can keep those with more practical concerns happy too.
The rain drenched night journey also allowed me to test out the 848's headlamp that, like most the rest of the bike, was very impressive.  At first I was a little confused with the high beam as it just seemed to light up the sky but, get it on some twisties and it starts to make sense.  The main headlamp is bright enough and provides ample visibility but, there is still the problem when you come to a series of bends that you can't see the bit of road you want to be on, a quick flick of the switch to high beam solves the problem.  Of course it is not the same as riding in daylight but, with it you can see mostly where you want to be heading and importantly, where the tarmac runs out and the hedgerows and ditches begin.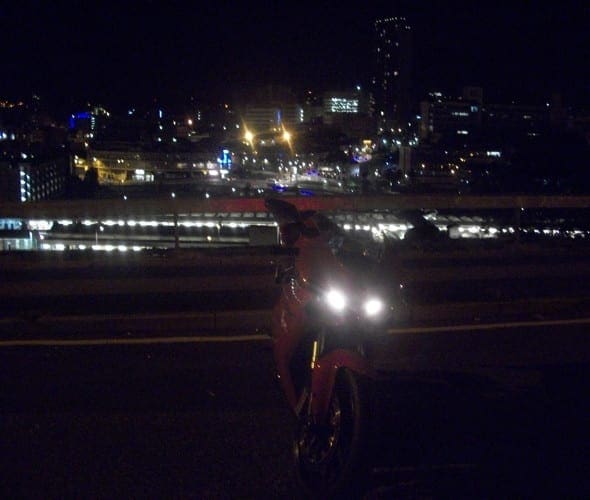 I expected a lot from the Ducati 848 EVO before it arrived, I expected it to have cutting edge handling, have strong acceleration, be a dream to ride and play itself out to a glorious twin sound track.  It has done all this in exquisite fashion and it has done it with style, I was totally unprepared from the reaction it receives from people.  Everyone seems to love this bike, they just seem happy to see it but, the EVO has also surprised me in how practical it has been.
Article continues below...
Advert
It is no doubt a superbike but it really is a bike you can use every day, I have done, daily commuter, back lane scratcher, and motorway cruiser, I am only missing having taken it on track although I have every reason to believe it is a proper track day assassin, just ask the guys that are riding in the Ducati Tri-Options 848 Challenge series.  The tank range, relative comfort, headlamp and long service intervals make it genuinely practical anytime you want to ride it and in these ways it is comparable to bikes in other classes.  In addition to this unexpected practicality, the thing that has most surprised me about the 848 is how easy it is to ride, not intimidating but viciously fast when you ask it to be, I am not going to lie – I like it, I like it a lot.  Thank you Ducati and thank you Fast Bikes Magazine!  The 848 will be missed when it leaves next week but, come rain or shine it is going to be seven more fun filled days.
Phil
Article continues below...
Advert

Enjoy more Fast Bikes reading in the monthly magazine.
Click here
to subscribe.