So the day finally came when I had to hand back the 848 EVO.  I rode her down to Ducati UK HQ at Silverstone and received a warm welcome and a strong cup of coffee but, I was still a little sad to see the EVO go.
My mood improved somewhat when I was taken through an immaculate workshop past a partially stripped down Panigale and into a hanger that was filled with rows of Italian exotica. Here I was presented with my new steed, shinning red with fresh Pirellis, the Ducati Diavel. 1200cc, 162hp and 94 lb ft of torque but, before getting into all that though I just had to spend a good while taking it all in.  There is so much detail on the Diavel, I particularly like the neat elongated led indicators front and back, which go almost unnoticed until they are switched on and you have to love that typical Ducati trellis framework.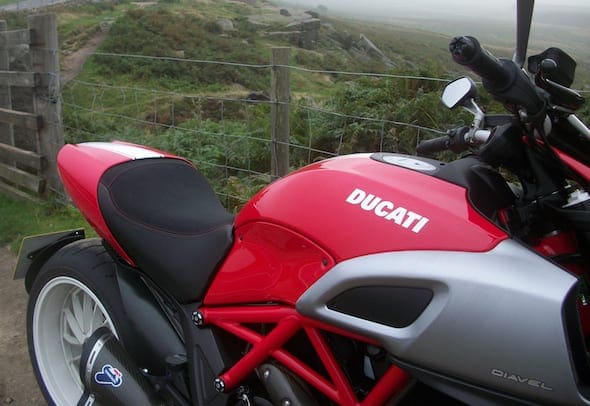 The Diavel that Ducati were kind enough to let me loose on is also adorned with a treasure trove Ducati performance trinkets and extra carbon fibre.  Even after a week of having the Big D I am still finding nice little touches and the finish on this bike is absolutely immaculate.  One thing that stands out a mile on this Diavel is the addition of the Termignoni carbon cans, perfect!  They are also quite a bit shorter than standard ones which gives a good view of the rear wheel.  I am told that the white wheels divide opinion but, I think they really set it off and upon a second look you notice that the faces on the spoke s are polished alloy and that is what a mean, on first glance this bike looks great but, keep looking and it keeps getting better.
I never thought of the Diavel as a good looking bike, sure it has presence and character, but couldn't hold a candle to the likes of an 848.  In this red and white colour scheme though I am having second thoughts and from the exhaust side particularly this bike is stunning.  What is also stunning is the sound that exhaust makes, it is loud and proud and sounds like it's come straight of Dovi's Desmo, which is nice but, having an exhaust that reacts in the way this one does also makes for a more involved and rewarding riding experience, especially when coming of the throttle into your favourite set of bends.
Another other thing that stood out straight away was the huge 240 section rear tyre.  The tyre makes you wonder what on earth you are getting yourself in for, I mean, it is long and relatively heavy and with that tyre you have to think that the bends are not going to be your friends.  This is not the case and after a quick call to Bikesure I burbled away from Silverstone on one of the most surprising rides I have had to date.
Having become very accustomed to the more familiar sports bike riding position of the 848, initially, making my way steadily back up the A43 toward the M1 the Diavel felt very strange and I likened it to sitting on a big arm chair, an arm chair with a rocket on the back of it.  The first few roundabouts came and went without any fuss at all.  The Big D feels so light on the move, it falls into turns with confident enthusiasm and the way to get this bike to turn is big lean, you just lean her round that big rear tyre.  At first it feels a little unnerving leaning the big lass so far over, especially when coupled to the foreign riding position but, once you get yourself adjusted to the Diavel the pegs get scrapped as though it was second nature.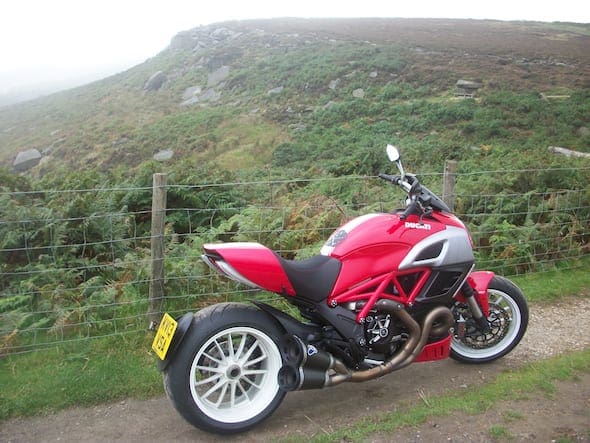 The Diavel confounds its dimensions with the way it can string the bends together, it takes minimum input, it is solid and inspires confidence, all it lacks is the lightning reactions and instant precision of the 848.  Hey, you can't have it all and looking at it, it has no business being able to do what it does.  I really don't know how Ducati have done it, but they have.  The Diavel has been described as a Cruiser that is like a Sportsbike but, I think it is a Sportsbike first and a Cruiser second.  Don't get me wrong, if I was going through a set of bends on the 848 and a Diavel came past me I would go home and hang up my leathers but, seeing the Big D in my mirrors, I would not expect to be leaving it too far behind and coming out of the bends onto the straight the Diavel can live with anything and destroy most.
Once you have got your head around the Diavels ability to slice through bends, exiting the corners is where the real fun begins.  The Diavel rockets forward like, well, like a rocket, it is phenomenal.  Due, I think, to the riding the position, the acceleration seems even more effortless than on the 848, in that sports crouch you are constantly ready to go open the throttle.  On the Diavel everything feels more relaxed and the cut away and shaped seat holds your firm so that you can just light the rocket on the back of the arm chair and blast forward in bid to bend time.
I knew it was going to be fast before I opened the throttle, with all that power and torque on tap is is inevitable.  What I wasn't ready for was the shorter gearing, even with a long stroke the Diavel charges through the gears, although it really doesn't matter what gear you are in, open the throttle and it will fly, on the Diavel any gear is the right gear.  If you do accelerate hard in the optimum gear the Diavel defies its dimensions again and will try and wrap itself around that huge rear tyre.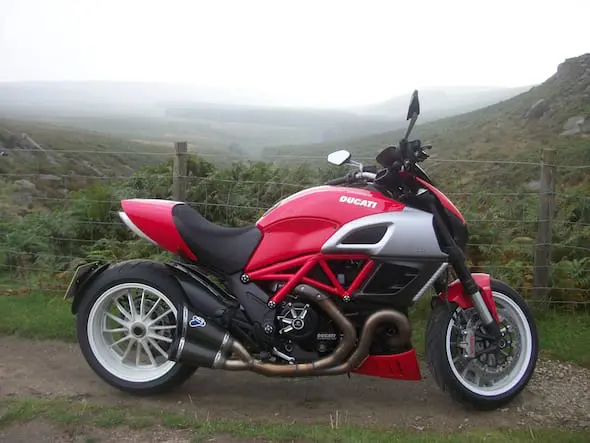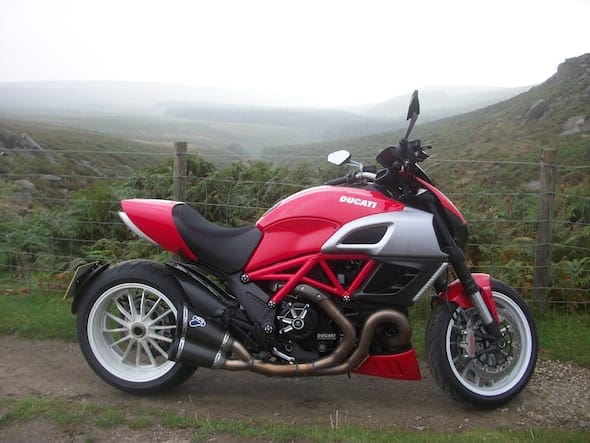 I wasn't sure what to expect with the Diavel, it looks like something a bit different and a bit special but, at first glance it's not the kind of bike I would tend to go for, that is, until I had ridden it.  I have had the Diavel for seven days now but, by the end of the first day I already knew that this is one of those bikes that everyone should ride at least once, it is hard to explain but, when you speak to someone who has already ridden one they can get it, they already know and perhaps that explains it in the best way.  It has so much show but, it is all about the go.  If you get the chance to ride one take it but be warned if you ride one, you will one want one.
As you may be able to tell I am pretty taken with this bike and I could go on but instead will try and regain some composure.  The fact the Duacti Diavel is so good is a big relief.  Because of it I only occasionally feel the withdrawal symptoms of no longer having the 848, the Big D is the perfect remedy.  It really has surprised me.  Next on the agenda is getting to grips with the technology, oh yes, three riding modes with eight stage programmable traction control, now where did I put that manual??

Enjoy more Fast Bikes reading in the monthly magazine.
Click here
to subscribe.