Q: After your Nurburgring crash, when did you realise that your leg was broken and what went through your mind?
A: I knew I'd broken my leg after the medical staff arrived and I looked at it. It was easy to see through my leathers as the leg was not straight like normal. It kind of looked like the middle of the bone was sitting up on a rock and bent at 45 degrees, but the wrong way.
Q: You had an operation to pin the broken bone almost immediately. Did you set yourself a target return date then, or did that come later?
A: I had no return date planned as I knew that an injury like this is very severe and we were nearing the end of the season. It takes a lot of energy to break a femur in the first place and that makes recovery much harder. Together with my coach, Darren Roberts, and Dr Ross Barker, who's an orthopedic surgeon at Nobles Hospital in the Isle of Man, we worked hard to keep the strength in my quadriceps and hamstrings while maintaining a good range of motion in my knee. It became a full-time job to recover.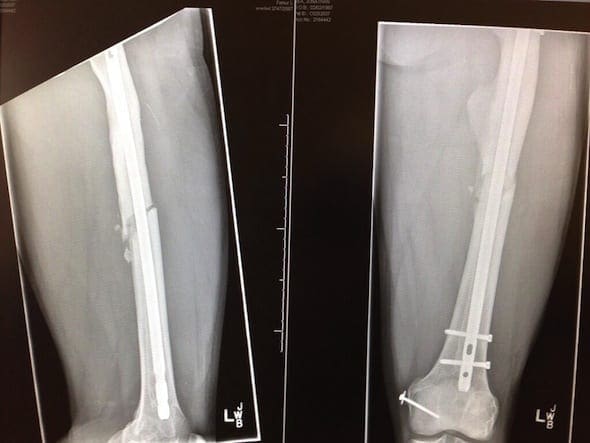 Q: How ready – physically and mentally – were you to ride at the recent Jerez test? Could you have ridden during the race weekend there?
A: I could have ridden much earlier than that actually, but being physically able to ride and being safe to ride are two very different things. Before the Jerez test I had a Biodex scan and we were able to see that I was 30% weaker on my left leg and the bone had not fully re-grown. In motorcycle racing there are so many pressures to return too fast from a serious injury before you're at 100%; but I am a professional athlete, and any further accident to my leg at this point would have had major consequences for my preparation for 2014.
Q; How was the bike set up for you at the Jerez test? Did you start on a tried and tested setting?
A: I started with my base setting from Nurburgring and my base electronic set up that we arrived at in the middle of the season because that was familiar to me. During the test we tried some geometry changes that Chris [Pike – crew chief] had planned after feedback from Michel Fabrizio but, for me, they weren't positive. But my guys gave me a much better feeling with my throttle on acceleration and deceleration, so we can continue to work on this at the next test.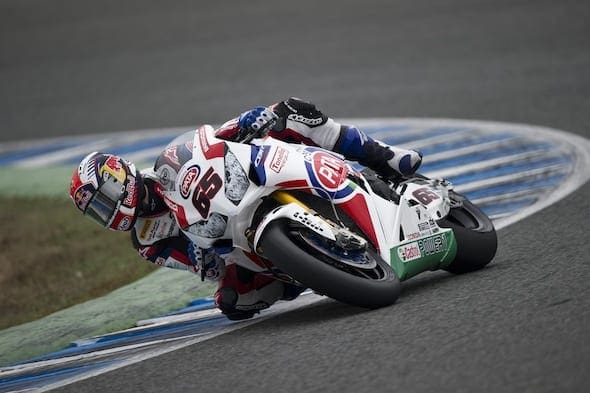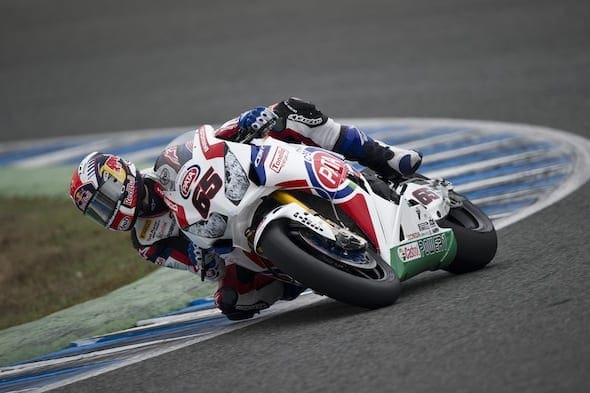 Q: How closely have you kept in touch with the team during your rehabilitation? Has the bike improved during your absence?
A: I kept in contact with my team manager a lot, also because we were also discussing my future as well as my injury and, after every consultation with my doctors, I kept both my team and Honda informed. My crew chief Chris kept me updated with all the news from the circuits with regards to performance. For me, the bike didn't really improve much while I was away, which means we all have to work really hard this off-season.
Q: The bike changed a lot from the end of last season, but is it still a case of 'work in progress'?
A: The motorcycling world never stops moving forward and we had a huge development plan in place for this season. The problem was that we didn't receive a lot of the items that we needed until the season had started, so the first races were very difficult for us. The technical level of the bike this season was not where I had anticipated but a racing motorcycle will always be work in progress when you are trying to go faster and faster!
Q: The team has a number of tests planned either side of the testing ban. What kind of things will you be working on?
A: We have quite a big list to get through this winter but this time it is more achievable. I just pray for dry days because, with the test ban in place and overseas testing banned, every lap is going to count for us!
Q: While you were recuperating from your injury in the Isle of Man you signed a new deal to ride with the Pata Honda team once more in 2014. With other options available to you, what was it that persuaded you to ride for a sixth year on the Honda CBR1000RR?
A: When I put all the options on paper and I could look at the positives and negatives from each one, it was clear that the best was Honda in World Superbikes. Honda Motor Europe have been very good to me throughout my career and their belief in me was clear. I really feel like I am wanted at Honda. I know our weaknesses well and that is a positive, because we can work on those now for 2014.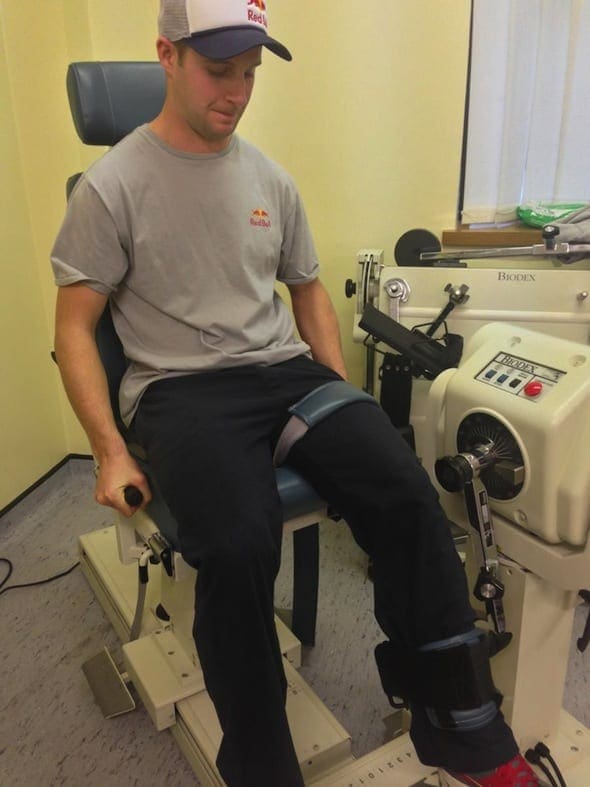 Thanks to Pata Honda for the pics and info…

Enjoy more Fast Bikes reading in the monthly magazine.
Click here
to subscribe.