Hi Everyone!
Recent events and commitments had kept me off the Diavel for seven straight days so the threat of a little rain in the forecast when I was able to fire her up again certainly was not going to stop me.  It could also be a good opportunity to test out the riding modes as well, I thought, as I pulled out of the drive onto a cold damp road – be careful what you wish for!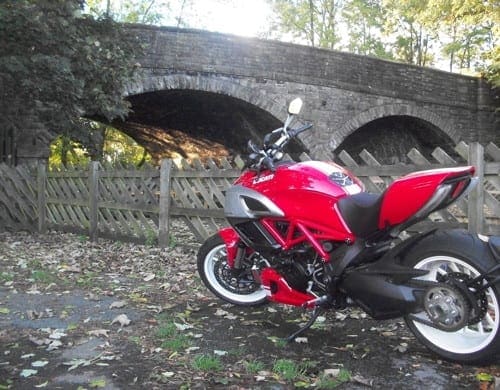 After a few twitchy moments on the damp tarmac, thanks in part to the Diavel's instant and addictive throttle response, but mainly because I hadn't ridden it for a week, I decided it would be a good idea to take her out of sport mode and put her into touring.  Touring still gives you the full 162 ponies, but softens up the throttle response and adds in a few more levels of DTC (Ducati Traction Control) in case things do manage to get out of hand.
With the forecast of the impending down pour I thought that a short trip over to a mates to give him a look at the Big D would be a good idea.  It's not too far away with some nice roads to take in enroute and I could be back before the storm arrived.  That was until we got talking and then the full flow of 'debate' on why Marquez would beat any rider in any era was interrupted by the sound of a monsoon.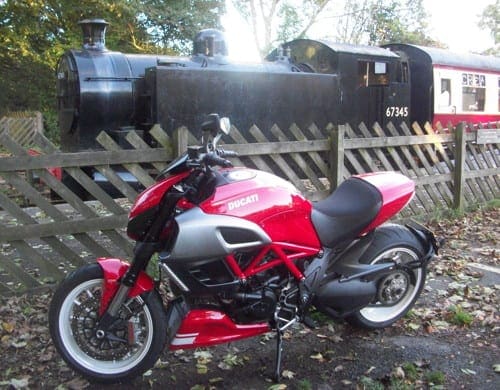 Only having summer leather jacket and jeans to keep me 'dry' on the way home I decided to wait it out.  An hour later and still raining hard I had to leave, so with the addition of a towel to put over the now soaking seat, I switched the Big D from touring to urban which retains the softer throttle response, but also backs the power down to 100bhp and adds in a further helping of DTC.  Off I went, carefully, the Diavel burbling away through the puddles and my visor cracked open to stop it steaming up.  It was wet, very wet.  The last time I had ridden in conditions as wet as this was when I got caught out on my bike test, I didn't care for it then and I don't care for it now.  By the time I had covered the first quarter of a mile I was soaked to the skin.
Now, I have never really been an advocate of all these riding modes and traction control.  At the end of the day your right hand should be your traction control.  My feeling was that they take the responsibility away from the rider.  A rider should be in tune with the bike and essentially be in control of it.  That is all still true, but what this journey taught me is that if you use the riding modes as part of the riding experience as opposed to instead of it, then they can actually add to the riding experience and rather than take over or intrude they can be a valuable help, given the right circumstances.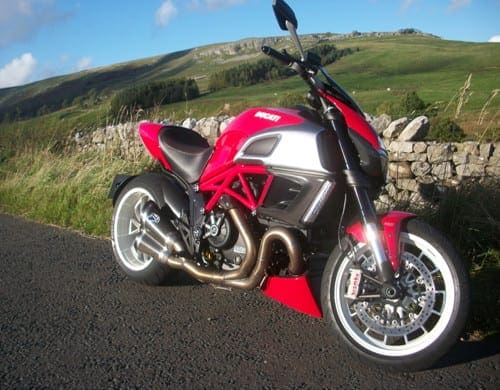 This journey was definitely one to qualify as the right circumstance.  I was glad not to have to tame the sharp and immediate throttle response of the Diavel in those conditions.  If I had not had traction control and riding modes would I have got home in one piece?  Yeah, I don't doubt it. I have been caught out in the rain on other occasions and on stiff setup sports bikes without any rider aids that were basically riding cut slicks.  Let me tell you, that is not something I care to do again, yes I had to connect with the bike and control it with all my own ability and I got home in one piece, but it requires absolute concentration and the potential for things to go wrong when you have cold wet fingers controlling a hair trigger is not why I ride bikes.
What the riding modes did for me on the Diavel is take that element of walking a tight rope out of the equation.  The traction control was not needed, but it was there if required, kind of like a safety net just in case you make that small mistake or misjudgement, or your fingers are just so cold from being wet that you can't feel them anymore.  After all, even with the urban riding mode on the Diavel you still have 100 bhp on tap and while the big Pirelli on the back gives you acres of grip in the dry, it is not best suited riding in the wet.
It was bad enough having to deal with being soaked to the skin and cold and the fact I could hardly see anything without having all that power waiting to spit me off at the earliest opportunity.  Having the option to back down the throttle response and the power made what could have been a wet, miserable and nerve racking ride home into just a wet and inconvenient one.  An added bonus of the lower riding modes is an increase in fuel economy too.  Ahh…so that's why they call the middle mode touring!
The best thing about the riding mode switch of course, is that you can turn it back up to full power.  You can do it easily on the move; you just have to shut the throttle first.  For me, on a dry road there is only one option for the riding mode setting, but I have to say that if you are caught out in a deluge or are going camping and just need to burn up some serious miles, having these riding mode options is perfect.  Now, that is something I didn't think I would be saying, but there it is, make of it what you will.
Next time I am going to see about giving you a better look at the Big lass with some videos, until then happy riding.
Phil

Enjoy more Fast Bikes reading in the monthly magazine.
Click here
to subscribe.