Just weeks after breaking his wrist and lucklessly losing the Moto2 World Championship, Scott Redding jumped on his Gresini Honda RCV1000R he'll ride in MotoGP in 2014 at the recent Valencia test. The 'proddy' RCV is one super-hot topic of discussion, so we asked Scott what all the fuss is about.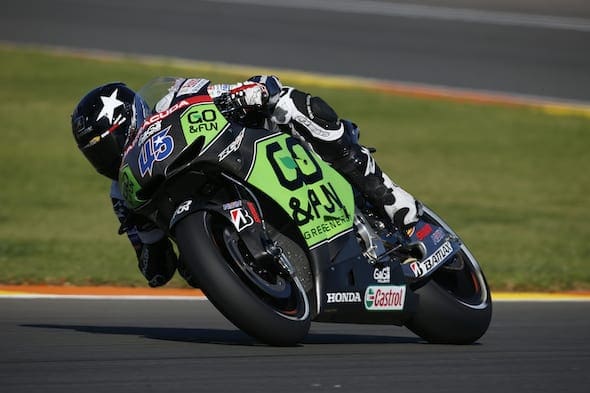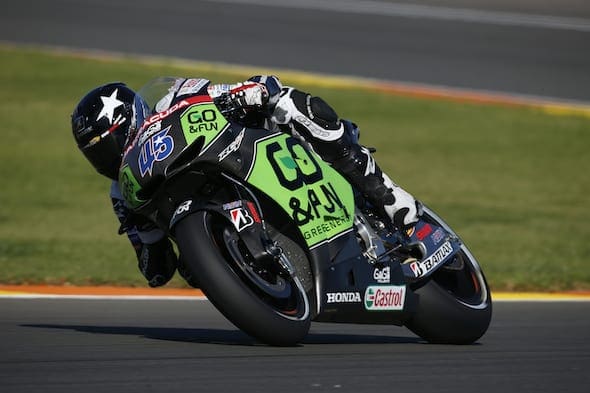 How was the pain after a weekend of racing?
"After the Moto2 race in Valencia, I was in a lot of pain. After five laps I was done, and then saw the pit board with another 20 laps. I didn't think I could do it. I had painkillers but not injections. They don't make a difference to me. I was counting the laps down and the race was getting longer and longer. After the race I had nothing. I couldn't sit up on the bike, I couldn't push on the bars, my back was f**cked. Even after 4 or 5 hours, I couldn't do anything. I was just drained, getting therapy and sitting on the sofa. The very next day I had to pick myself up and go again!
"The excitement (of riding the bike) was the only thing that kept me going. If it was a Moto2 test, I wouldn't have gone out there. I was only planning on doing 10 laps but I did another 10, then another 10, and another 10. I didn't hit an apex the whole day on any left-hander. Braking was ok but tipping into a turn, I had no real control."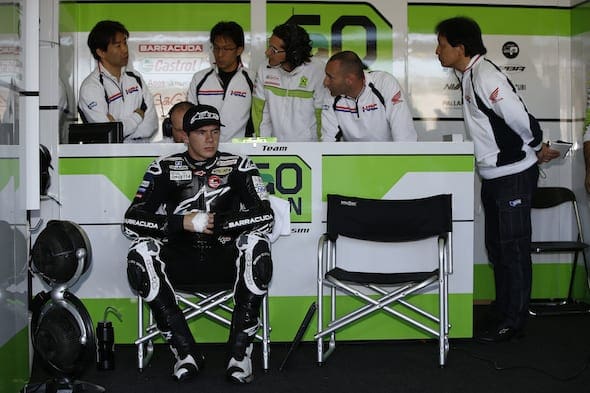 And what about the RCV?
"I was just trying to get used to the electronics and stuff like that. It's just all new to me. The motor felt pretty good. They need to work on the electronics and find a little bit more power because it's not as fast as the factory MotoGP bikes. It was nothing bad but we could do with a little bit more. We just need to work with the electronics because we didn't have that much time and they involve so much fine-tuning. It's going to take a lot of time to build.
"It's a low level system compared to what the Repsol boys are using but to me it's a lot to play with. You can change the engine braking here, there, on any corner, you can change anything. It's a never-ending game."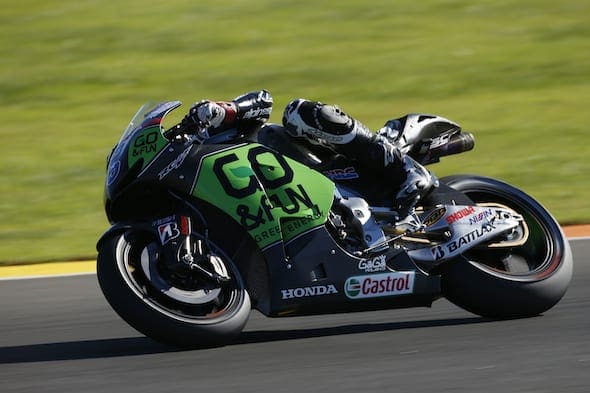 It looks smaller than the Kalex Moto2 bike.
"It is. The thing with the Honda is the exhaust is directly under the seat and they've also got the battery pack there, so actually there's not that much space. The team have got some ideas from when they were running Simoncelli. They've been working on a new design of seat and back end for the next test in Sepang. We're also working on footpegs but with the MotoGP lean angles you cant really lower them any further. So just working on little bits here and there and getting more comfortable.
What's the plan for the Sepang in February?
"It's just like starting again for me really. I want to be strong and build on where we left from Valencia, which is more or less a standard bike, build the relationship with the team, slowly find our way, don't rush things and make sure we do it right."

Enjoy more Fast Bikes reading in the monthly magazine.
Click here
to subscribe.