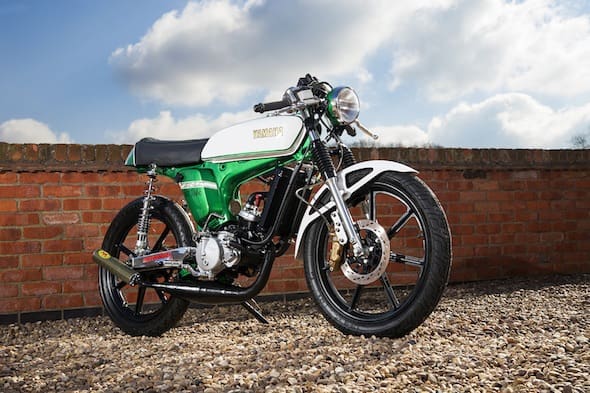 What were you doing in 1973? James Blunt wrote a song about it, Rootsy and Heidi Klum were born, France were nuke testing, and Yamaha launched the FS1-E – better known to we Brits as the Fizzy.
Seeing as the Fizzy is celebrating its 40th anniversary this year, we went in search for a special one. Darrell Taylor runs a company called 50cc Tuning and was responsible for creating this badboy – the Fizzerbi – half Fizzy, half Derbi. What started off as a seemingly unassuming engine and chassis mating sesh turned into what you see here; a comprehensive ground-up rebuild with few original Fizzy components remaining. The design brief was simple. Build a very fast, liquid-cooled, retro looking FS1 based on the US version, which was tagged the G7.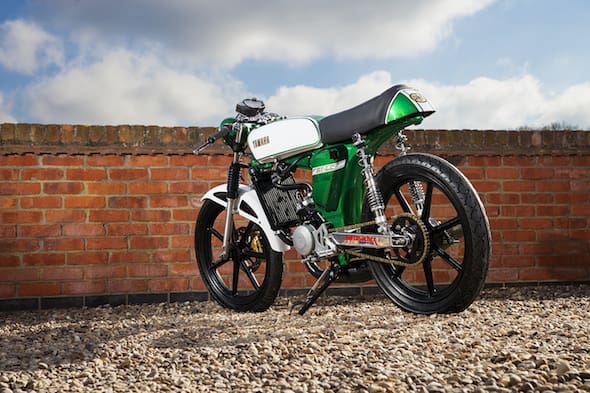 Forget its donor heritage. The meticulous engineering involved in this FS1-E is unbelievable. It's scattered with golden trinkets among the more obvious eye candy – like the original battery box now housing the race carb. After carefully cutting and trimming the standard wrap-around frame, an insanely tuned engine was offered up to form part of a crude monocoque chassis.
Those of you just in, or around, your thirties will remember the Derbi Senda – a Spanish-made CBT hooligan mobile for 16 year olds that kicked the shit out of Honda Melodys, TS50s and DT50s. The Derbi engine is prime for extracting power, hence the inclusion for this Fizzy. I remember seeing as much as 70mph on the speedo of a derestricted version, and promptly seeing it melt a ring to its barrel. These motors are also the powerplant of choice for Metrakit racers and other nifty fifties due the burgeoning tuning potential.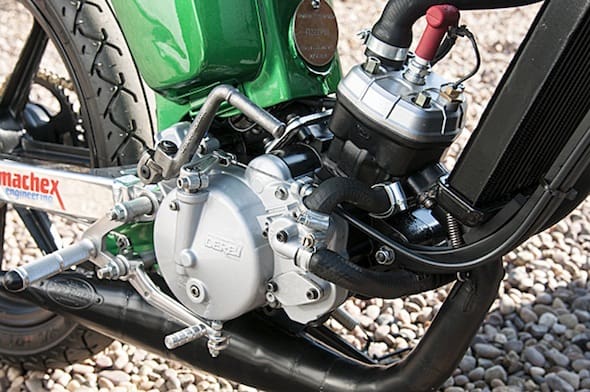 What started off as a 50cc has manifested into nearly 80cc and 23bhp, through the installation of a Metrakit 44mm long-stroke crank and a 47.6mm ported big-bore kit, while Darrell has fine-tuned all the other internals. There's also a massive (in relative terms) 30mm Keihin carb feeding the juices, a beautifully crafted Metrakit race exhaust, and a close-ratio gearbox with an über tall first gear to kick things off.
Styling wise, you couldn't want for more. The US-spec G7 tank and side panels, complete with a Dutch market seat unit, meant mechraphilia wasn't out of the question on the day. And Yamaha RD50 mag wheels, although much heavier than the standard spoked items, add even more retrosexuality.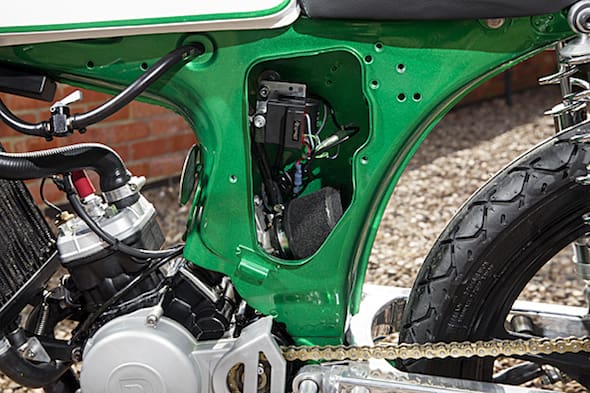 There's no definitive weight figure but all I get is 'it's under 50kg'. That's one Dani Pedrosa and 23 raging horses: a formula for madness, and it's little surprise that this Fizzy rips with a 14,000rpm redline.
The Metmachex swingarm is purely aesthetic, which is fine by us. The pressed-steel, spindly original item isn't exactly performance enhancing. The just as spindly wheels means the pegs are never in danger of touchdown and this limits cornering heroics and halts potential of the sticky race rubber. The Fizzerbi is just as much about show as it is go. And what a show it is.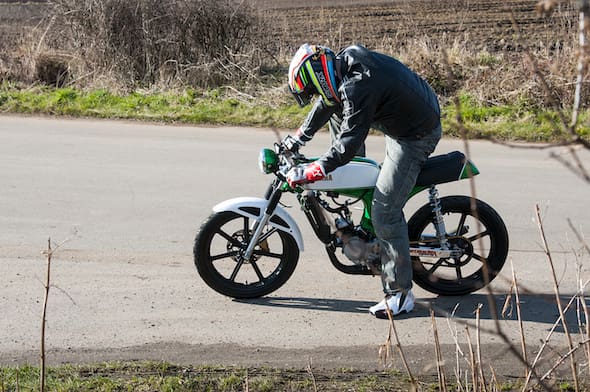 One of the last remaining FS1 OE components are the forks, and they've been treated to heavier weight oil and some more preload. The shocks are custom made and super-soft, which makes the ride supple and compensates for the contortionism needed for the cockpit.
Mint FS1-Es are fetching as much as £3k, which is a similar price to the cost of Darrell's handywork, and also the same price as a just as mint, brand-new Aprilia RS50 – which takes, on average, about three days to reach 40mph and couldn't pull the three-ply from a roll of Andrex. It's fair to say teenagers are desperately screwed when it comes to their choice of modern-day L-plate material.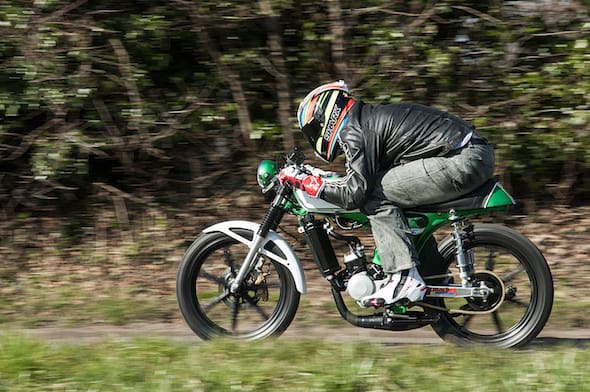 50cc Tuning
Based near Doncaster, reet oop norf, 50cc Tuning is UK renowned for small capacity two-stroke tuning, responsible for many a rapid scooter, minimoto, motocross bike and Yorkshire yoof's road hack. The workshop is an Aladdin's cave of porting work, cylinder heads queuing up on shelving, intricate tools and even a dyno.
Darrell, and apprentice Lee, are working on building a genuine 100mph Fizzy. Believe us, these boys know their squish from their Robinsons. Darrell can be contacted via email – [email protected]

Enjoy more Fast Bikes reading in the monthly magazine.
Click here
to subscribe.