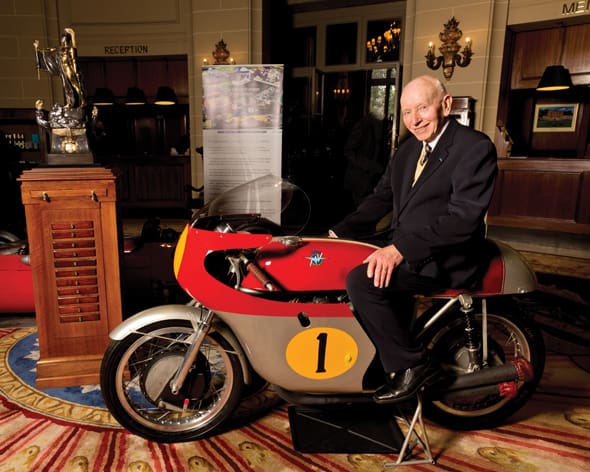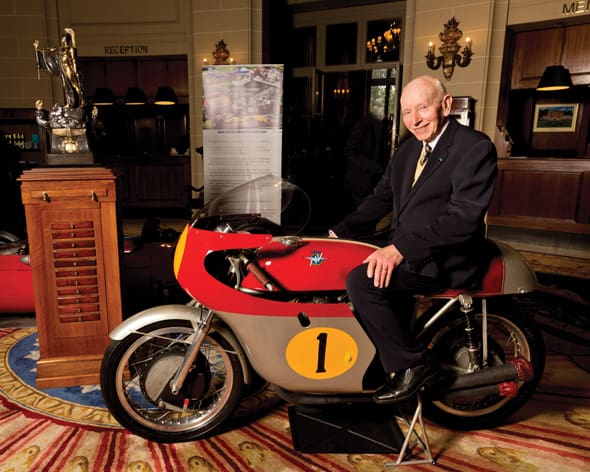 Racers will still swap from two wheels to four, it won't stop.
I think the transition probably happens as much now as it ever did, in fact we recently had the situation with Casey Stoner where he left motorcycle racing for a career on four wheels. One must also remember that back in the 1930s, where cars had around 600bhp being pushed through four inch skinny tyres. A lot of those drivers came from motorcycle racing. George Meier won the TT on a BMW in 1939, for example, but was also racing Auto Union cars too.
Those who make the switch often do it early, before they get too old.
I find that those who leave two wheels for four, do it early usually. I could have raced motorcycles for another ten years had I not switched. The big difference for me, of course, was that I raced in both Grand Prix paddocks in the same year, on cars and bikes. It happened by accident, it wasn't planned.
Colin Chapman got me involved.
I'd driven a car at some event and it had created a lot of interest. Colin Chapman told me when I was done with bikes, I could have a crack with cars. So I did. I only narrowly missed out on winning my first Formula One Grand Prix at the first attempt in Portugal. I was leading by over 20 seconds when the car broke down, but was still able to limp home in second place. This, after scoring pole position! I guess it wasn't a bad debut and it showed that there could be a future in it for me.
Valentino Rossi had the best chance of emulating me a few years ago.
Ferrari gave him a wonderful opportunity to test a Schumacher car with all his technicians and data, over and again. Valentino is Italian and very successful, hugely attractive to a company like Ferrari. It's a shame it wasn't to be. Bike racers start far earlier than car drivers, but that point when he was testing would have been the perfect time to switch.
Racing is far safer these days.
One must remember that Grand Prix bikes went to places like the Isle of Man in my day. In fact, it was mostly road circuits with a couple of purpose-built tracks thrown in. I raced mainly on pure road circuits, but even now places like the North track at the Nurburgring are far safer. At that place, hedges were an important safety device, as in the bigger and bushier they were, the more chance they had of stopping you hitting a tree! I'd spend many laps brushing my shoulders against the bushes. Now it is much wider, with plenty of run-off.
I joined cars at the most dangerous period.
It was a time with a great deal of new manufacturers. They could build cars that were very competitive, but also by using a lot of standard parts in their construction. But essentially, you sat in a frame, surrounded by alloy fuel tanks. We had a lot of mechanical failures back then, they were prevalent in the sport. But if you went off track or crashed, you were essentially crashing a petrol-tanker. Of course, the use of fuels like Methanol reduced the risks, but it was never any guarantee. In the 1950s, cars were much like those before the war. But by the 1960s it became a huge learning curve with many new untried or untested technologies being introduced, which would often lead to incidents occurring.
Article continues below...
Advert
I nearly returned to bike Grand Prix.
After a fashion, with the short-lived Maxtra 125 team, you may remember? I thought it was important to get the Chinese involved in world championship bike racing, so when Garry Taylor approached me with it, I jumped on board. Garry had been a tenant of mine in his role with Suzuki, and he had all the contacts within the sport we needed. It was just unfortunate that some of the other people involved with the project were included by the influence of PR. Their track records said one thing, but after the venture ended I did some investigation and discovered their track records weren't strictly accurate (The project suffered severe engine issues, overseen by a 'renowned' tuner – Ed). The gentleman in question built his reputation with Aprilia, but it wasn't deserved it turned out. A real pity, it was exciting getting the Chinese involved.
I now spend a lot of time working on our foundation.
It's the Henry Surtees Foundation. Following Henry's accident in 2009, we became involved with Headway, a Charity that helps with brain injuries. We did a bit of gentle fund-raising and ran up over £30,000, which gave me the impetus to set up Henry's foundation. Thus far we have raised over £130,000 to help our causes and Headway's. We have a huge number of events and very exciting things to attend, and to join along with, that I think many of you would love and enjoy. Go to www.henrysurteesfoundation.com to see more, then come along to something, and say hello, we'll be pleased to see you!
Article continues below...
Advert

Enjoy more Fast Bikes reading in the monthly magazine.
Click here
to subscribe.