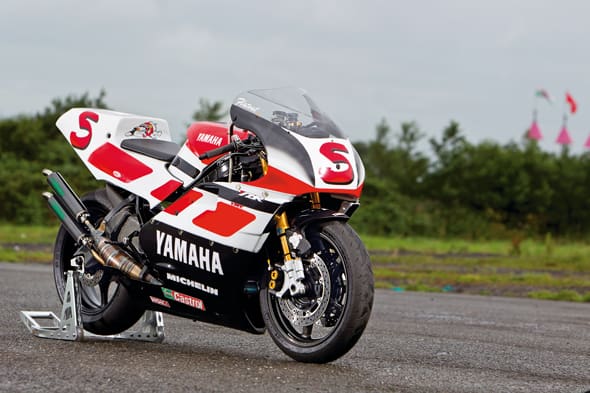 KTM aside, there aren't any manufacturers meaningfully developing two-stroke technology. We're having to rely on fantasy eBay searches and overpriced RD/RG 500s destined for modifying – a bit like this Norick Abe-inspired YZR500.
Look again. And again.  No, this isn't Abe's full-factory GP bike. Back in the day, the RD500 was the closest thing to a GP bike that Joey McPublic could get on the Queen's highways – and the only time we could pretend to be King Kenny on a Monday. After missing out on buying a genuine 1990's Yamaha YZR500 (for a measly £15,000) the owner of this beauty, Simon, set about creating a dream. Take one 1984 RD 500 and pimp it beyond recognition. The journey took seven years and came at a cost of £25,000, but this is the stunning result.
Starting off with an ally RZV500 frame, there were several attempts at suspension and swingarms. As the super-racy 2006 R6 hit the shores, the Yamaha's swingarm slotted in without too much machining. And then the forks, with corresponding brakes, were matched to some ex-Simon Crafar triple clamps. With the help of some buddies, Simon sourced a Wayne Rainey self-supporting, carbon fibre seat unit, and Norick Abe's fairings – hence the retro-cool 1996 YZR inspiration.
We're not going to lie. This RD isn't a gleaming trinket, instead a bullish chunk of engineering genius built in Blighty – or rather a shed in Wales. This is a proper 'write the theme tune, sing the theme tune' with (nearly) all the work being done by Simon himself. The externals are well polished but there's only so much you can do with a 30-year-old engine and the necessary wiring, so anything under the tank was out of bounds for the camera to protect its modesty.
A decent running standard bike should make around 75bhp. After the Terry Sheppard tune (legendary two-stroke fiddler) Simon's RD was making a proper juicy 110bhp at the back wheel. A fully programmable Zeeltronic ignition was added for adjustability and a bigger spark. Also worth a mention is the wet clutch, replaced with a dry unit, based on a 996.
First off, it's bloody tiny. And uncomfortable. The seat unit/subframe had already been adjusted as not even little Simon could ride the RD – note the gap between the seat and the frame. It feels perfectly neutral in its stance and screams corner speed assassin by just gripping the bars.
Simon knows his onions from his garlic. Subsequently, his RD is beautifully set-up. The carbs have safe main jets fitted, but the V4 still runs beautifully, crisply pulling with usable torque on initial throttle and gradually building as the YPVS system crackles and stutters the delivery. At around 6,000rpm, it feels broken. If this was today's tech, you'd want your money back.
And then the internal combustion utopia kicks in. Nothing can match the sensation of a two-stroke's throttle picking up again after an upshift, as the Mikuni flatslides gasp for another breath of oxygen. The thing was buzzing, vibrating and exuding strange oscillations through the seat like a four-stroke could only dream of, on and off the throttle, tingling my crown jewels royally.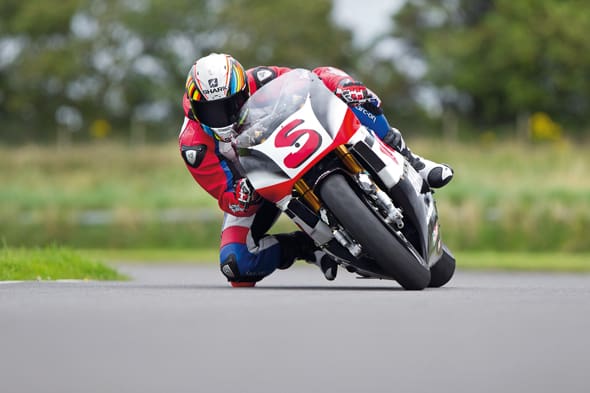 It took me while to figure out how to ride the bike properly. This isn't just a machine you can jump on and get accommodated with quickly. It feels completely unique. The front did the majority of the work in more ways than one, with the R6 fork sucking up all the weight transfer and pitching as the rear remained fairly static, while a carbon fibre front wheel lightened the load.
A carbon rear was ditched after the arse-end became too lively. A 2006 swingarm and wheel donated from an R6 was never meant to be mated to a 1984 frame, so the Nitron shock can be forgiven. If you thought a new ZX-10's shock mounting was whacky, then check an RD500's. It's sat horizontally under the engine and uses the crankcase as a mounting point. Some sort of prehistoric monocoque, me thinks.
Simon runs a bike shop in Wales just over the Severn Bridge, which also handily has some MOT scales. We're not going to get pernickety over a few kilos, but the two ends add up to around 148kg – with 110 raging horses gallivanting inside it. That gives you some idea of the potential of the bike's brutality. Not surprisingly, it feels like a well set-up modern 250GP bike. Same weight, same power, similar geometry, all rolled into a very special home-brewed cocktail. Simon, please build some more!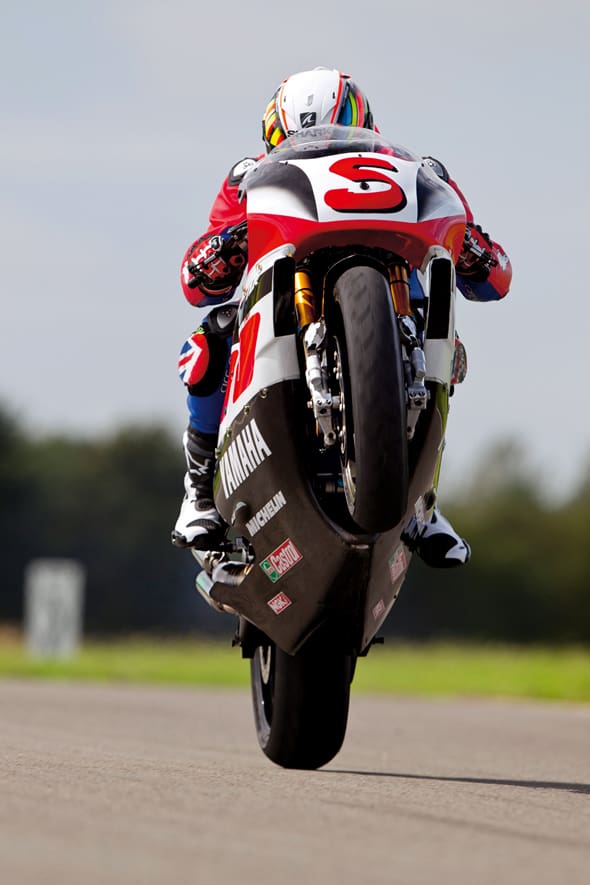 Enjoy more Fast Bikes reading in the monthly magazine.
Click here
to subscribe.