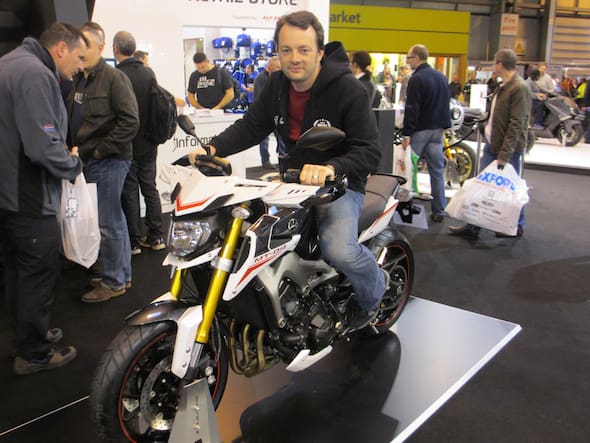 Hopefully you were among the thousands like my wife and I, who escaped the autumnal gloom to get their two wheel fix at Motorcycle Live. This year seemed particularly well attended by manufacturers, the public and our Ducati riding Duke, Wills Windsor.
At first glance, the number of significant new models may have disappointed. However, we in the imperialist West have to realise we no longer dictate motorbike development, and updating sports bikes every 4 years becomes less important.
As they've been good enough to lend me their R1 I thought I'd focus on Yamaha's wares at the NEC show. Over the last decade I've been a bit befuddled by Yamaha's busy naked range, struggling to tell my Fazer8 from my FZ1. The new MT range seems to be bringing some clarity as Yamaha clearly aim to make the cross-plane crank their thing.
The MT-09 landed earlier this year to positive reviews. The triple engine was showcased in 2012 amid speculation it might grace a new superbike. Some might be disappointed by the unfaired bike which followed but consider which you see more of on our roads – race reps or roadsters.
The new 'Street Rally' version adds cool Supermoto styling to the already good looking MT-09, which is joined in 2014 by the smaller MT-07. Featuring a 698cc parallel twin, it again uses an irregular firing order to inject some spice. At 164kg (dry) and 74bhp, performance should be enough for new and experienced riders alike. Yamaha have clearly realised fuel economy is increasingly important and the MT-07 looks a more exciting prospect than Honda's popular NC700S. Sadly, it won't currently be eligible for Supertwins racing.
When will the FZ1 get the R1's engine? Almost every manufacturer makes a naked version of their superbike but Yamaha are yet to use the cross plane thou' elsewhere. Could a MT-10 be next? If so, let's hope they apply a more effort to the styling that BMW have to their new naked superbike.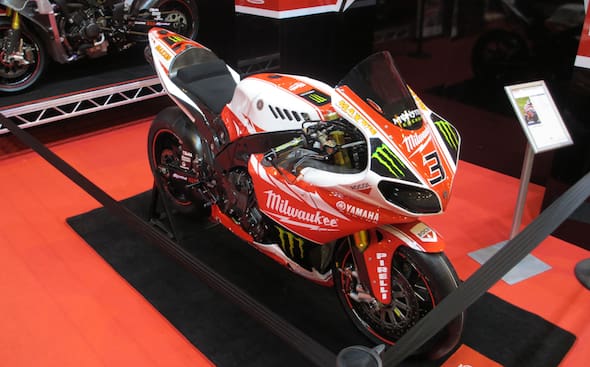 The R1 gets new paint for 2014. Actually, it gets the same blue and grey paint as 2013 but reversed. It's not exactly exciting but helps reinforce the quality image. For the connoisseur, Milwaukee Yamaha's BSB bike was on display to demonstrate all the R1 can be. Milwaukee rep, anyone?
The R6 gets similar colours to the R1. The bike's current silhouette has essentially been around since 2006 but sales wise the 600 class has perhaps lost out most to less frenetic naked roadsters. However, the presence of Stuart Easton and Sam Lowes championship winning R6's prove it's still a very capable package.
For those who prefer double denim to knee sliders, the XV950 and XV950R offer almost 80's old school muscle whilst the new XVS1300A Midnight Star has more classic cruiser lines. Middle aged accountants and architects everywhere will be wise to swing by Yamaha rather than heading straight for Harley. I mock but the 'Bobber' styling of the XV950 is undoubtedly cool and I squeeze myself into a brightly coloured leather suit for each ride, so who's to judge!
Yamaha have yet to release a bike which makes the most of the new A2 licence rules. There is talk of a 250 Fazer and R250 entering the Indian market which might follow here. For now, the new SR400 offers classic simplicity for new riders and commuters, but is surprisingly priced the same as the infinitely sexier MT-07!
The Super Tenere gets minor updates for 2014. It's odd when you have to choose a Japanese bike to stand out from the crowd but for me the Yamaha's Dakar-esque styling is better than a certain Bavarian built victim of its own success.
Overall, it was a great show with lots of different bikes, new gear and bargains. British motorcycling has changed as it moves away from sports bikes to enjoy more diverse flavours of two wheeled fun. Hurry up Yamaha and put the current R1 engine in a naked roadster!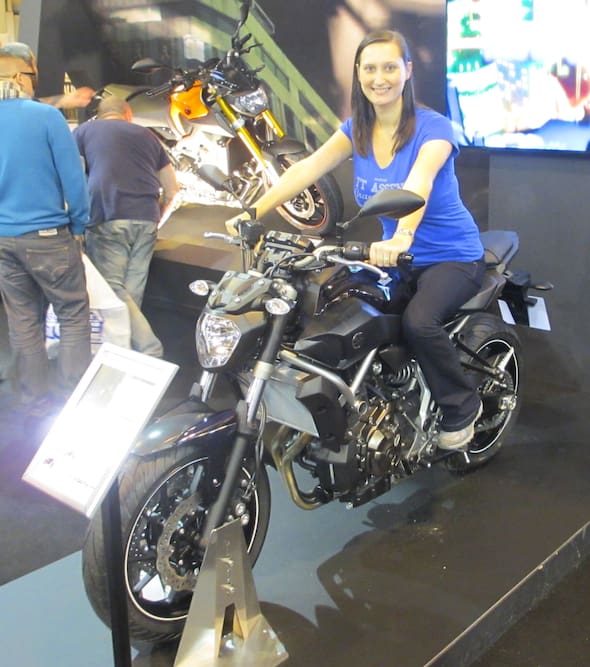 Enjoy more Fast Bikes reading in the monthly magazine.
Click here
to subscribe.