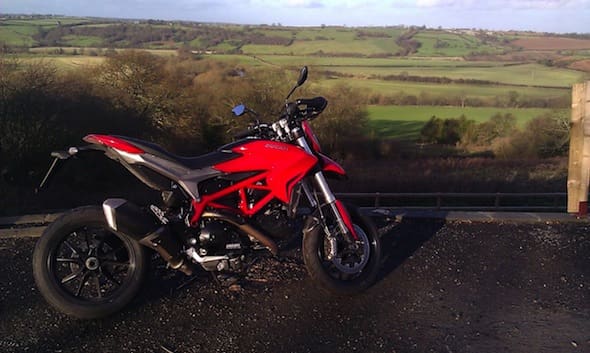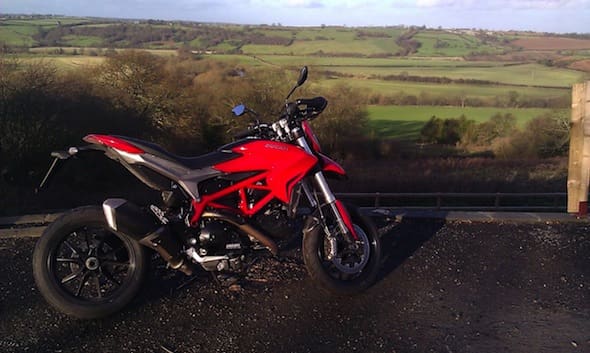 So the Hypermotard?  To me at least it appeared, at first, to be a simple bike and if you think the same then you, like me, are in for a surprise.  My first impressions were that the little 'Motard wasn't my cup of tea, that was until I drank it!!
First of all there is the equipment, for what is a relatively low price you get so much gadgetry with the 'Motard; ABS, traction control, switchable maps, digital dash and a fly-by-wire throttle.  You get the trademark single sided swing arm and gorgeous trellis frame and that effervescent Italian style.  You also get a stonking 821cc L-twin firing out 100 ponies – doesn't sound much?  Have you ever tried to ride 100 horses at the same time?
I did expect the little 'Motard to be a bit gutless but believe me, it isn't.  Don't get me wrong, the Hypermotard is no Diavel with tons upon tons of dirty grunt and it is no 848 EVO, laughing at three figure speeds with scalpel precision.  The Hyper' is, well, exactly that, hyper!  Its keen and enthusiastic and with just a hint of a throttle twist it will charge you forward giddily, begging you for another gear but, if you care to go the other way through the box and drop a gear or just merely tug on the bars, it will give you a nice view of the clouds and do wonders for your front tyre life too.  The Hypermotard is comfortable and very easy to ride, it is so light on the move and you have so much leverage from the riding position that it feels like there is nothing you can't make it do.
The tank barely holds 15 quid but will easily see you to 120 miles and more if you can resist the urge to pin it back.  If you can't resist the urge you will be rewarded with a beautiful twin growl, even from what I suspect is a pretty strangling standard pipe, the 'Motard manages to below out a decent tune and I am told it sounds well to those who you overtake too.  My only regret with the Hyper' is that I haven't had the best of road conditions to really get the best from it. I will definitely have to swing my leg over one of these in summer because as good as it has been in the damp and cold, which says a lot for how good this bike really is, it could be as good again with some decent grip under foot.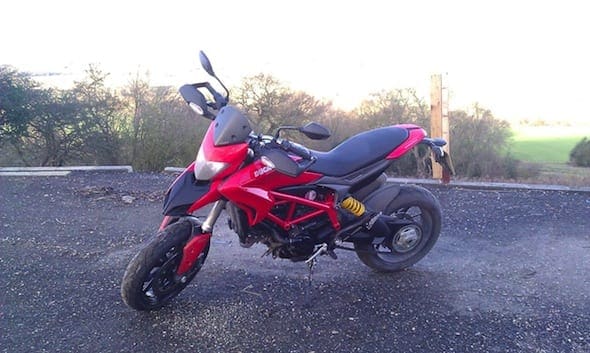 Article continues below...
Advert
My experience of winning this competition has led me to the conclusion that all Ducatis should come with a stamp marked 'Guaranteed not to disappoint'.  But perhaps that is not so surprising for a modern day Ducati. Although the Hyper' is so different from the other two Ducatis that I have had the pleasure to ride over the past few months, in two important aspects they have been identical; providing smile widening fun mile after mile while at the same time being so easy to live with. The Hyper' is both those things and much more.
I have come to the realisation that we are all spoilt if from just one manufacturer we can get so much choice and variety in the bikes they produce without sacrificing or losing sight of the main ingredients of why we all ride and what we need from a bike.  And that's just one manufacturer; we have a host of manufacturers to choose from.  Ducati are managing a neat trick in producing bikes that show off their racing pedigree, are packed full of useful technology and still manage to carve out their own little niches, all the while offering real world practicality.  The Hypermotard provides all that for under 10 grand and then gets even more affordable with the Ducati Tri Options buy options.
Ducati have filtered down their race tech from the race paddock to improve and develop a diverse world beating road fleet, now, if they can just filter some of that road bike success back the other way then believe me they will once again see the top step of the podium. But don't take my word for it, I am just some lucky guy who won a competition, get yourself down to your local garage, you will be glad you did, that is where I will be when they come and take the Hyper' away.
Article continues below...
Advert

Enjoy more Fast Bikes reading in the monthly magazine.
Click here
to subscribe.