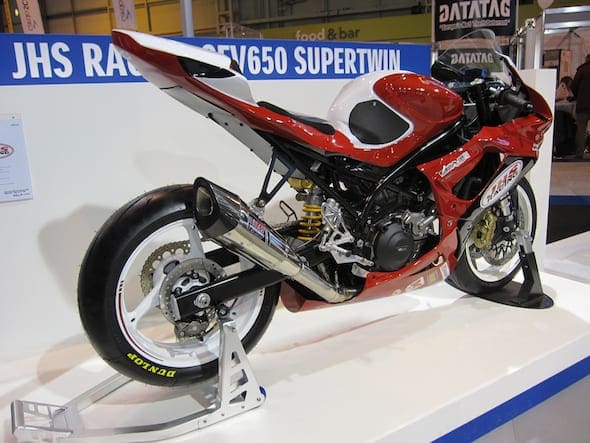 If you attended Motorcycle Live last year, you may have spotted this on the Suzuki stand. Even with the massive description above, many show-goers spent a while wondering what the bloody hell it was. This, ladies and gents, is the JHS Racing SVF650 Supertwin. Yep, it's a Gladius, draped in GSX-R clothing – happy shopper to TT track scalpel.
In a class dominated by Kawasaki ER-6s, JHS Racing have been fighting for supremacy in the Supertwins class, on the short circuits but mainly at pure road events like the North West 200 and the TT. After years of working with SV650s, JHS Racing have been developing the Gladius for an assault on the Supertwins class at the Isle of Man in 2014. Many hoped the class would feature at the British Superbike Championship in the support ranks but that's recently been canned.
So, what are the Gladius' advantages over the SV, apart from looking far more svelte and dapper? James Holland explains, "The Gladius chassis allows more flex because of the trellis construction, which was something we really struggled with on the SV. The factory Ducati superbikes back in the day had removable bars in the trellis frame to allow rigidity adjustability, so we'll be testing various setups very soon.
"And, whereas the SV650 had adjustable engine mounts and the engine would never go back in the same position, the Gladius gives us consistency with the new construction."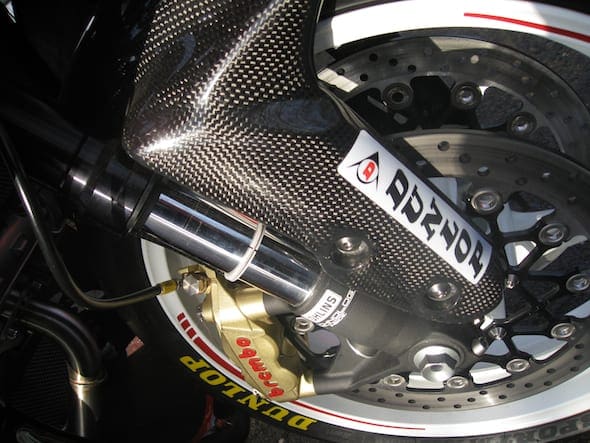 Mated to the Gladius headstock is a GSX-R1000 front-end. Rules allow any components from the same manufacturer, so the Gixer forks (clamped by Gucci custom-made yokes), Brembo brakes and wheel slot in nicely. Inside the fork sit Öhlins NIX30 internals.
"Suzuki changed the steering head angle, and with it the rake and trail", says James. "The swingarm pivot is lower and further forward, so this gives a more linear linkage action – something we struggled with in previous years."
Another big change for 2014 and the Gladius is the lack of ram-air. The team has made a new airbox, still utilising top sprayers but without the bollock ache of fuelling and air flow issues that plagued the SVs.
"The new Gladius engine is very similar to the SV but obviously has a new design and components. The cylinders are Nikasil plated, and the new head allows us to use titanium valves. A lot is transferable from the SV, so we're in good shape with the motor."
Being a happy shopper, pretty much everything had to be custom made, as nobody makes tangible performance upgrades for a Suzuki Gladius. The JHS Racing SVF650 is a thing of beauty and we're looking forward to hearing Dave Moffitt (and hopefully a big-name rider) rip down Bray Hill in June.
Click here to see the old SV650 Supertwin ridden around Bristol!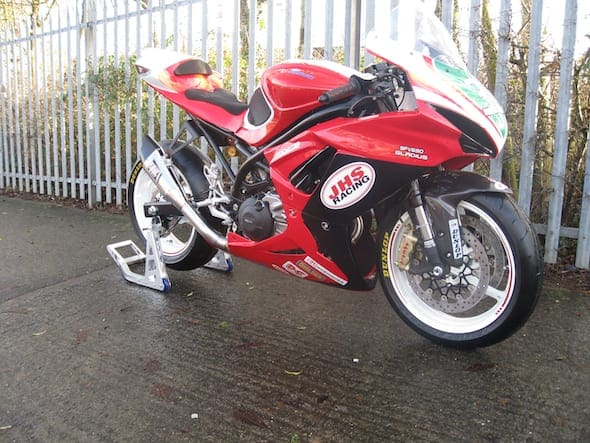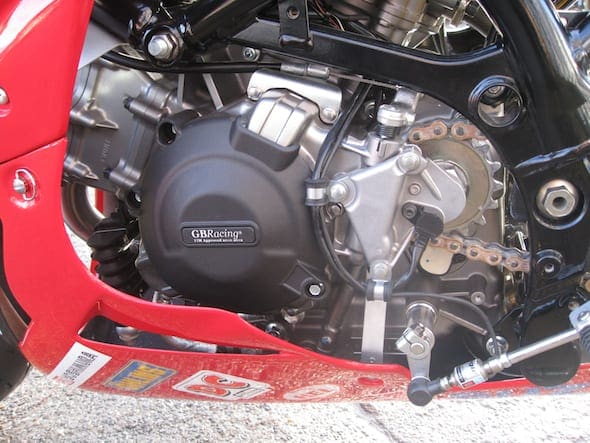 Enjoy more Fast Bikes reading in the monthly magazine.
Click here
to subscribe.