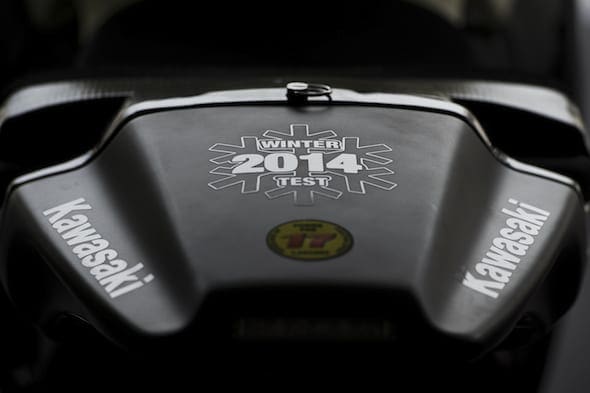 Weather played a big part in hindering 2014 testing plans over the past few days, as the majority of the World Superbike paddock descended on Portimao. Ducati and Pata Honda had been there for a while, and were joined by the Voltcom Crescent Suzuki squad after Alex Lowes and Eugene Laverty had finished at Almeria – Tom Sykes and the KRT team were also present in Almeria.
Ducati worked on 2014 Ӧhlins suspension, complete with RSP25 fork and RSP40 shock, and trying to find more grip from the Panigale. Chaz Davies: "Despite the slow start, we were able to get a lot done and overall it's been a positive test, although I can't help but wish we'd had more dry time. Out of the four days we were only really able to get down to work in the dry today. It was important to test the various development pieces and understand how each one works, rather than finding a general set-up with which to make a fast time. It would have been nice to be able to up the pace, but unfortunately we ran out of time. Anyway we will take what we have learned here in Portugal and move on to the next tests in Phillip Island."
The Pata Honda pairing of Leon Haslam and Jonathan Rea were testing new software and getting used to their SP's stubby rear ends, before heading to the team launch this weekend.  Jonathan Rea: "We found a good base setting here and started to fine-tune things towards the end of the test, which was lengthened by two days after rain last week. I really enjoyed riding the bike again, especially with the new software, and there's hopefully more to come at Jerez, which should allow us to refine things even further. It's still quite hard work to get the ultimate lap time but the base is better, for sure."
Leon Haslam: "It was a little frustrating that we weren't able to put up a quick lap time, but I'm really happy with the effort that the guys put in and the amount of work we were able to get done."
Topping the unofficial time sheets (and dominating the last two days) were the Voltcom Crescent Suzuki boys. Alex Lowes continues to impress and set the fastest time, despite having to learn the circuit. Lowes and Laverty worked on Öhlins and newly developed electronic control strategies.
Alex Lowes: "The test has been really good, I'm still learning a lot about the bike and obviously it's a new track for me, so it was nice to have the opportunity to learn the track and still be quick! We did a long run today and while the times were good, the most important thing was that it gave me a lot of confidence. We got a lot of information about the bike and it was good for me as well, as I've not done a race simulation since the last round of BSB. I still need to improve myself a lot and work on the bike but we shouldn't be too far away! A massive thanks to the team, they've been working really hard, late nights and two tests back-to-back. I think everyone is excited, we are all getting on great; we know we need to work hard, we have a big challenge in front of us and it's nice to do a good job."
Eugene Laverty: "It's been a good test in all, this Portugal test was the best yet, even yesterday we got some good laps in the wet to understand the bike and then in the dry our pace was really strong which shows the work we've been doing on the electronics has been important and that our work is reaping the rewards. I think we are surprising some people as both me and Alex are right there, but it's also nice to reward the team because they've worked incredibly hard over the last couple of months, especially since Jerez. The work they have done in six weeks most teams probably wouldn't complete in six months! They haven't stopped so I think it's nice to see some positive potential being shown. I'm feeling good on the GSX-R and I'm looking forward to Phillip Island."
After completing over 100 laps of Almeria, the reigning World Superbike champion was, not surprisingly, on the pace. Tom Sykes: "The test went well and the schedule of work we had to get through was completed. We have evaluated everything and it has all been positive. We did over 80 laps on the final day and I feel we made a step forward. I have a bit of a cold so I personally have not been feeling 100% but having said that the Ninja ZX-10R was working well. We were able to make some good lap times and evaluate a few things so we are one step closer in our preparations for Phillip Island. We understand things a bit more clearly and now I am looking forward to the next test at Jerez."
Comments
comments