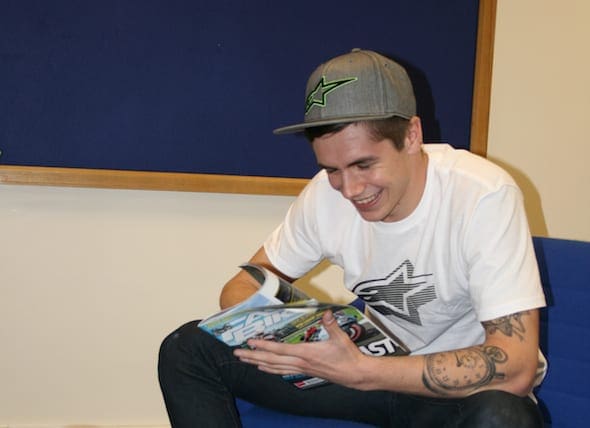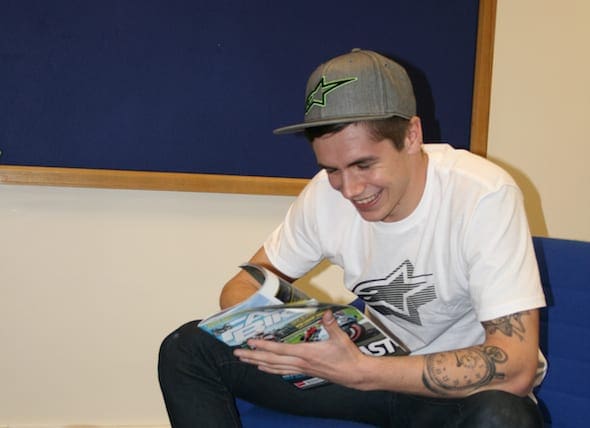 10 years ago, I watched a 12-year-old Scott Redding tearing up the Tarmac at Valencia's GP circuit onboard an 80cc Metrakit, beating an even younger Maverick Vinales in the process to win the Calypso Cup. Now he's signed a Honda contract and about to embark on his rookie season with the big boys, in preparation for a full-factory RCV effort in 2015. What a journey.
You can take the boy of Gloucester but you can't take the Gloucester out the boy. Instead of cheese rolling, Scott has hired an apartment just outside Barcelona as a training camp for 2014.
"I did the same last year and promised my self I'd never do another winter in England. Two days after Christmas, I packed the motorhome up with the motocross bike, supermoto bike, mountain bike and road bike, and rammed it all in, and got out to Spain. I've been doing a lot of motocross now my wrist is about 90%. I'm missing around 10% flexibility but I can ride with that. If I can ride a motocross bike and land some pretty hard jumps, I'm ready for the MotoGP bike. I've also got a new trainer. Normally I struggle with trainers but this is going really well."
Redding spent the past few years weighing as little as possible, just to stand a chance against the pint-sized Spanish rivals in Moto2. Things got so desperate, he was eating lemons for lunch in an effort to shed that last few pounds. Surely you must be bulking up for MotoGP?
"Actually, I'm getting closer to achieving what I've always wanted to achieve, so I'm taking it more seriously. Last year I was strict but I had a few treats here and there. I need to eliminate them for 2014! When you want to achieve something, you need to grab that last part. I've been reading the Mike Tyson autobiography and it's really turned some things in my head. He had a hard upbringing and he was a bit loose, but when he wanted to achieve something he was dedicated. Those sorts of things inspire me, and if you really want something in life, you've really got to work for it. I haven't got a pet tiger yet. Maybe in the future."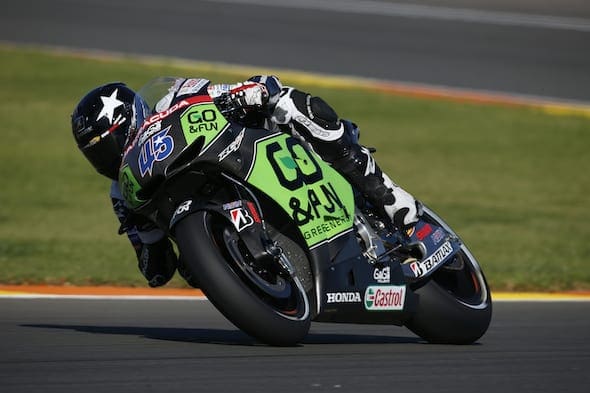 If you follow Scott on twitter or Instagram, you'll see how hard the boy is training. But, apparently, that's not the savage stuff. He doesn't want to give too much away. As well as the physical aspect, Redding has been preparing 'mentally' by riding a 'Blade at Jerez.
"I asked Gresini if I could buy the old CRT bike but there was the rule that said we can't test CRT bikes in January. They mentioned a CBR1000RR they bought for Simoncelli that he didn't use, and the team were more than happy for me to use it. It's a stock Fireblade with carbon brakes, Showa suspension and slicks. We got down to Jerez and did three days there. It was just a normal trackday but luckily it wasn't too busy. It was just good to be back on the bike 100% fit and give me that mental confidence that I'm strong and fit enough to ride a big bike like that."
Scott is set for his first proper ride on the RCV1000R at Sepang in a few weeks. (If you missed his initial thoughts on riding Honda's 'proddy' racer, click here). Is there anything to look forward to in Malaysia?
"Being Honda, they take the bike back to Japan and we don't hear anything. Rumours are they're developing the electronics but I'm just doing my stuff and getting ready. We've got some things being made, like longer footrests, handlebars set at different degrees, and a bigger seat because the Honda is a pretty small bike. We won't have that stuff in Sepang for the first test but we'll have it at Sepang 2."
Despite claiming the RCV1000R that Scott and Nicky Hayden will ride was a few tenths off the full-factory Repsol bikes, it was clear that claim wasn't entirely accurate after the Valencia test.
"My target is to mix it up with Nicky Hayden and Aleix Espargaro. I want to beat them, that's just in my blood, especially after battling with his brother last year! I don't want to be saying this is going to be an easy learning year to prove myself, even though I'm on a slightly downgraded bike. You don't know the potential in certain conditions, at certain tracks."
Full gas, Scott…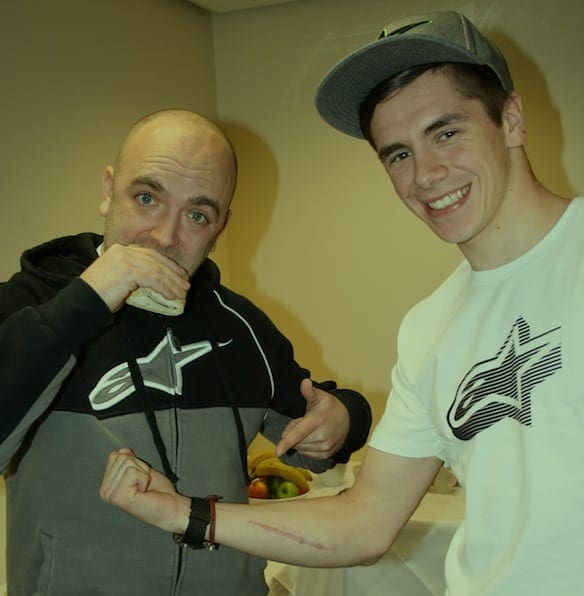 Enjoy more Fast Bikes reading in the monthly magazine.
Click here
to subscribe.