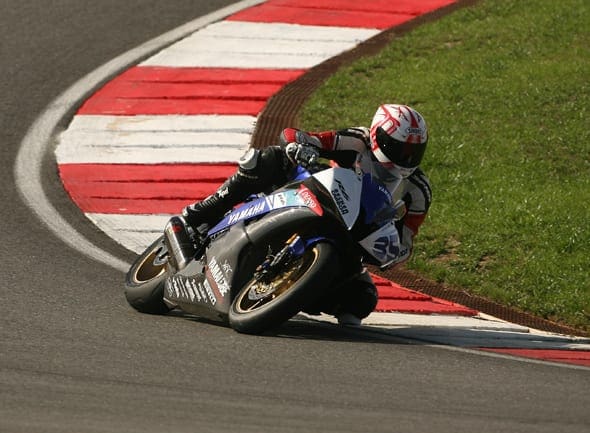 Beej rode Cal Crutchlow's 2009 World Supersport title-winning Yamaha R6 at Portimao. As well as impressing with 140bhp and a throttle-blipper, Beej reckons Cal's R6 is the best handling bike he's ever ridden. Even Chaz Davies reckoned it was sweet. "When you follow Cal's bike, it looks so perfect," Chaz had said to BJ. Ironically, Chaz went on to pilot the very same bike to his own world championship in 2011.
Bitubo suspension controls the Yamaha's racy chassis. Although set-up for Crutchlow's diminutive figure, lankymeister BJ didn't struggle with the handling, but the inherent stiffness was evident. "I was so happy, I hugged one of Cal's technicians and completely forget to ask any questions about the bike" the pro said.
Testing race bikes used to be all about analysing engine and chassis talent. Nowadays, we have to consider the complexities of electronics and rider aids. But that can't distract from the seemingly uncrashable manners of The Grinner's ZX-10R. There's nothing this bike can't do, even with a tubby journalist onboard.
Within 10 laps, I was lapping at a pace that put me a few seconds off the World Superbike grid. This was down to the handling and nothing else. Me not being Tom Sykes, none of the rider aids worked, the bike coughed and spluttered because I was a pussy with the throttle, but I've never ridden a bike with so much grip. Click here for the onboard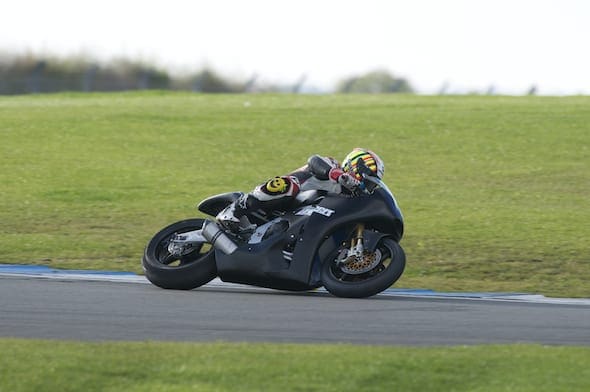 Being a Moto2 bike, there isn't much to shout about regarding engine and electronics, so the Harris Moto2 is all about corner speed and metronomic consistency – no surprise from a GP bike weighing 140kg, and developed by Aleix Espargaro.
There was no edginess, even on a cold November day at Donington, and it was super-easy to ride fast, gliding from apex to apex with consummate ease. In terms of flickability, front-end sexiness and clinical precision, nothing can match this British-built beauty. Click here for the onboard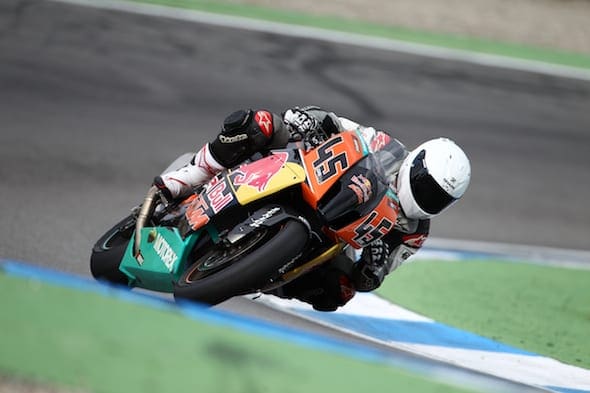 We've always said the RC8R brags an exceptional chassis. After an exclusive invite to ride Martin Bauer's IDM-winning weapon at Hockenheim, it was even more exceptional: like a road-going RC8R on 'roids.
We're massive fans of IDM rules and regs: superstock engines, standard swingarms and fork outers (saving well over £10k), but free rein on electronics. As well as GP-spec Magneti Marelli trickery, the balance of Bauer's bike was the standout feature. Fully wet, she's only 180kg and primed for attacking apexes. KTM's own WP suspension adorns the front-end, while an Öhlins shock supports the rear.  Super-special Dunlop NTEC slicks invest massive confidence and oodles of grip, allowing silly, unfathomable trail braking and pushing the front off the throttle.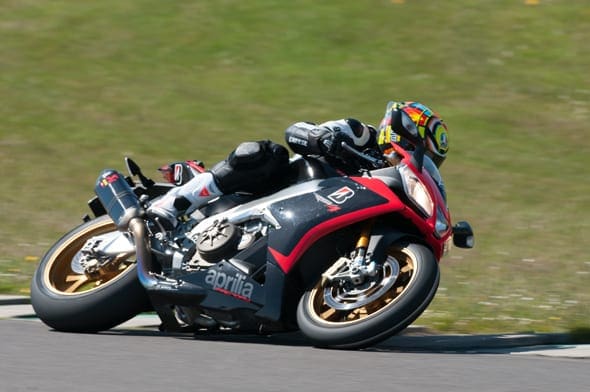 Being the only road bike in our top-5 is no shock. The original RSV4 test mule was a V4 lump shoved into a 250GP chassis, so it's no wonder the Aprilia feels like a racer. It's WSB for the masses, and the RSV4 is Rootsy's best handling bike he's ridden.
"The RSV4 instantly makes you feel like you're stepping into a racer's boots. You can switch off the senses you normally need to hide, because the bike does all the hard work for you; just point it roughly in the right direction and it'll sniff out the apex in an instant. Nothing else from a showroom handles like it, it really is that special. The motor and electronics are so refined they almost feel like bit-parts to the main event of the handling, but the truth is they complete the package – always supporting, but never dominating. You simply won't go faster on anything else." You can't argue with the boss… Click here for the onboard

Enjoy more Fast Bikes reading in the monthly magazine.
Click here
to subscribe.