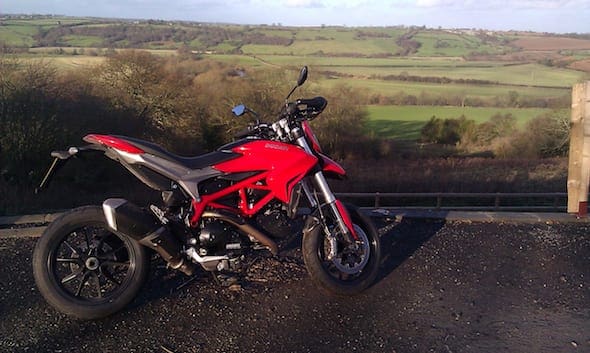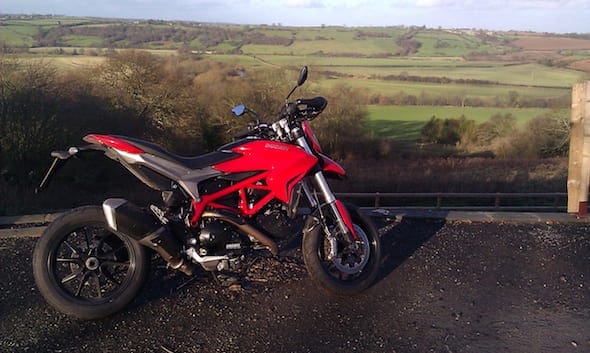 With the impending deadline of the return of the Hypermotard looming I took a last opportunity to take it on my 'test route' – route map and directions below.  As is par for the course for this time of year the roads were wet and cold, the air temperature gauge on the Hyper' barely troubling 6 degrees as I pulled out of the driveway and a nice stiff wind thrown in for good measure. I had a about 250 miles ahead of me so I wrapped up warm and headed for the start of my route in Ripon.
I had set the Ducati Traction Control to level 8 but kept the mapping in Sport, this way I figured I could have a bit of fun without getting caught out on any really slippery stuff, this led me to come up with a new game called 'beat the DTC light'. Whenever the DTC is triggered on the Hypermotard a red light flashes on the dash. The game allows you to test your own throttle control by accelerating as hard as possible on slippery roads without engaging the DTC.  I am happy to say that I am pretty good at it too, which is a thumbs up for the fly by wire throttle. In fact on the move the throttle is really good and far better than I expected although it can be a bit snatch off the throttle and back onto the throttle at slow speeds, for me the jury is still out on fly by wire throttles but, once you are doing any kind of speed it is hard to tell that there are no cables.
To be honest I hadn't been convinced by the Hypermotard up until this point. Yes, it is a fantastic bike and you get so much technology and style. Simply put – a lot of bike for your money and it has way surpassed my expectations but, I just couldn't help thinking all the while that it just isn't my kind of bike. Now don't misunderstand me here, if it has two wheels it's my kind of bike but, I just mean compared with for example the Diavel or the 848 EVO, for me the little 'tard just didn't compare, that was until I embarked upon this particular trip, where I simply fell in love with the little Hyper'.
I have no doubt that my reluctance to fall for the Hyper' early on has had a lot to do with the weather and road conditions that I have had to ride it in.  The winter months have meant that I have been able to only glance at the fun factor the Hypermotard can provide, believe me I will get a ride on one of these in the summer. The Hypermotard's potential for crazy fun is obvious and I can't wait to exploit it but on this particular ride I found another dimension to the 'Motard.
I found myself on a proper little adventure ride with flooded roads, 3 inches of snow, frozen rain and a return journey in the dark along a road that looked like it had just been ploughed. If I had been on either of the other two Ducatis or my own Aprilia it would have been a case me having to look after the bike and at times make sure it didn't bite me, not so with the little Hyper', it felt like it was looking after me and there is no other bike I would rather have been on.
Literally up hill and down dale the Hypermotard wasn't fazed and on arriving at a flood engulfed road I could hear the little 'tard whispering me on.  Car drivers were turning back and then looking wide eyed as me and the 'Motard breezed straight through, yeah my feet got wet but who cares, I was on a 'Motard adventure and nothing could stop us, not even the snow and ice over Butertubs pass. On the other two Ducatis I would have been tempted to turn back but there was no question of it on the Hyper' it will go anywhere.
We also encountered a section of the route which has a very long and steep descent down a winding and meandering road and to my dismay this had also flooded and turned into an inch deep river, snaking its way down the hill side with the road as it's river bed.  My immediate concern was for the front end but there was no need to worry on the Hypermotard, it offers so much feel and control that I actually started having fun riding on water and there is always the ABS and DTC to help you out of needs be but, neither of them were required, just a properly sorted motorcycle that was up to the task and a big grin, I had both.
The 821 cc 90 degree L-twin motor in the Hypermotard has been properly sorted too. It has plenty of smooth torque all the way through the rev range and feels just right low down for the kind of conditions I was having to deal with, giving control and not threatening to overwhelm the level of grip but, you can just crack it open at anytime and depending on what gear you are in it will either head skyward or drive you forward at deceptive speed, it is a little gem of a motor. It's easy on the pocket too, £14.50 saw 130 fun filled miles, 60 mpg and no hint of a reserve light. I wish my bike did that.
This journey on the Hypermotard for me was the coldest, slowest, wettest, most treacherous ride I have ever been on and yet it was one of the best times I have ever had on a bike, I will never forget it.  The little 'Motard has carved out a special place in my heart, like I said; I fell in love with it.  We rode through some breath taking and amazing scenery of snow dusted hilltops and deep sunlit valleys and at the same time rode through some extreme weather and road conditions and it just wanted more, the whole day was a proper adventure and thanks to the Hypermotard I loved every second of it.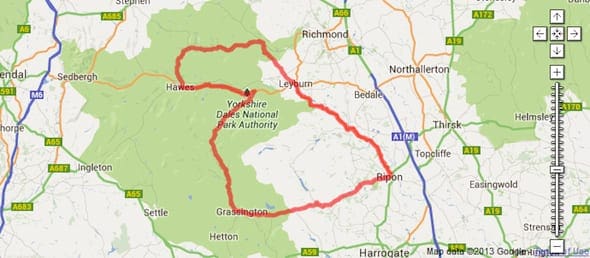 The Test Route in detail:
Head west out of Ripon on the B6265 towards Pateley Bridge.
Continue on B6265 out of Pately Bridge to Grassington.
Head North up the B6160 out of Grassington towards Kettlewell.
Go all the way along the B6160 and turn left Westbound at the A684 towards Hawes
Turn right in the centre of Hawes heading north along Brunt Acres Road follow this to the end.
Turn left onto Bellow Hill taking the next right (200yards) onto Cliff Gate Road.
Follow this to the end and turn right (eastbound) on the B6270 towards Muker.
Follow this Road all the way to Reeth.
From Reeth follow signs for Leyburn, heading South down Whipperdale Bank.
From Leyburn take the A6108 back to Ripon.

Enjoy more Fast Bikes reading in the monthly magazine.
Click here
to subscribe.