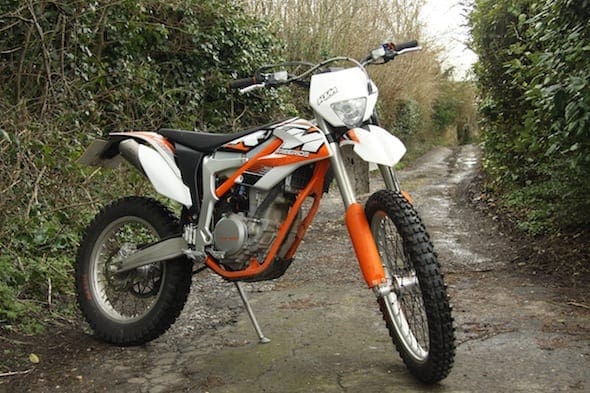 Before all the trolls start trolling and moan about mud appearing in Fast Bikes, we know a decent percentage of readers own an off-road bike of some sort. And look at the amount of racers who ride MX, enduro or trials in the winter. Plus, it's a great way to keep your toe in. Barring sheet ice or snow, we ride to work all year. This isn't a macho-look-at-us claim: two wheels simply save us from Bath's monotonous traffic quandary, not to mention supply more shits and giggles on the commute. 
Pre-empting another bout of inclement weather, Fast Bikes got hold of a KTM Freeride 350 in anticipation of snow, more floods and general winter climes. The very niche trials/enduro/BMX hybrid may have been the only method of transport in recent weeks, although the Freeride has turned out to be a bit of a panic buy – the snow never showed, the floods didn't reach us.
We had the 350 four-banger for a few weeks, wanted to have some fun, and decided to try and ride to work without hitting too many highways. Although there are very few green lanes to (legally) ride around Bath, the farmers are very friendly.
My off-road talent soon disappears when the wheels leave the ground, but the Freeride is so easy to ride, so intuitive, I needn't have worried. I was constantly eyeing up a mound or bogus tree root as an excuse to hoist the front. The 350, like most of KTM's models, has a nasty habit of extracting the inner hooligan in you.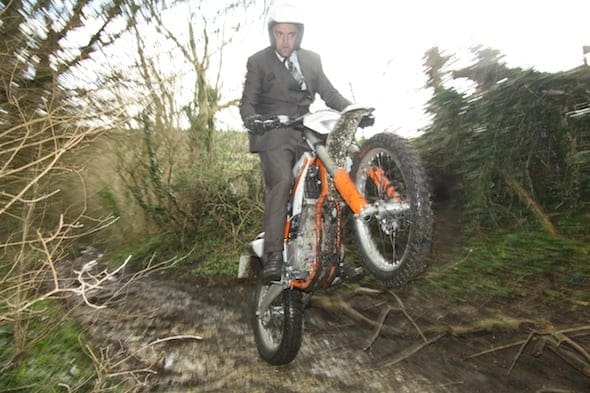 A whiff of clutch and a tug on the bars, the front wheel graces the air at any speed from a standstill. The 350cc motor packs plenty of aggressive grunt, particularly in the midrange, but it's also very tractable. Grip when you want it, getting loose when you need to.
Weighing in a 99kg, bragging radical geometry (67° steering head angle) and hideously short, trials bike gearing, it's no surprise the Freeride is the ultimate stunter. Stick some a pair of race hoops on, give it to Graham Jarvis, and head straight for the nearest skatepark. It feels stupidly light, insanely nimble: the Freeride is a 21st century BMX, and wouldn't look out of place on a vert ramp.
The little orange weapon is also brimming with nifty trinkets, like the hinged seat that houses access to the fuel tank and air filter, and the keyless ignition: one dab of electric start, and you're away, which is super-handy with today's four strokes. The brakes are more than enough, and the controls feel like you're riding a mountain bike.
In the real world, on real roads, it's an utter pain in the cock. Top gear is engaged by the time you see 30mph on the digi-dash, so getting pulled over for speeding isn't going to be an issue with the Freeride. It'll happily cruise at 50mph, although the vibes are horrendous and I had to have a poo after every ride.
The 5-litre fuel tank means you'll get 40-ish miles of road riding but that'll shoot to 60/70 when riding trails. Then again, rating the Freeride on the road is a bit like criticising a Panigale for being shit on a motocross track. The 3-Fiddy will happily roost on an MX track (although the sharp geometry can intrude sometimes) and we've caned one down at Wheeldon Farm's supercross arena – it doesn't like big landings, though. It's also perfectly capable of nailing fast trails or technical enduro sections.
At £6,449, the 350 is a huge amount of money and you'll need the right terrain nearby to maximise its potential. But if I lived in a quaint cottage at the base of a mountain or forest, I'd take the Freeride. If I lived next to a skatepark, I'd take the Freeride. In fact, I'd take the Freeride anyway because it's an epic toy that allows two-wheeled thrills 365 days a year.
Pics: Mr Charles Oakman

Enjoy more Fast Bikes reading in the monthly magazine.
Click here
to subscribe.