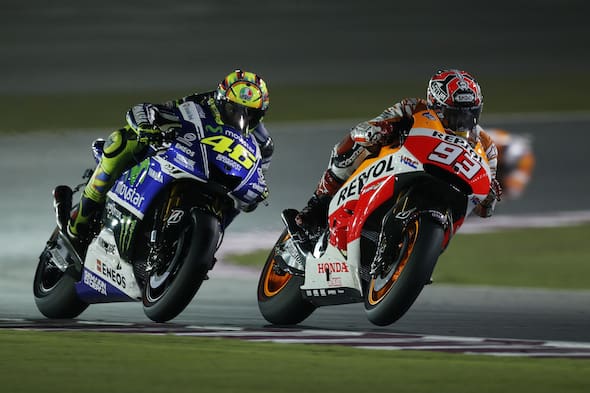 The dust settled on race day after a shit-storm in the desert of Qatar, and normal service resumed with an epic race at Losail. The much-maligned rules and regs for 2014, before the race, triggered wild predictions and bizarre results in practice and qualifying: control ECU or factory-spec, 20 or 24 litres of fuel, soft or hard tyre, the full-factory boys were at the sharp end come Sunday. Dorna wanted close racing. They go it.
 On top of the world…
Marc Marquez – 10/10
Yet more fresh superlatives required for the world champ. Rode the lap of his life to keep Valentino (who was clearly quicker in the final sector) behind him, and all while recovering from a broken leg – and lack of pre-season testing. Clearly wanted it. Can't see anyone stopping him in 2014.
Valentino Rossi – 9.5/10
The only reason Valentino doesn't get a 10 is because he didn't win it. Two years ago, he may have done. Still an epic, hungry, battling and well-earned second place. Where the bloody hell did Rossi's camp pull that from? All the talk of Yamaha's fuel consumption problems didn't slow The Doctor. Maybe is was because his Doris was there…
Dani Pedrosa – 8/10
Kinda feel sorry for Dani. Rode a decent race but got rogered in the botty by Bautista on more than one occasion and didn't have the minerals to catch the two in front.
Aleix Espargaro  – 7/10
After the promise shown in practice, Espag senior launched it twice in qualifying and left the Forward NGM crew with a lot of fixing to do – in fact, he only had one bike for race day. Plenty of haters pointing out he's on a 2013 factory M1, but the you gotta twist the throttle.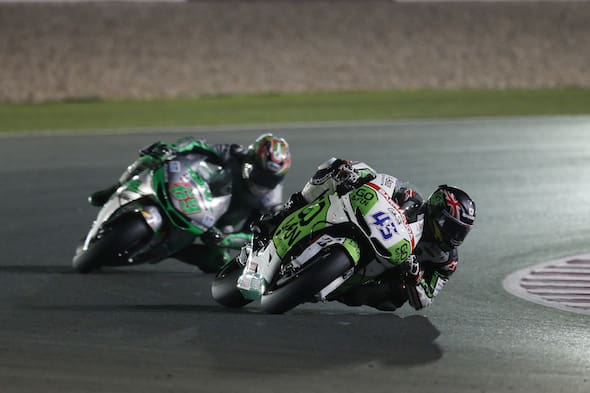 Scott Redding – 10/10
MotoGP debut, beats ex-world champ on identical bike. Top proddie Honda, which is utter spaf on the straights – over 30kmh to the full-factory bikes and only 40kmh up on Moto2's top speeds. When I saw him immediately after the race, he said: "That was alright, wasn't it", with a beaming grin.  Has to be one of the fittest guys in the paddock.
Jack Miller – 10/10
Plenty have rated this kid for years now, and in Qatar he showed us why. Not only did he ride a patient, measured race on his factory KTM debut, he displayed a victory lap that will go down in history. Goon riding and stunting at its best, and showing the world 'doing the Doohan' – apparently all the Aussie Moto3 riders do it.
Miller is a great personality, he's definitely not wired up right, and exactly what the sport needs.
Sam Lowes – 9/10
After getting completely duffed at the start of his first ever GP, Lowes and his Speed Up let the paddock know he's the real deal. Stayed out of the mayhem and rode a brilliant race, made all the better by Nakagami's disqualification. Podiums this year, for sure.
Maverick Vinales – 9/10
The reigning Moto3 world champ has shown decent pace in pre-season and backed it up with a fourth pace at Losail, mixing it with the established Moto2 headbangers. Could have caught Luthi and was only a second off a podium.
A special mention has to go out to Bradley Smith. The Brit was right up there and challenging for a win before binning it. Shows real promise for the rest of 2014.
 Qatar may be a dry country, but there were a few tears for this lot…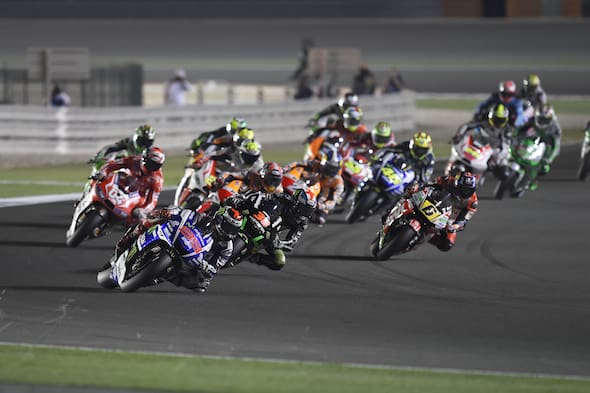 Jorge Lorenzo – 3/10
A race to forget for J-Lo. Looked miserable all weekend. Yamaha obviously found something in warm-up and listening to his usual pre-race Phil Collins/Dire Straits power mix got him geed right up – he stormed off at the front but a naughty on-the-brakes crash demolished his M1.
Dovi/Crutchlow – 6/10
The Ducati is obviously an on-going project. Those expecting an all-new Desmo to be wheeled out soon will be disappointed. The control Magneti Marelli electronics failure (the bike didn't know where it was on the circuit, among other malfunctions) robbed Cal of a top-five finish, cruising down the start/finish straight on the last lap like he'd run out of fuel. The luxuries of 24 litres and soft tyres might work later in the season, didn't in Qatar.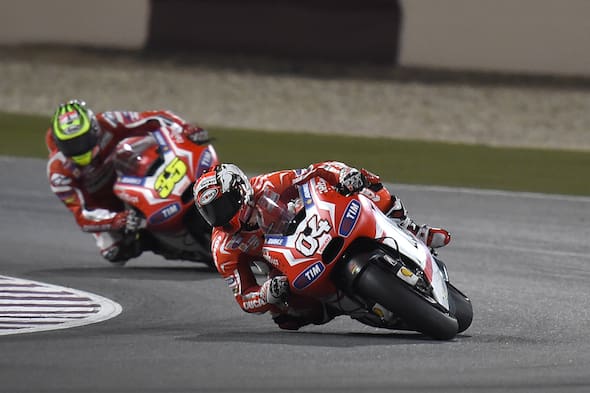 Bonus rating:
Nakagami's team – 0/10
Just how cheaty can an air filter be in Moto2? Cost the young, super-fast Japanese kid (who's now being nurtured by Alberto Puig) 20 points

Enjoy more Fast Bikes reading in the monthly magazine.
Click here
to subscribe.