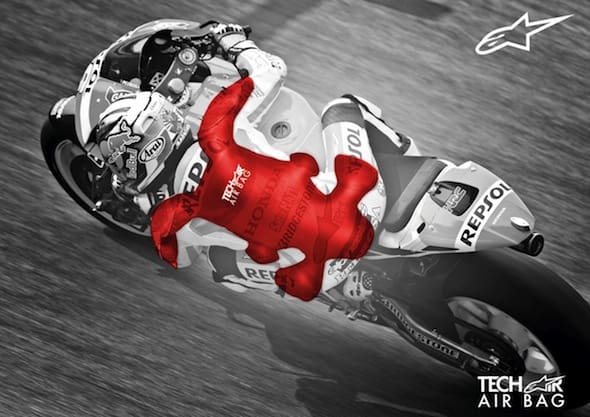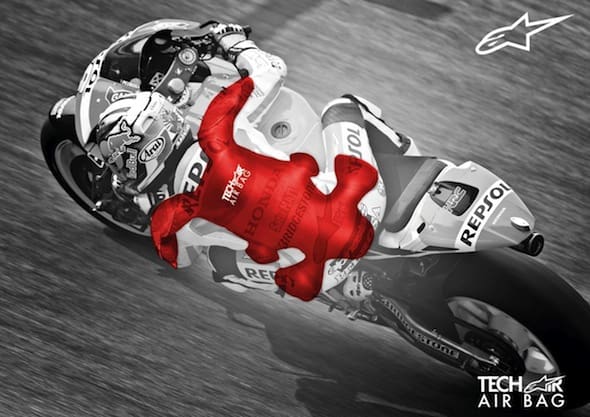 As we suggested last week, Alpinestars has released an evolution of its revolutionary airbag protection used by MotoGP riders. The Tech-Air Airbag system now incorporates upper-body protection, covering the shoulders, full back, ribs/torso sides and hips with a removable one-piece design that sits in the racers' suit.
The Tech-Air System is electronically operated, powered by an internal battery and is completely wireless. It's also an active device – so there's no data being extracted from the bike or circuit. The super-clever microprocessor sits in the hump of the suit and constantly monitors the rider's movements and forces via sensors in the arms and legs, processing data every 2 milliseconds. When the processor detects massively unusual characteristics and predicts a crash, only then will the airbag deploy – and all within 50 milliseconds.
The speed, sensitivity and reliability of the system has proved to be such that full airbag inflation is consistently well in advance of initial impact, even during low-side crashes. But the system will only deploy if the crash is deemed to warrant the protection through irregularities, calculated via algorithms developed by Alpinestars.
Conversely, the system automatically moves into 'armed' mode when the sensors detect that rider is seated on a motorcycle and moving at low speed. This prevents any chance of the airbag being deployed at times when protection is not required.
When Marc Marquez crashed at over 200mph at Mugello last year, the Tech-Air system detected loss of control after 0.025 seconds, and was fully inflated at 0.030 seconds – before Marquez hit the ground. Jorge Lorenzo and Cal Crutchlow have already crash-tested the all-new protection at Qatar last weekend, with some naughty looking front-end lowsides. Thanks to the inflation, the pairing walked away looking morbidly obese but unscathed. It's a hugely valuable asset to athletes.
So what about availability to the public? We caught up with Jeremy Appleton, Alpinestars' Media and Communications Manager, at Qatar MotoGP. "This particular system is brand new for racing, so it'll be a little while before we see it as the next customer system. It's hard to give a definitive timescale but it will come. We still have some engineering in the suit before it becomes ready for commercial use. The TechAir system is purely used in MotoGP, so there are still components that need to be developed.
"I don't think it's certain that the new system will be anymore expensive than the existing system. In fact, one of the objectives we had was to make the technology more affordable.
"We're looking at making a dedicated street version in the not too distant future. In terms of usage for the road, there's noting to stop you using the current MotoGP system, but later this year we will have a fully-functioning street airbag system available for customers. And, for sure, that will be less expensive than the racing version."
We had to ask – will there be full body airbag protection in the future? "In terms of plans, I think the answer is yes, but the feasibility of it is still being studied. Our system is entirely modular, so it can be developed to cover any part of the body, but you also have to make it realistic. There's a certain amount that you will compromise – weight, fit, feel and comfort all of that has be part of the equation."     

Enjoy more Fast Bikes reading in the monthly magazine.
Click here
to subscribe.