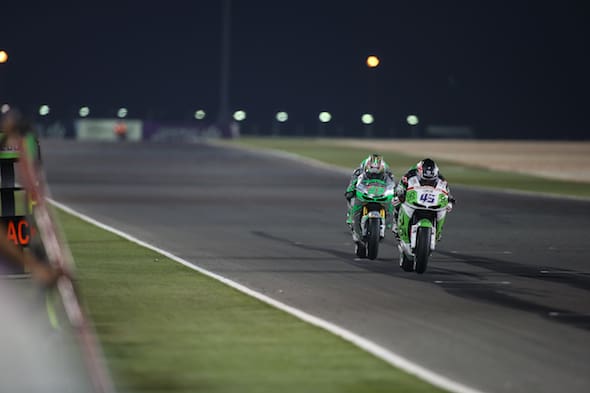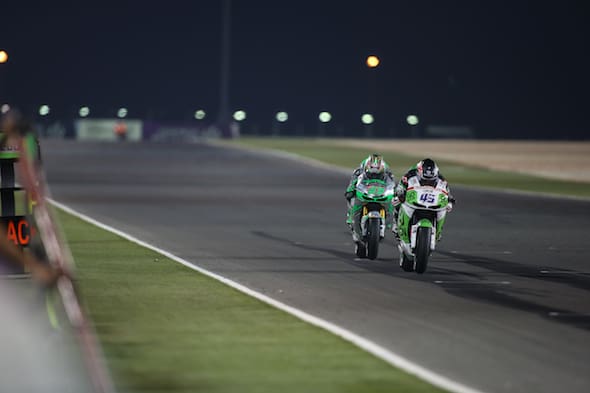 Fast Bikes caught up with Scott Redding a few days after his stunning MotoGP debut under the lights in Qatar. A 7th place finish and top proddie Honda ensured everyone took note, including Nicky Hayden.
"You know they run the medium visors in Qatar? Well I looked straight into his eyes after the race, and there was almost a disappointment from him. He shook my hand, but I could see in his eyes that he was like, f*ck, I was just beaten by a rookie on the same bike. He has been really strong all testing, really strong on his one-lap dashes, but that was like last year testing, I don't care about testing.
"When I did the race simulation, Nicky had done one before me, so I had the times and told my pitboard guys I only wanted Nicky's lap-times on there, so I can picture him in front of me, so I can go bam, bam, bam. And I was nervous about the race simulation, though actually the first ten laps I was faster than him, I was pulling away, though he was quicker at the end. My plan for the race was if I made the top fifteen with all finishers I'd be happy, and if I can stay with Nicky for five or ten laps I would learn from him, I'm sponging up everything from him, you know?
"So we went off the start, I took it easy into turn one, everyone went wide, and then I went underneath them.  Then I came together with Nicky in turn three, the fast right, he was shaking his head a bit as we had a bit of connection! Then he out-braked me, but going into turn six I out-broke Nicky, Colin Edwards and someone else, just pin-pointed and stopped, Motocross style.
"Then Nicky passed me again and then he got past Yonny Hernandes. I got past him quick too but the problem is his Ducati has speed and he came back on the straight. So I knew I needed to pass this dude, so was aggressive past him into turn 12, I hammered it for half a lap, and as soon as he didn't come back past on the straight I knew I could get away. Then Nicky had a gap of 1.2secs on me.
"I could still see the front group, and wondered what was going on, and after the race twigged it was the leaders! So I was behind Nicky, and was telling myself not to do anything stupid, just learn from him and don't overtake him. He wasn't pulling away too much on the straight, so with a good exit I could stay relaxed and keep with him. If I had made a little mistake, there were four corners that if I was really fast through, I could catch him back up no bother. Then on about lap fifteen I was wondering why he wasn't doing anything, and suddenly he ran wide and I went in front. So I did a slow lap, I didn't want to lead, I was learning so much I wanted to keep taking it easy and learn more. So I made a bit of a wheelie onto the straight so he could get back past.
"Then with two laps to go I started asking myself  – why don't I beat this guy? Why not, there was no reason I shouldn't if I can. So I decided to have a little dive at this, so into turn six where I did that MX move at the start, I did the same to Nicky. I held it a little bit late and lifted him up a bit just to show him I was there, then put my head down for two laps. The left side of the tyre was destroyed, on entry it kept trying to come around, but I also saw Nicky was having the same problems so knew he wasn't faster than me. So I beat him, and that's when I saw in his eyes that he had been beaten by a rookie, and he wasn't happy.
"I watched his interviews, I always try to study my opponents a bit, and I saw he was disappointed and not afraid to say it, saying how he really wasn't happy with his results, blah blah blah. For me it shows I am stressing him already. We'll see how the season goes, you know Nicky, he's not the kind of guy to sit back and let this keep happening. My opinion is from HRC, that they are looking for the next factory rider, and by that I mean that's between me and Nicky. That's what they're looking at, and I feel like I have to be the top production Honda rider, and that's what I'm going to do my best to do. Nicky isn't a slouch, he's got experience, he's a world champion. So to beat him has built my confidence and I just have to stay in this mentality to keep building it more."
Pics: Gresini/Milagro

Enjoy more Fast Bikes reading in the monthly magazine.
Click here
to subscribe.