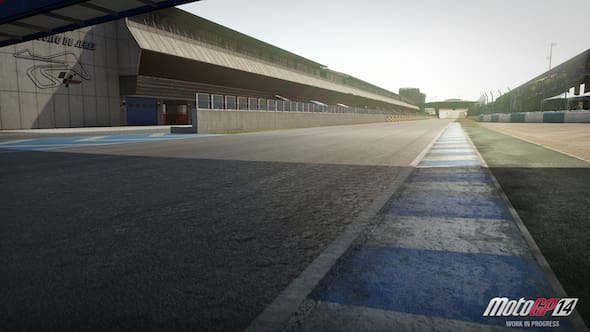 I don't pretend to be a gamer. Maliciously running people down on the pavements of LA, chatting to hookers and shooting bad guys (in Grand Theft Auto), plus the occasional venture into the odd bike racing game over the years is the limit of my computer gaming proficiency.
Besides, with motorcycle-related games, it's nigh on impossible to replicate realworld simulation through a joystick. And being a 'biker', it's very easy to be over critical of the balance between pleasing game geeks and nailing the handling capabilities of Rossi's M1.
That's all about to change with MotoGP '14.
We were invited by Milestone, the creators of game, to the opening round of the year in Qatar. Where better to launch the product? Also staying in the same hotel was British Moto2 star, Gino Rea. Being the young spunker he is, Gino was super-excited that the game was being launched and the fact we were about to be the first in the world to sample MotoGP '14.
Thanks to some emerging technology in the computer world, the graphics are very close to reality and simulation has taken a massive leap in progression. It's also handy to learn tracks, particularly new circuits, as Milestone used 3D tech to replicate the surroundings: something Gino can benefit from, seeing as he hasn't been to Austin.
Article continues below...
Advert
Like a dubplate so fresh you can smell the acetate, MotoGP '14 is still very much under development. Of course, some team liveries and riders' leathers/helmets weren't finalised until an unveiling in Qatar, so Milestone's photographers were busy snapping away – with official assistance from Dorna.
Priced at the usual £39.99, it'll be out in June. Read the full review in the magazine very soon.
Article continues below...
Advert

Enjoy more Fast Bikes reading in the monthly magazine.
Click here
to subscribe.