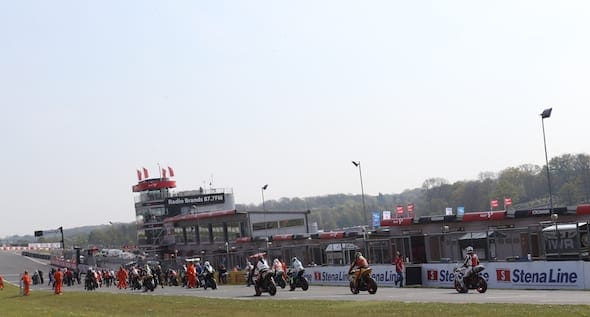 The 2014 British Superbike season kicked off at the weekend, which also meant the first round of the Ducati TriOptions Cup at Brands Hatch.
The first time my P&H Motorcycles 899 Panigale turned a wheel was free practice on Friday, so we were miles behind the rest of the field in terms of testing and set-up. And that showed in the results.
The 899 is a complex little puppy to set-up, mixing mechanical and electronic variables that have to work in unison. Most of the grid are utilising Ducati's traction control but it's corner entry that required most work in our awning.
I didn't think the Panigale would need a slipper clutch, thanks to Ducati's fantastic adjustable Engine Braking Control (EBC). But as soon as the pace was upped, I was dreaming of slippery clutches and Neil Spalding. The EBC copes beautifully with late braking to apex but doesn't manage the initial downshift too well. Subsequently, I had to run different gearing, guessed at set-up, rode like a plonker, and qualified in a disappointing 15th.
To make matters worse, my teammates were on the front row: Dennis Hobbs on pole and Leon Morris in third, split by reigning champ, Marty Nutt on his factory 899. Rob Guiver headed the second row, with all four separated by a tenth of a second.
The first race of 2014 was held in horrendous conditions on Sunday. Heavy rain and the usual sidecar spunk made the surface between Druids and Clark Curve akin to an ice rink: any purposeful lean angles ended in crashing, and if you weren't two-wheel drifting you weren't at the front.
But my P&H teammates well and truly set the pace for the season ahead. Little Leon and Big Dennis buggered off at the front, with Leon winning by less than a tenth. Third was another Saga Holiday recruit and ex-BSB racer, Dave Heal, who struggled with vision and ripped off his visor in the closing laps. Yep, he ripped off his visor to improve vision. I just about stayed on for a decent 10th place finish: not bad considering the complete lack of testing, so we celebrated with a takeaway from the local Indian restaurant.
The second race of the weekend was a stark contrast. Beautiful sunshine, high track temperatures and ample grip graced the Brands Tarmac but there was no personnel change at the sharp end. A four-way battle ensued involving the P&H boys, plus Sean Neary and Rob Guiver, who carved through the pack after a shabby start and eventually took the win. Leon Morris bagged second, just ahead of Hobbs.
I wobbled round to finish 13th, still dreaming of Neil Spalding and some much-needed tracktime before the next outing.
With a month's break until the second round of the TriOptions Cup at Donington Park WSB, Morris looks good at the top of the championship on 45 points, 9 points clear of Dennis Hobbs, and little old me in 11th spot.
With some testing and additional performance upgrades, we'll be edging nearer the front but it's going take some serious tekkers to threaten the championship leaders. I can take something from the fact that Rob Guiver was just in front of me in the first race and went on to win the second, and I've got a team around me who have delivered a race-winning package.
Big thanks to P&H Motorcycles, White Dalton, Vanworx and South West Karting for getting me on the grid. Hopefully I can stay out of A&E in 2014.
Pics: Bonnie Lane/Ravensdale Photographic

Enjoy more Fast Bikes reading in the monthly magazine.
Click here
to subscribe.