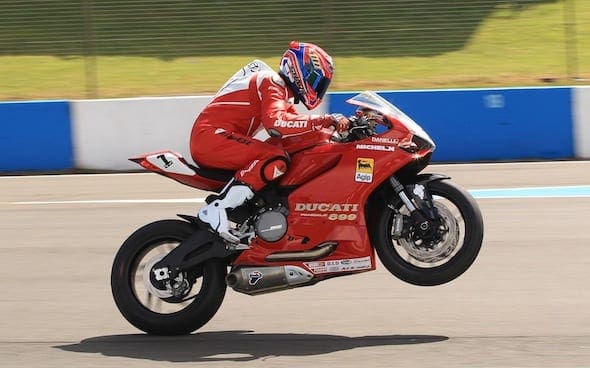 On the weekend that Ducati celebrated 20 years since Carl Fogarty's first world championship with the Bologna factory, Leon Morris took another gigantic step to becoming king of the 2014 Ducati TriOptions Cup. Little legs took a victory and a second place to extend his championship lead to 30 points, after the second round of the series was run as a support class to the World Superbikes at Donington Park.
Most of the boys (and girl) had visited Donny at a test or trackday beforehand so, once again, I was up against it. The P&H Motorcycles 899 Panigale did have a few upgrades though: the highlight being a Sigma slipper clutch.
One man dominated free practice on Friday. The chaps at bikesportnews.com elected a ringer to pilot the Ducati VIP bike, with British Supersport front-runner, Luke Jones jumping on the #149 and lapping 1.5 seconds quicker than anyone else. He hadn't even seen the bike until Friday. Rob Guiver was second ahead of my P&H teammate, Dennis Hobbs.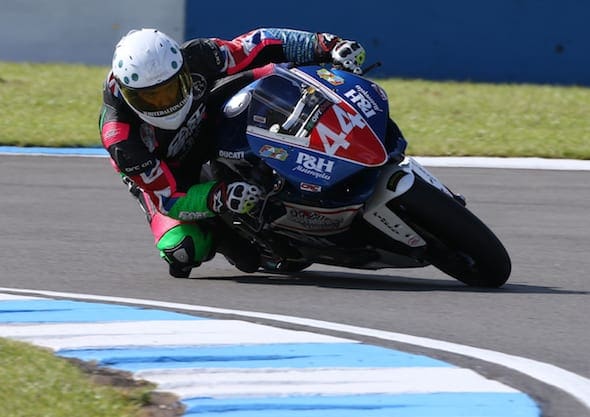 I was in a miserable 14th place and miles off the pace, chasing a decent set-up. When you've got teammates like Leon Morris (who weighs half as much as me) and Dennis Hobbs (whose set-up is a cross between a wheelbarrow and combne harvester), their experience and pace means little, even for gearing. The addition of the slipper clutch brought seamless downshifting but also much faster corner entry, which took some recalibrating.
Qualifying was just as much of a race in the pit lane as it was on the track. As we left pit lane early on Saturday morning, the rain started to fall and the entire field re-entered Donny's pit lane. Those who were quick with the spanners had the vital extra lap.
Reigning Ducati Cup champion, Marty Nutt stuck his JHP bike on pole ahead of Sean Neary (Mymate.co.uk) and Luke Jones. To my amazement, I headed the third row in 7th spot, just ahead of championship leader, Leon Morris. My P&H 899 was an absolute peach in the wet conditions and there was so much more speed to come, so there was plenty of rain dancing going on. Donington gets a huge amount of stick for its grip in the wet, but there was oodles of lovely traction at the weekend.
Race one was later in the day. 99% of the grid had opted for full wets on a track that was drying very quickly, and those that wanted to stick a dry set in on the grid were stopped by officials. As the race the race started, the track was pretty much bone-dry, so it was down to who fancied their bikes moving around and getting severely squirrelly.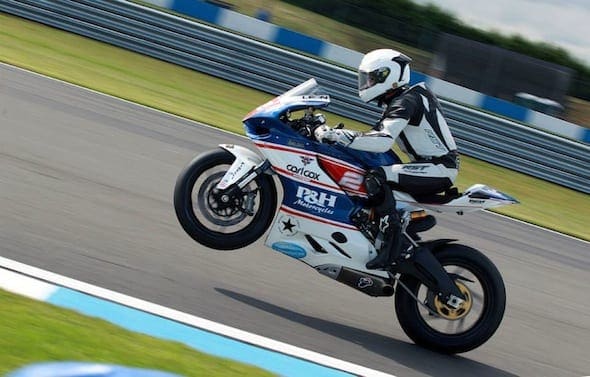 Leon Morris did his best Dani Pedrosa impersonation and leapt to the front from 8th on the grid unchallenged, winning from Sean Neary and Dave Ferns on his old Amigo Racing 848. I managed to nurse her home in 11th, wondering why a host of 848s passed me during the final few laps. Being an older bike, the 848s are required to run Pirelli's SCR2 rear wet, which is far superior in dry conditions than the SCR1 that the 899s use.
The second race of the weekend was staged in beautiful conditions.  VIP rider, Luke Jones took off and was never really challenged, despite a late charge from Leon Morris. Rob Guiver took the final podium spot and moved into second in the championship, with Dennis Hobbs and his haggis in 4th.
Pics: John Manclark
Big thanks to P&H Motorcycles, White Dalton, Vanworx and South West Karting for getting me on the grid. You can get the full lowdown on my very technical weekend in the magazine very soon!
Ducati TriOptions Cup standings:
| | | |
| --- | --- | --- |
| | Leon Morris | 95 |
| | Rob Guiver | 65 |
| | Dennis Hobbs | 59 |
| | Sean Neary | 47 |
| | Marty Nutt | 46 |
| | Darren Fry | 41 |
| | Aaron Brown | 39 |
| | Dave Ferns | 38 |
| | Dave Heal | 23 |
| | Jon Railton | 23 |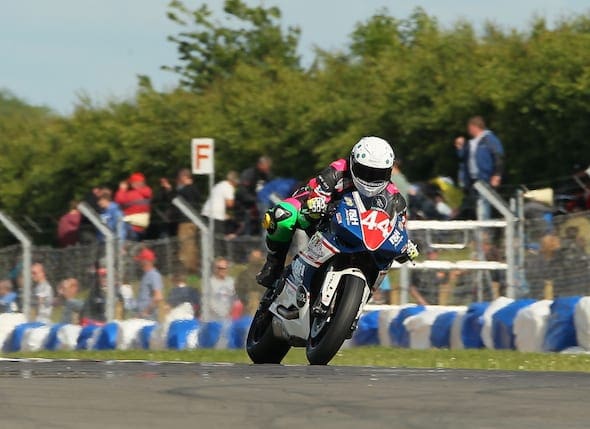 Enjoy more Fast Bikes reading in the monthly magazine.
Click here
to subscribe.